January 26, 2009 - 9:07pm
Fat free Vegan Banana Bread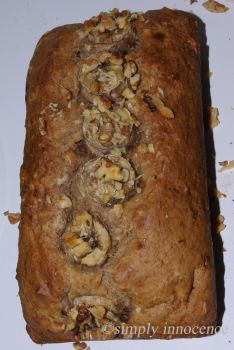 Ingredients:
3 ripe bananas
1/4 cup applesauce
1/4 cup canola oil
1/2 cup sugar
2 tablespoons molasses
2 cups all-purpose flour
3/4 teaspoon baking soda
1 teaspoon ground cinnamon
1/4 teaspoon ground nutmeg (or grated fresh)
1/2 teaspoon salt
/2 cup chopped walnuts
Topping:
1 sliced banana
1/4 cup chopped walnuts
Method:
In a large bowl peel the bananas and break them into small pieces. With a potato masher, mash the bananas. Set aside. In a separate bowl add oil, applesauce, white and brown sugar, mix together and whisk briefly to incorporate. Add in the mashed bananas and mix until well blended.
Sift in the flour, baking soda, spices, and salt.Without over mixing combine the flour and banana mixtures together. Fold in the chopped walnuts.
Pour batter into a well greased 9x 5 loaf pan.Peel a banana and slice into pieces. Place the banana slices down the middle of the batter. Top the banana slices with chopped walnuts.
Bake in a 350 degree oven for 55 - 60 minutes
Preheat the oven to 350 degrees F.
Transfer the batter to the prepared pan and bake for 45 to 50 minutes until a skewer inserted into center of the loaf comes out clean.
Allow the banana bread to sit for 10 minutes before removing from the pan. Cool on a wire rack. Makes 1 loaf.