January 16, 2009 - 11:29pm
Sourdough bread - 2 experiments
Ever since Jane prompted me to add levain to the Bouabsa baguettes, I've wondered what this bread would be like raised by wild yeast entirely, without the small amount of baker's yeast it calls for. And, more recently, I made the best tasting ever Miche with the first clear flour Norm sent. I wondered how much of its wonderfulness was the method, and how much was the flour.
So, today I explored both questions by baking a couple loaves with Norm's first clear as 100% of the flour and used Anis Bouabsa's technique of a long cold bulk fermentation. This is a 75% hydration dough, while the Hamelman Miche is 82% hydration.
The result was a really nice, moderately sour bread with the distinct flavor of first clear flour. The crust was crunchy, but it needed 10 extra minutes in the turned off oven to crisp up. The crumb was quite open with a lovely cool feeling and chewy texture.
I will use this technique again, but with the same AP/WW/Rye flour mix I have liked best with Bouabsa's baguettes.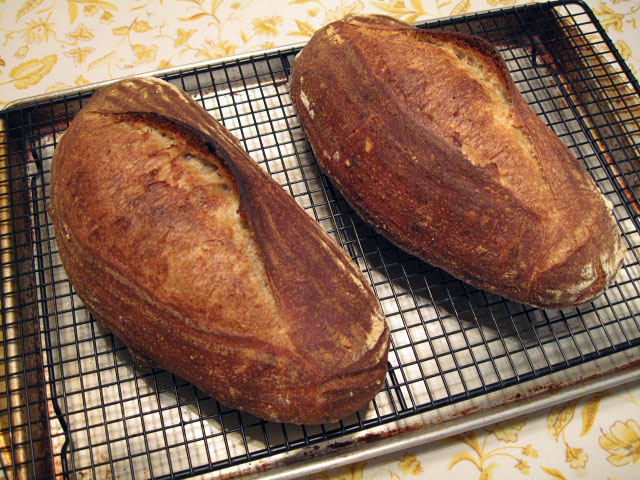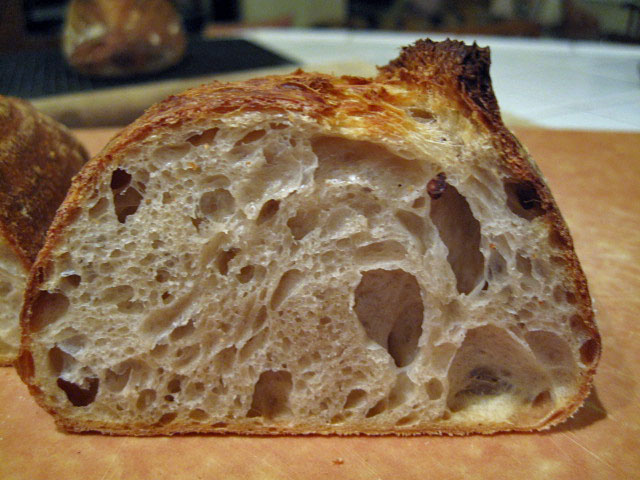 David