January 15, 2009 - 6:23am
Hi all, need some suggestions for rye starter
Hi all, new to the board, and to bread making in general, but am a long time cook. I recently became interested in bread making-for whatever reason. It started with a bread machine, and sort of went from there. I am a rye bread person, but light rye, not heavy dense loaves. The exception to that is, that I do like a crusty bread, sourdough, and any bread with a light, open crumb. So, I started a rye starter last week, and it was a great success. I kind of did it my way, given the chemistry of it all, and while it took 4 days for it to do anything, on the 5th day, it woke up, and how, LOL.
Now, it doubles in less than an hour, and since it's only been doing that for a couple of days, I am hesitant to put it in the fridge just yet.  Here are the new kids. The split from the rye is going to be a conversion to white sourdough, eventually. This was the first day of introducing white bread flour to the rye, and it loved it, I guess.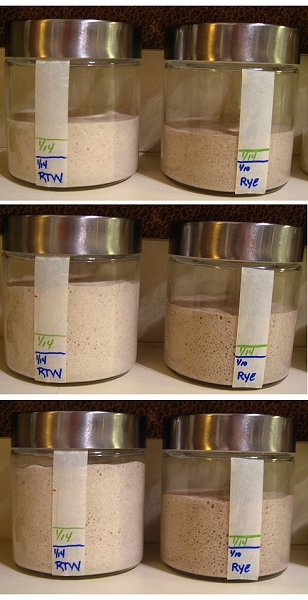 Now, the other thing I have a question about is; I am feeding this 2 times a day, on the counter. When it deflates, after about 6-7 hours, sometimes 4 hours or so, is it ok to leave it for a while, and if so, how long is safe to leave it without feeding it?
Finally, I am looking for a recipe for a rye sourdough, but I want something unconventional. I am looking for something that is light rye, not dense, but an open crumb. Can I just achieve this by stretch and fold, or should I just adapt a sour dough recipe, and go from there? Anyone have a recipe they think I will like? I really don't want it to have any additional commercial yeast, because, to me, that kind of defeats the purpose of having a wild starter. I know that I will have to let it sit longer, but perhaps I could also use some vital gluten to help the gluten formation if needed. I would like to stay under 40% rye flour, and no wheat flour, just KA bread flour.
This is not something that I will be baking in the bread machine. Just the oven.
Am I dreaming? ;-)
Thanks in advance.