First of all, kudos to everyone who has worked to make this such a wonderful, educational site. I am looking forward to participating in the fun here on Fresh Loaf.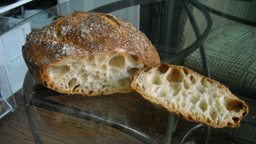 I have been baking from Artisan Bread in Five Minutes a Day, and the BBA, for several months now, but have had no other experience of bread-making during my 69 years of life. I thought that Artisan Bread stripped things to their esentials until I came across Lahey/Bittman bread on You Tube. Made a pot yesterday, and must say the first time was a charm.  The crumb and crust are obviously excellent looking (though the crumb may well be too thick for some people), but I found the taste a little disappointing, after the long --- 19-hour ---- ferment. It was good, but not nearly so good as some Ancienne baguettes I made recently following BBA religiously. With those loaves, I died and went to heaven.
I have two questions: (1) does maxiumum taste seem to be an issue with this manner of baking? (2) if the fault was mine, does anyone have any suggestions re getting superior taste when using this method?