October 6, 2011 - 12:20am
Hello,
I wanted to try out a schedule that worked for my normal work-week and maximizing
flavor, because I am usually not around during the daytime hours.  Also I
wanted to see the effect of a purely white flour mash.
Due to the way my schedule works, I did bulk ferment of 24 hrs, with the understanding
that my final dough might be sour (hopefully not inedible sour),
So for this recipe I was going for 100% white flour.  For my palette, a white
bread with a solid tang is good.  Maybe not so much tang for breads with a high
percentage of whole grains.
Turns out, this was perfect (for me).  I would make this again.  Tastes great!
All flour is KA Bread Flour, except for the starter flour which is KA AP.
All weight in grams.

Total Dough Weight: 1000  
Total Dough Hydration: 68%  
Total Dough Flour Weight: 595  
Total Dough Water Weight: 405  
Percentages:
   
Levain Percentage: 20%  
Levain Hydration: 125%  
Starter Percentage: 10% of leaven 
Starter Hydration: 125%
Soaker Percentage: 54%  
Soaker Hydration: 80%  
Mash Percentage: 20% of soaker 
Mash Hydration: 200%  
Soaker Salt Percentage: 1%
Overall Dough Salt Percentage: 1.5%
Levain:
Flour Weight: 114  
Water Weight: 143
Starter Weight: 12
Mash:    
Flour Weight: 64  
Water Weight: 128
Diatastic Malt Powder: 1
Soaker:
All Mash:
Flour Weight: 257  
Water Weight: 129  
Salt Weight: 3  
      
Final Dough:
All Levain
All Soaker/Mash
Flour Weight: 155
Salt: 6
Procedure I did:
1)  Evening #1, made mash.  I did 55C for 90 mins, 60C for 30 mins,
65C for 30 mins, 70C for 30 mins.
2)  Morning #2, mixed levain and soaker/mash.
3)  Evening #2, mixed everything to final dough.  Put dough into
chiller at 44F / 6.6C.
4)  Morning #3, stretch + fold.
5)  Evening #3, took dough out of chiller, another stretch + fold.
6)  Final of evening #3:
Allowed 1 hr for warm-up.
Shaped.  Cut out a small chunk of dough to watch bubble activity.
It took 2.5 hours for dough to be ready for bake -- Both from bubble activity
and feel of the dough.  I am getting better at gauging the feel of the dough,
and not needing the crutch of watching bubble activity, but it is good to have
the small chunk of dough as a confirmation.
Turns out, I am still staying up too late on Evening #3, because it takes a while
for the dough to do the final ferment after being the chiller for so long.  
But, I can make bread during the week!  :)
Pictures:
Oven after first 10 minutes of steam: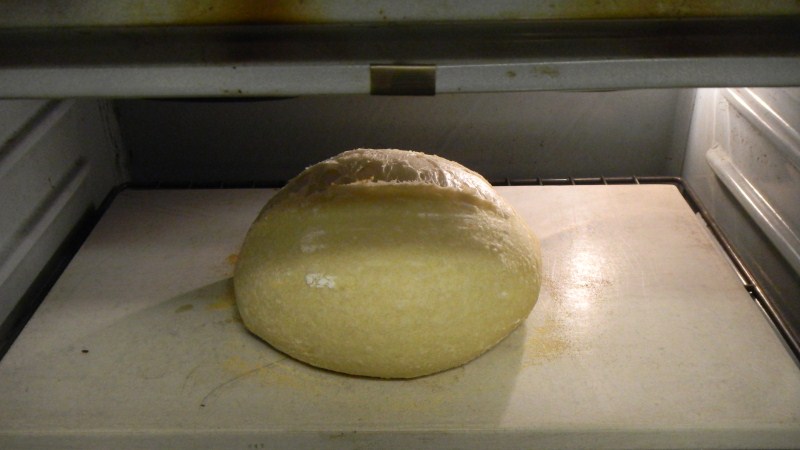 Baked with steam (above) for 10 mins at 460F, then lowered to 420F.   Here it is after 20 mins at 420F.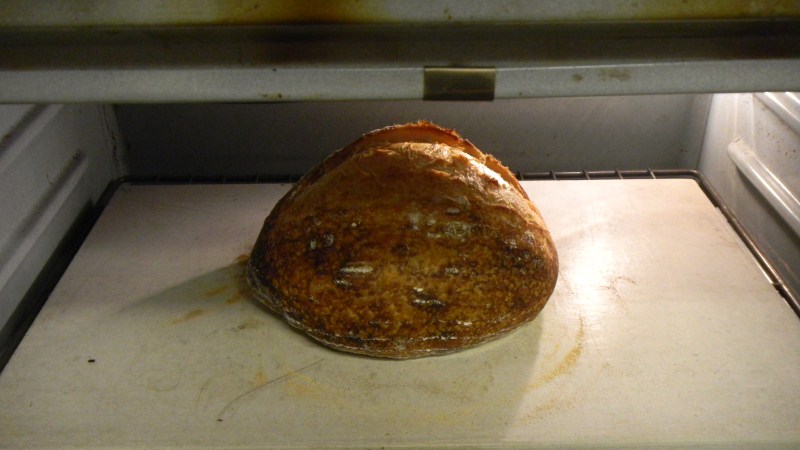 A little bit darker than I'd like, but all good.   Internal temp measured 207F and was hollow to the thump.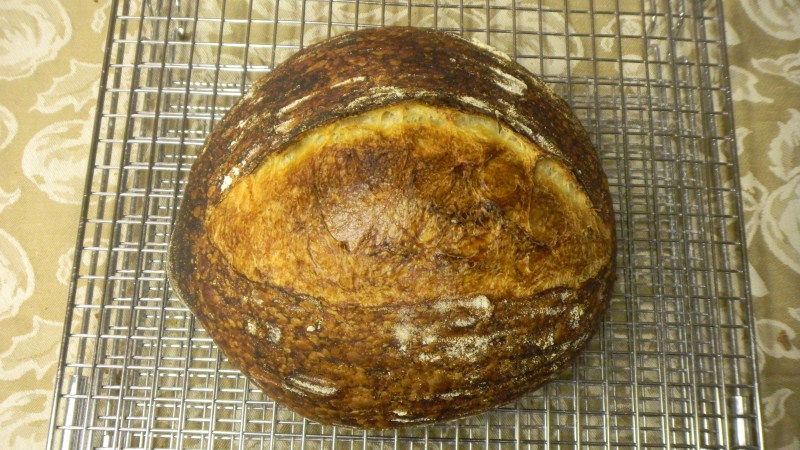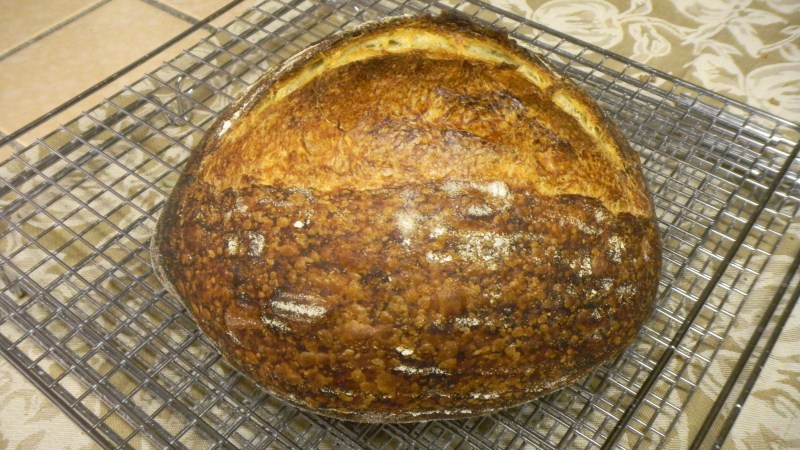 Crumb: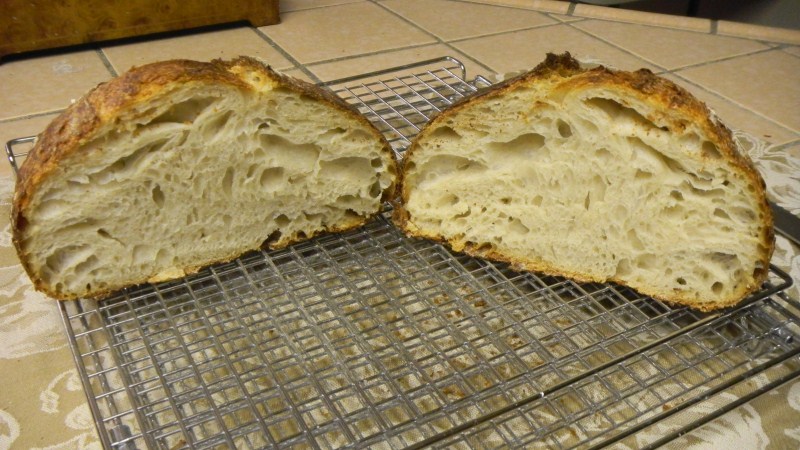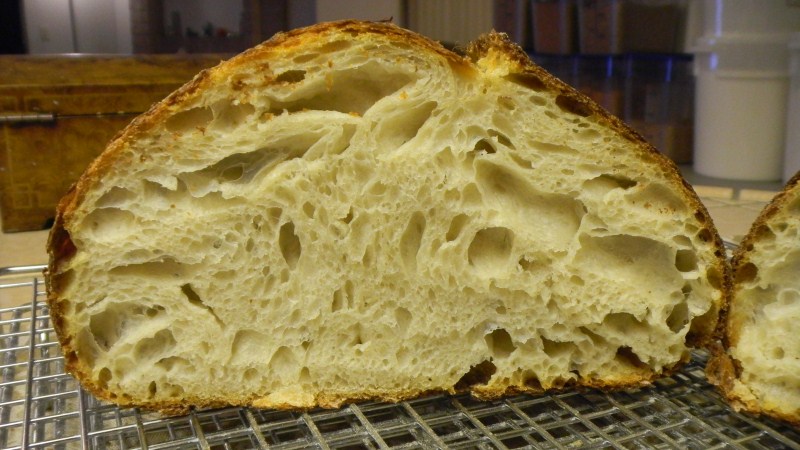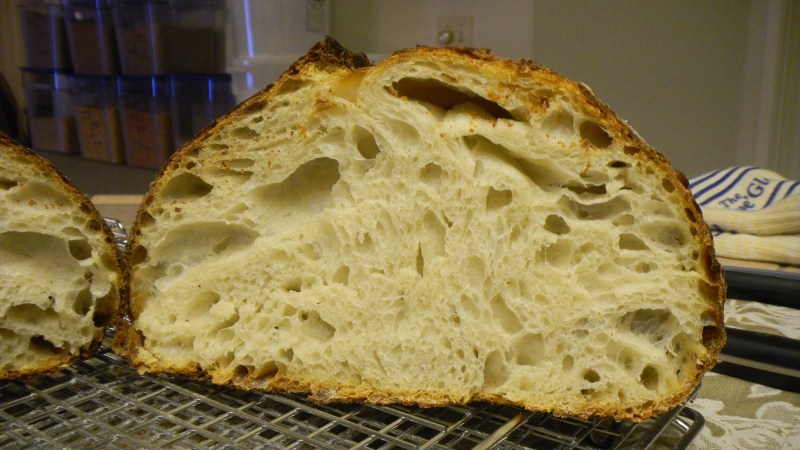 Happy baking!