Hello,
I have not made very many high-concentration Rye's, but I do like that you can make 'em in a day.   But then you have to wait a long time before cutting into them.   So I guess it's all the same.   In any case, here is the bake for today.    It is an 80% rye, 25% of it being what I refer to as my own "chunky rye stuff" -- milling rye berries beyond the Grob level of my Komo miller.   It results in a mixture of chunks of berries and meal.
Last week I attempted a similar bread but heavily favored towards a mash in the dough and not a lot of acidified levain flour, and the loaf literally collapsed in the oven, half way through the bake.   :)   For this bread, I did not do a mash, because I was not up to a mash experimentation mood after the last rye failure, and also a friend expressed desire for a high concentration rye bread and I didn't want to mess it up too much, so this bread is for him.  I did a room-temp soaker though, with the chunky rye + rye flour, and increased the percentage of levain.    This one did not collapse on me.  :)
Here was the recipe I made, and pictures.   (Sorry, no crumb shot yet, and apologies for so many pictures).   Yes I did use baker's yeast, but in retrospect, I don't think that was needed.    All weights in grams.
Total Dough Weight: 2000  
Total Dough Hydration: 80%  
Total Dough Flour Weight: 1111  
Total Dough Water Weight: 889
Percentages:
      
Levain Percentage: 35%  
Levain Hydration: 125%  
Starter Percentage: 10% of levain
Starter Hydration: 125%
Soaker Percentage: 36%
Soaker Hydration: 100%  
Soaker Salt Percentage: 1%  
Final Dough Salt Percentage: 1.5%
Baker's Yeast Percentage: 1.5%
Levain:
Whole Rye Flour Weight: 372  
Water Weight: 465
Starter Weight: 39
Soaker:    
Chunky Rye Stuff Weight: 278
Whole Rye Flour Weight: 122
Water Weight: 400
Salt Weight: 4
      
Final Dough:
All Levain
All Soaker
Whole Rye Flour: 100
Strong White Flour: 222
Salt Weight: 13
Baker's Yeast Weight: 17
Here is the soaker on the left, the levain on the right: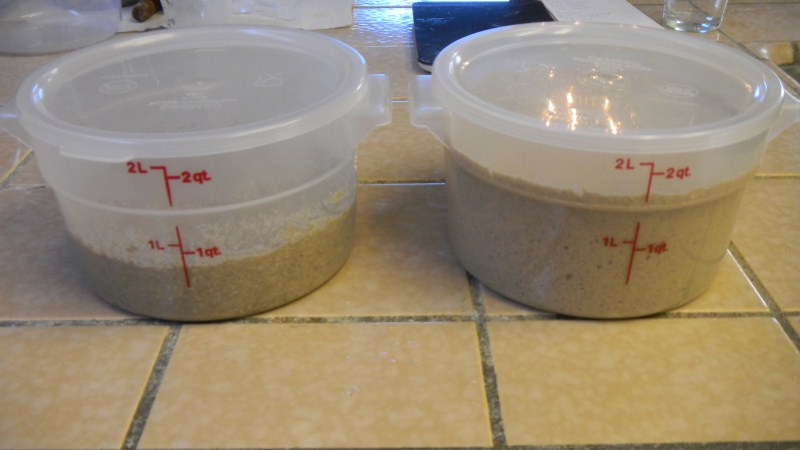 Closeup of levain: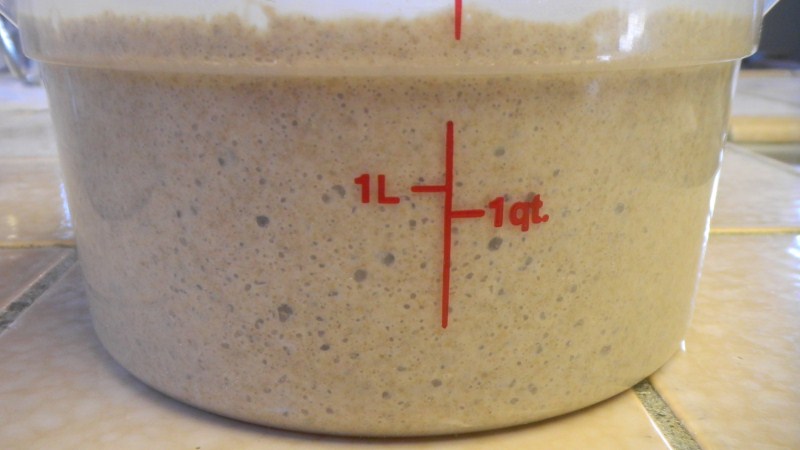 Another closeup of levain.   It was a little bit past ripened as you can tell from the receeding, but still OK: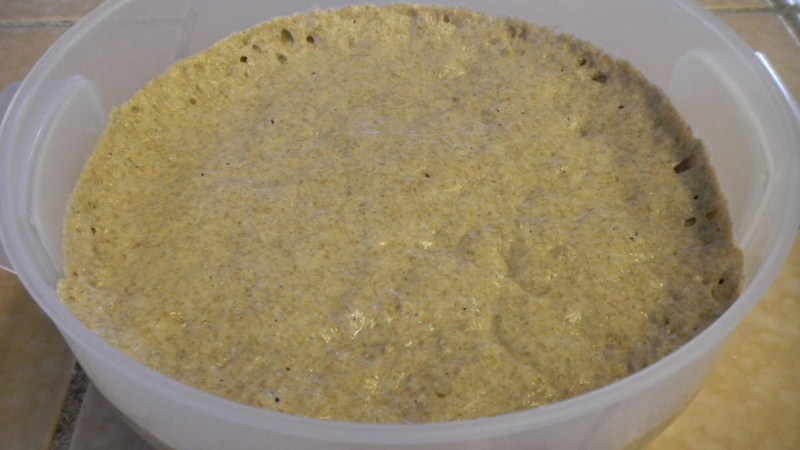 Here is the Chunky Rye Stuff + Whole Rye Flour soaker: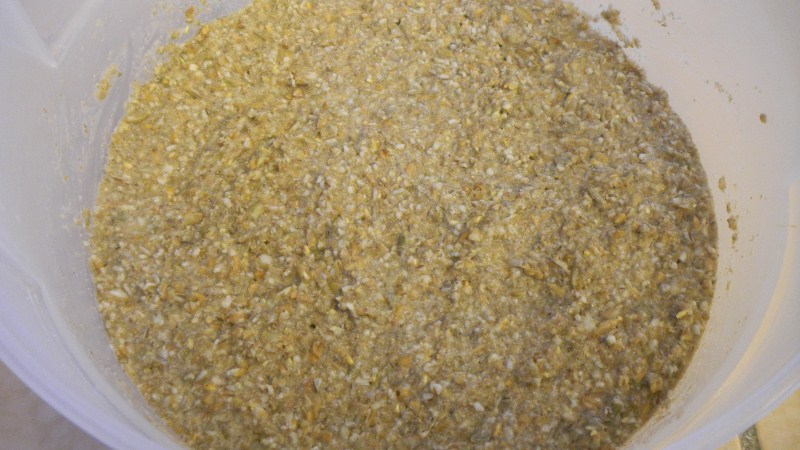 Here is the final dough after mixing.   I wasn't expecting any kind of dough ball to form.  I had to alternate between the Paddle and the Hook, several times, to get everything mixed thoroughly.   Probably should have simply used my fingers, in retrospect.  The dough Hook is pretty much useless in the beginning.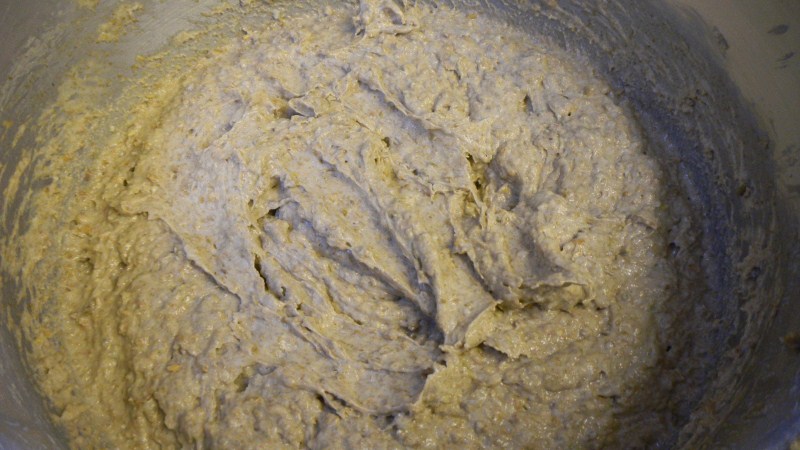 I got most of it in the Pullman pan.    I'd say about 90% of the dough.    I was worried it was too much for this size of pan.   The rest of the dough I tossed.    I smushed it in the pan with wet hands and smoothed out the top.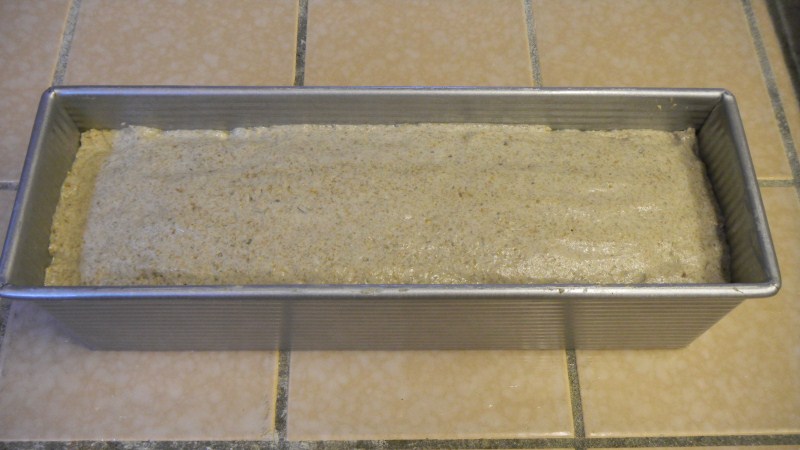 Baking, after the 1st 15 mins of steam: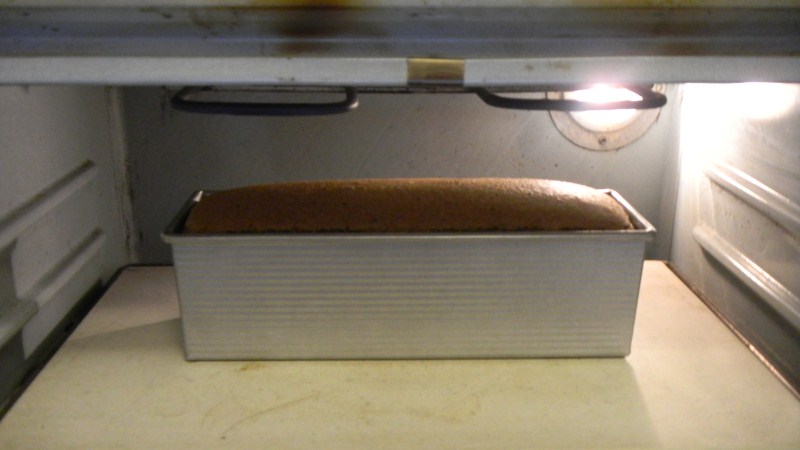 Here's the final result minus the crumb picture: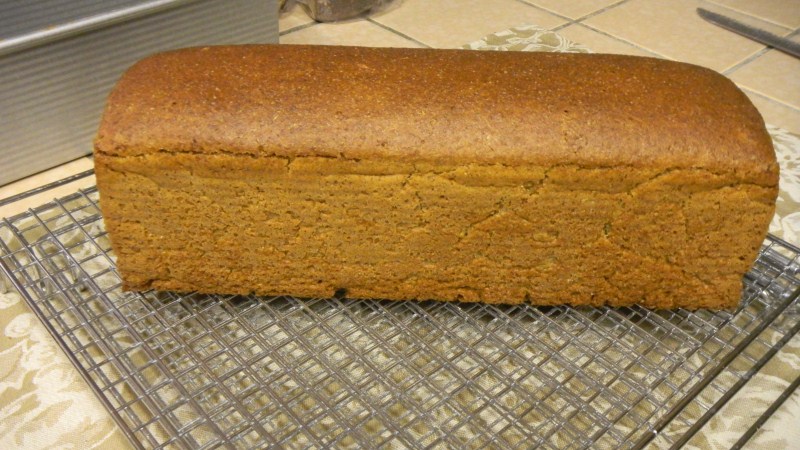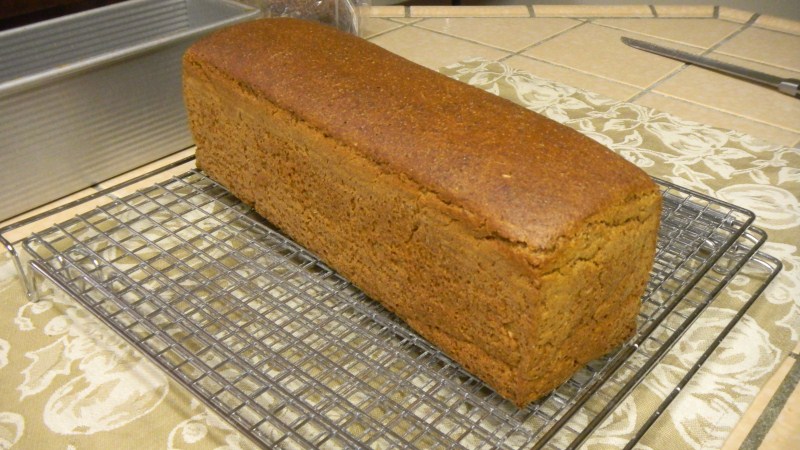 I baked it at 475F for the first 15 mins, then lowered to 380F for 75 minutes.  Internal temp registered 207F.
In the latter stages of baking, the kitchen became full of such a strong, powerful Rye aroma, it should have been illegal.   :)  
If I can get a crumb shot I'll update tomorrow.
Happy baking!