November 6, 2013 - 8:21am
What is the Best Thing You Can Put On Pumpernickel?
I'm not sure exactly but Pate Maison has to be one of them.  The great thing about Pate Maison is that it is true to its name.  As master of your house, you can put what ever you want in it so it is like your favorite loaf of bread you invented and like the best.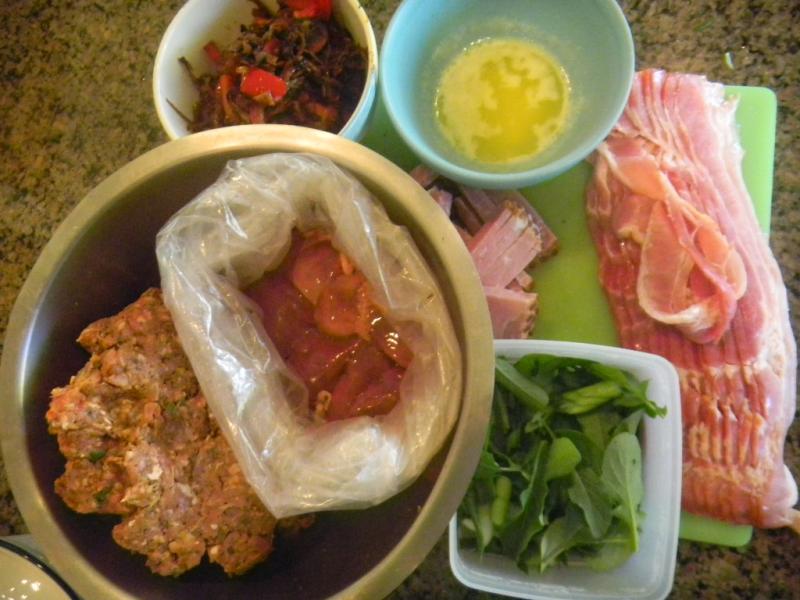 I only make this rich dish once a year, right before Thanksgiving, and it is a large one made in Lucy's largest soufflé.  Before baking it weighs over 4 pounds, just in various sausages, bacon, ham, beef and chicken livers alone.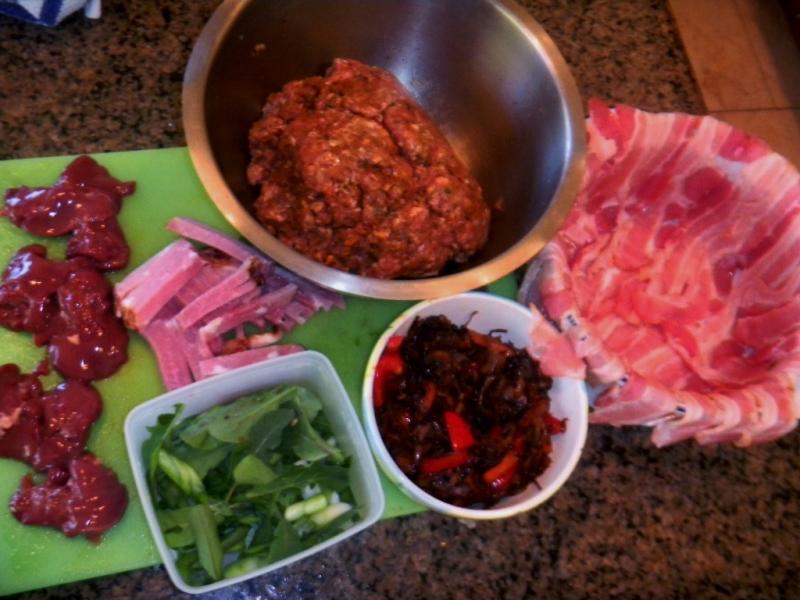 The other ingredients are a caramelized mix of 1 large onion, 8 oz of crimini mushrooms, 1/4 of a bell pepper, 1 small carrot and rib of celery all cut into cut into sticks.  The greens are a mix of parsley, 2 green onions and a little bit of arugula and chopped Swiss chard.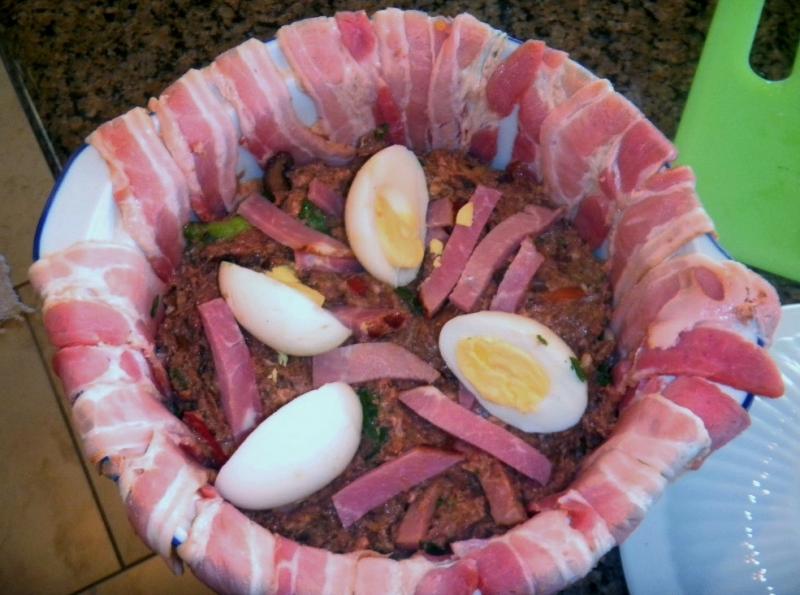 A half a stick of butter is used to sauté 3/4ths of the 1 pound 4 oz of chicken livers in (3minutes only) with some thyme and 2 tsp of pepper and 1 garlic clove.  Cut; 8 oz of your favorite ham  into sticks and 2 hard boiled eggs cut in half.  The sausages were 8 oz each of fresh; Mexican chorizo, hot Italian, beef boudin, andouille and pork country breakfast all home made.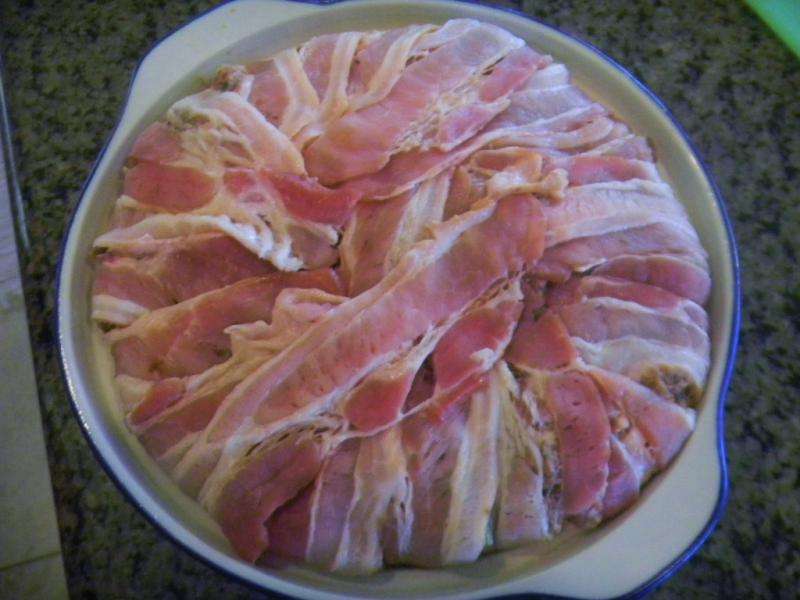 You hold back 1/4 of the ham sticks, 4 chicken livers that are uncooked and chopped in half and the eggs so that you can decorate middle of the pate so when sliced it is a stunner visually.  The remaining bulk of chicken livers are liquefied in a food processor.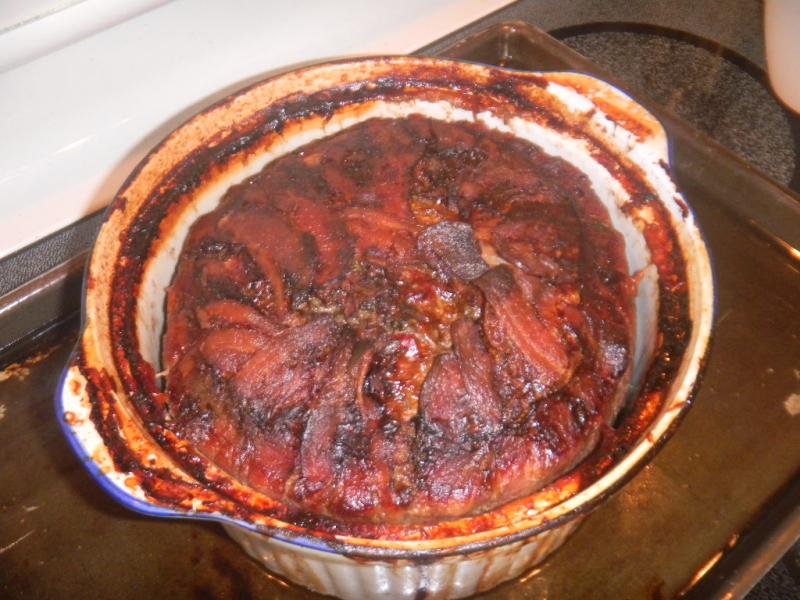 To assemble you mix, the caramelized onion  and mushrooms, red bell carrot and celery sticks, green onion, arugula parsley, Swiss chard,  3/4 ths of the ham sticks and the liquefied sautéed chicken livers in with the sausages with a large heavy spoon along with 2 T of brandy and 1 T of dry sherry.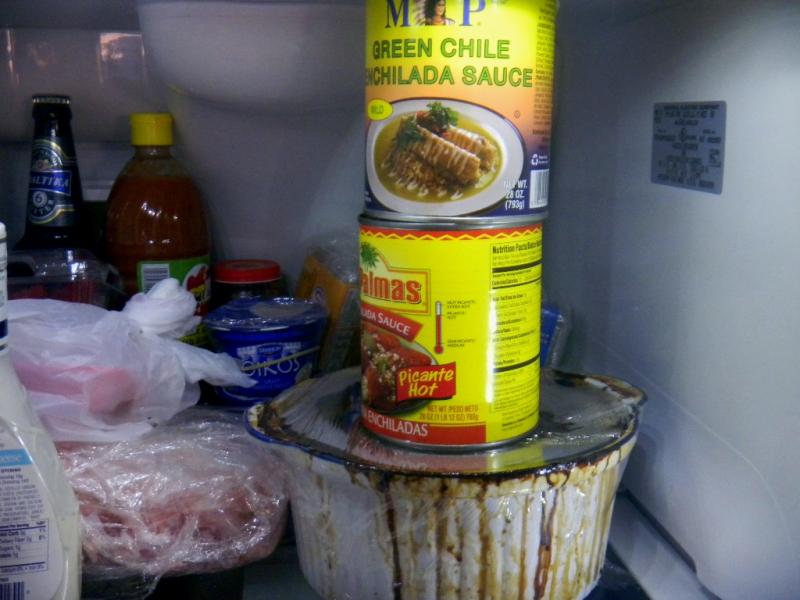 Line the soufflé with the 12 oz of smoked bacon slices making sure they are long enough to cover the top when the soufflé is full of pate.  Put half the mix in the bottom and then decorate the middle with the reserved egg, ham sticks and raw chicken livers and then cover with the rest of mix and fold over the bacon to cover the top.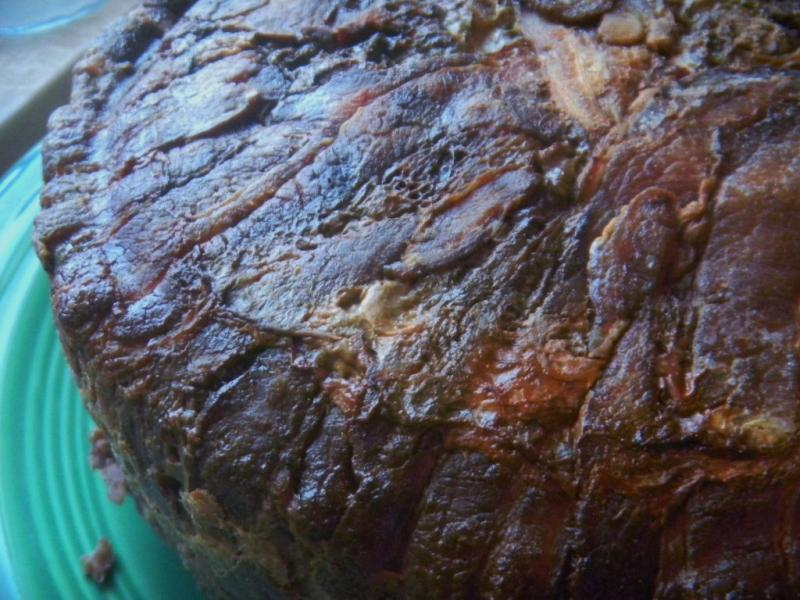 Make sure to place the covered soufflé (I have a lid but you can use foil) in a jelly roll pan to catch the copious amounts of fat that will be rendered as it bakes at 350 F for 2 1/2 hours.  Take the lid or foil off with an hour to go to brown the bacon on top.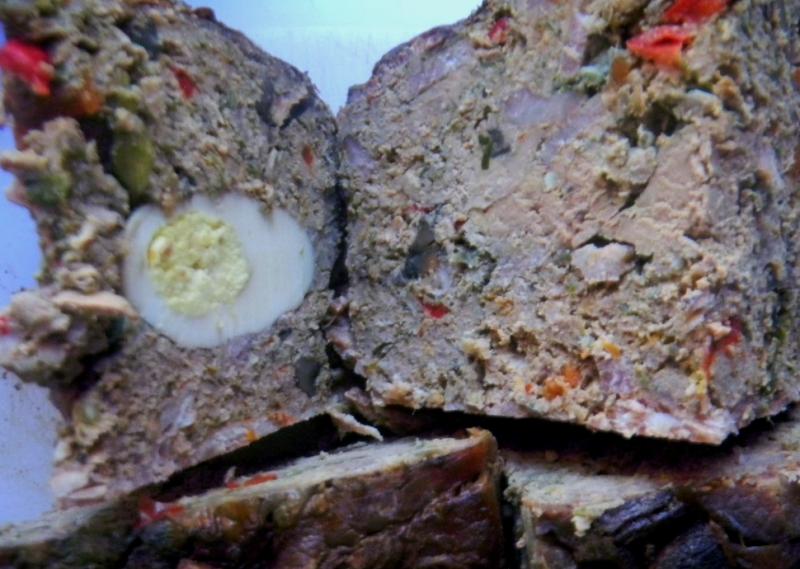 As it cools put a plate on top and turn the soufflé over squeezing out as much fat as you can. Then leave the pate on top and weigh down with something heavy, I used large enchilada sauce cans.  When cool, keep the weight on and refrigerate overnight.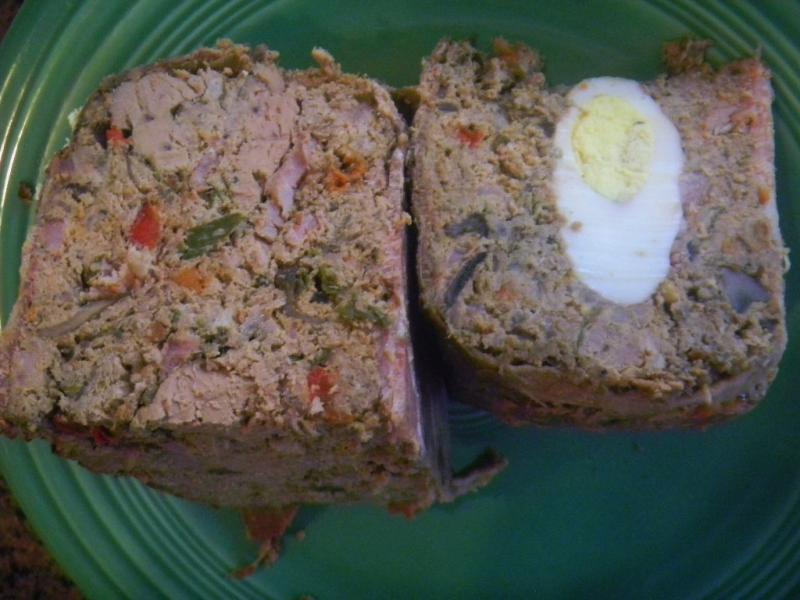 Un-mold after 12 hours in fridge and cut the huge pate into 8 wedges and freeze them to be ready anytime during the Holidays!  Now if Ski was like me he would take half to the smoker for an hour of smoke just to put the cap in the bottle and have a different pate to choose from!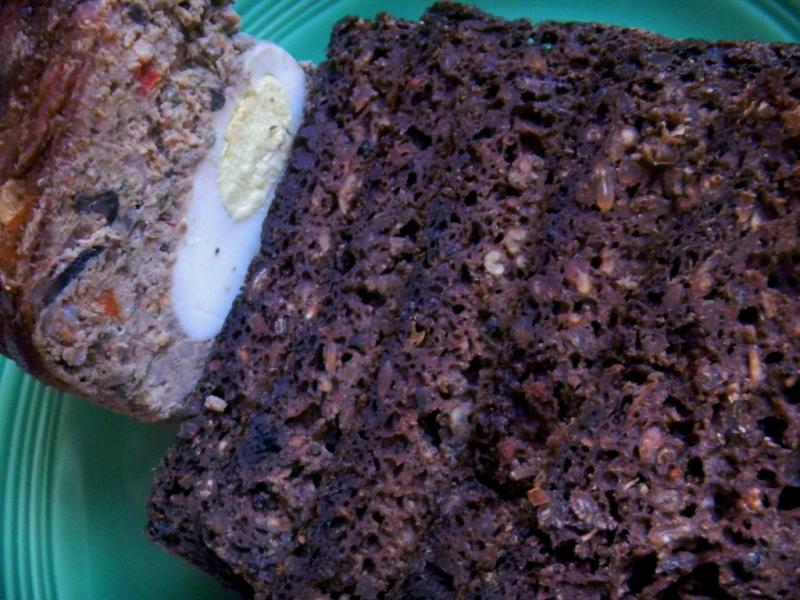 My favorite topping for my favorite bread - it must be close to the holiday season for sure!  Happy Holiday Baking!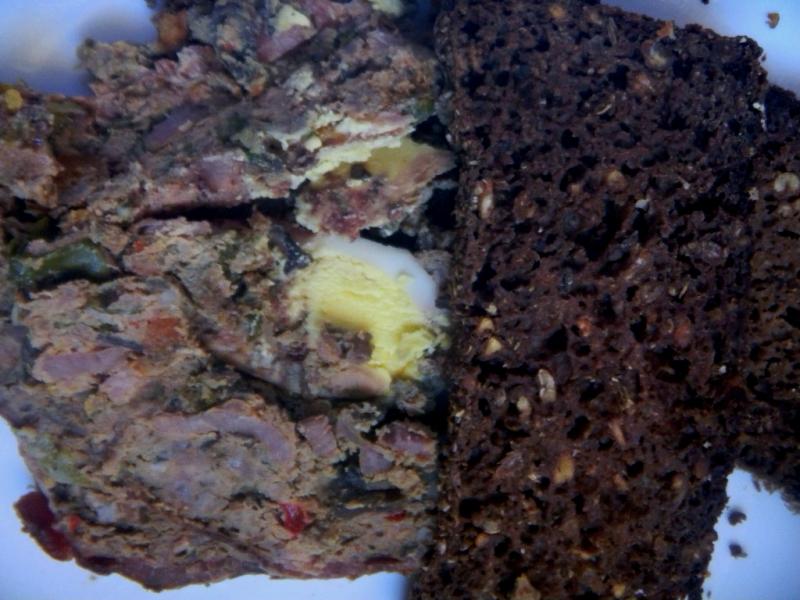 And yes.....You can have it for breakfast if no one is looking!  The innocent looking lunch has a sandwich what I am sure is even illegal in Canada - A Pate, Pastrami, Pumpernickel, Paddy Melt with Brie.  It might be the most delicious sandwich Lucy has dreamt up lately - certainly the most decadent.