December 19, 2013 - 5:07pm
3 Christmas Fruit Cakes - One For Everyone
We made 3 different kinds of fruit cakes today hoping to appeal to everyone -young or old – traditional or modern. They all basically shared the same basic ingredients.  By varying the amounts and which ones went into the mix the cake changed drastically.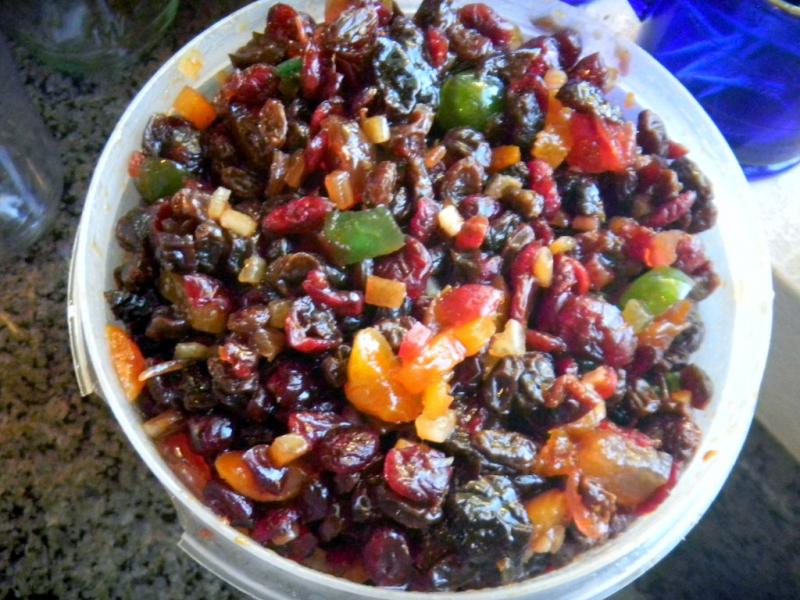 Something is really snockered
For the kids and those of all ages who hate fruitcake, one has AP flour, melted chocolate, a little more butter and dark  brown sugar to go with a bit of cocoa powder, chocolate chips, a bit of baking powder,  less candied, dried and snockered fruits & peels and a hlf cup of rough chopped pecan and walnut mix.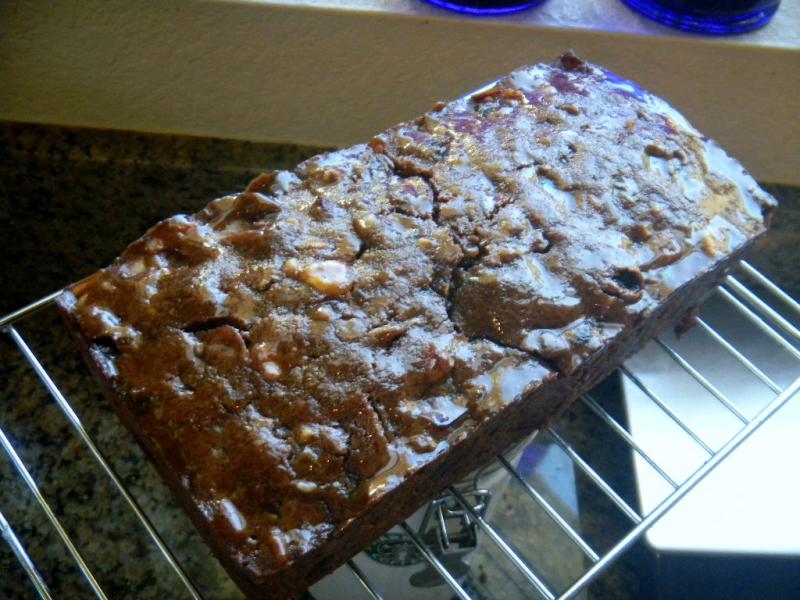 Chocolate
One is a little more traditional in that it has more snockered fruits and peels, some molasses, is made with half again as much flour and the flour is white whole wheat instead of AP, a little more chocolate chips, no cocoa powder and we put in some SD starter.  We let this one proof on the counter for 6 hours on a heating pad before baking.  This might be similar to how American's made their Christmas fruit cakes during the gold rush days around 1850.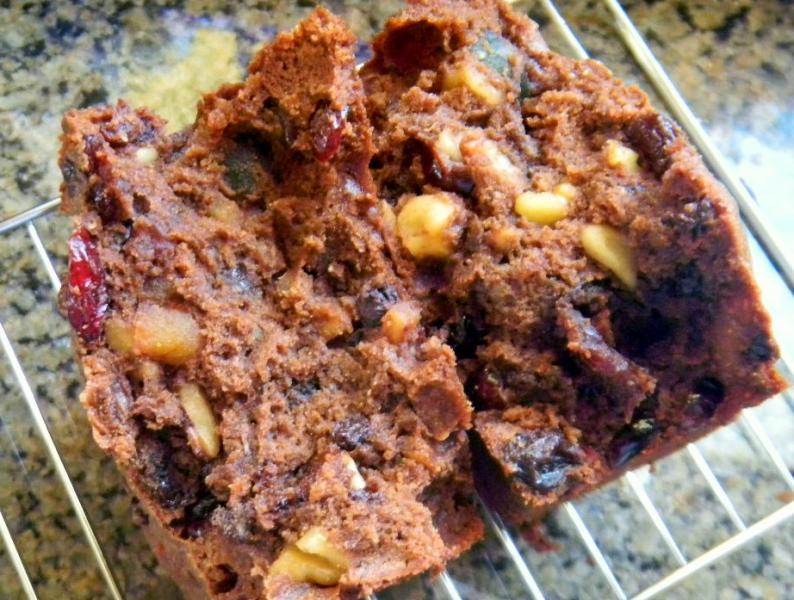 Chocolate crumb
The third version is what copyu would call English Christmas Cake based on the recipe found here:
 http://www.thefreshloaf.com/node/20062/it039s-already-october-time-start-thinking-about-xmas-cakes
English
This version has nearly twice the fruits as the 2nd one, no nuts except those making it, the same amount of flour as the chocolate version only half of it was white whole wheat, no molasses, half the spice of the other two and no leavening whatsoever.   This would be considered old school in my book.  We also baked this in a round as the English have a penchant for round Christmas cakes and the other two were baked in cocktail tins.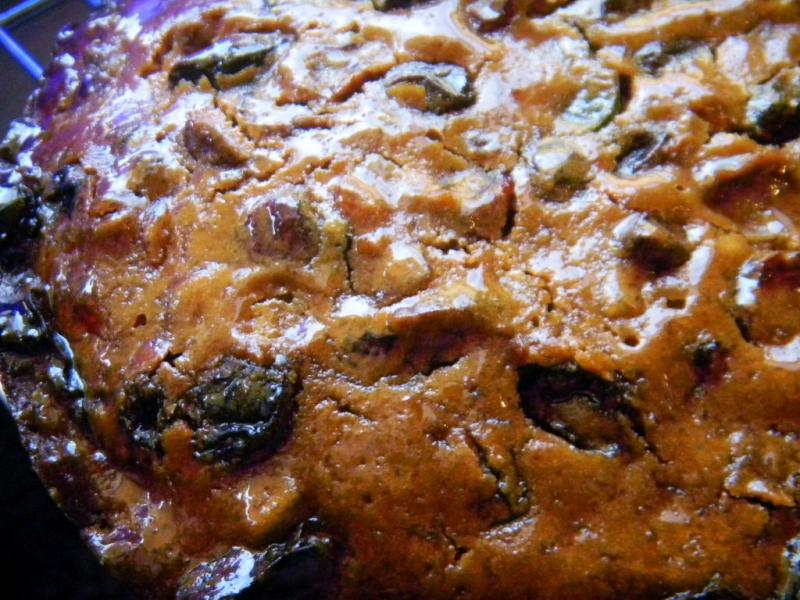 English
The three things they all had it common, (and there are more like 1 egg each), was the same fruit mix, even if in various amounts, but we did put in more than twice the amount of alcohol to steep them in for 24 hours than what copyu recommends - to be more in line with how a Southern German Gal like Lucy would make.  The 2nd thing they had it common was baking them at 300 F.  The Chocolate took 70 minutes the Gold Rush one took 90 minutes and the English version took 120 minutes to get to 205 F on the inside.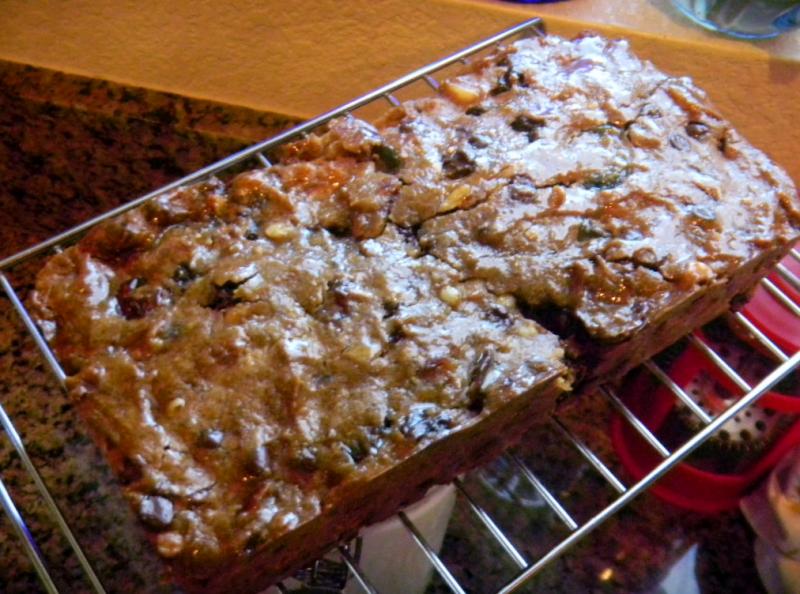 Gold Rush
The spices included equal amounts of: cardamom, cinnamon, mace, nutmeg, ginger, allspice and cloves –our new 7 spice mix.  The snockered fruits included: candied: pineapple, green and red cherries, citron, lemon and orange peel.  The dried fruits included: cherries, apricots, cranberries, prunes and raisins.  The fruit amount for the Chocolate was 180 g, the Gold Rush was 250 g and the English had 380 g of snockered fruits.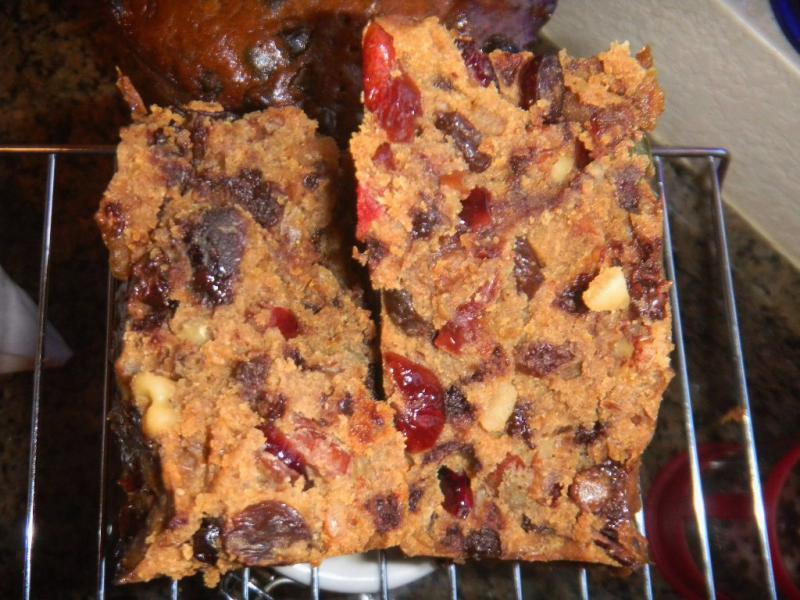 Gold Rush Sourdough crumb.
The snockering was doe with bourbon, dark rum, arancello, limocello, brandy and amaretto - the fumes were quite intoxicating in more ways than one!  The house smelled like Christmas baking was underway due to the spices.  We also zested a lemon and an orange and added the juice of an orange to the snockering liquid.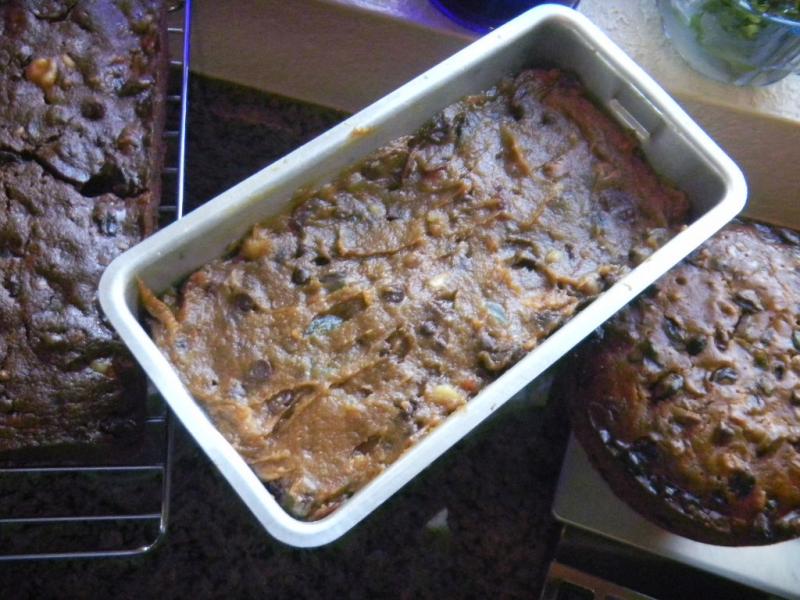 Gold rush before baking - Chocolate left and English right
Hopefully we will get to taste at least the chocolate version of these beauties soon,  One, probably the English version,  will be pampered well soaked in a hooch laden cotton cloth for 10 weeks in a tin and stored outdoors so that it can ripen properly. We will also prick it with a toothpick and give it extra moisture with a rum and brandy mix.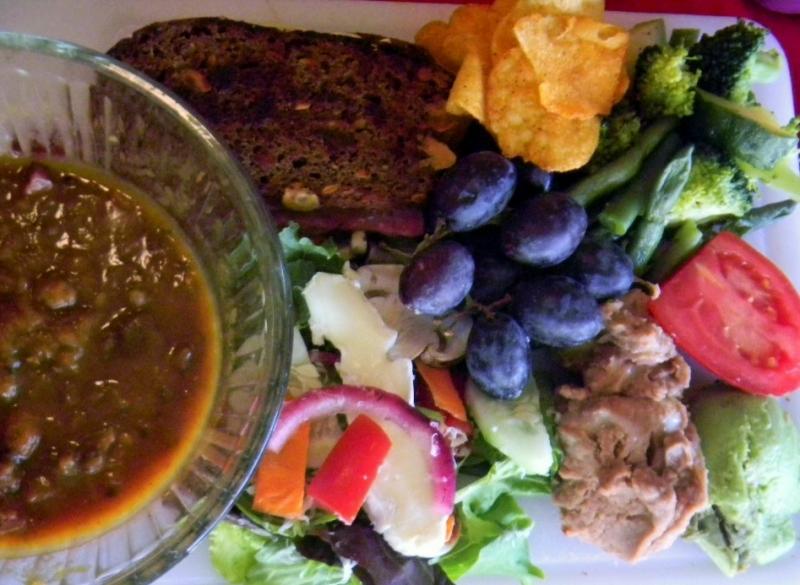 Mini Oven's Walnut Rye Bread wins 'Lucy's 2013 BBB Award' for best bread baked - this year.  Here it is used for a  Rembrandt Aged Gouda, brie and coto salami grilled cheese sandwich with a great salad from the pot garden and our favorite winter soup - Butternut Squash, Carrot, Corn, Smoked Sausage & Wild Rice- served with steamed veg, refried beans, black grapes, BBQ kettle chips, avocado and tomato.
Chocolate left and Gold Rush right -   both are yummy!
Since I busted both Chocolate and Gold Rush tin versions Lucy decided to cut off the craggy cracked portions of each which allowed us to taste both of them.  The chocolate version is tremendous - the kids of all ages will love it .  The Gold Rush is more complex in flavor and you can really taste the fruits that aren't being masked by the chocolate - it could really use some aging wrapped in a rum and brandy cloth.   Now,  instead of giving each separate loaf away to two lucky friends, we can mix a chocolate and Gold Rush together so each person will get to taste both - instead of just one.  You forget how fine a fruitcake can taste when well made at home.  Sure beats Great Grandma Ester's fruit cake - or at least how I remember it 50 years later!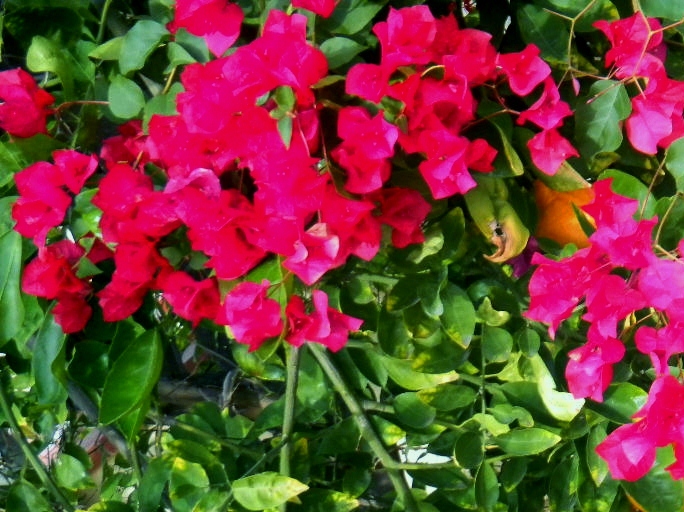 Red bouganvillia growing in the orange tree looks like Christmas in AZ.!
Thanks to copyu for the post, spreadsheet and inspiration for the English version that led to the other two fine taasting fruit cakes.
Gold Rush Sourdough Christmas Fruit Cake

 

 

 

 

Build 1

Total

%

Multigrain SD Starter

25

25

22.22%

 

 

 

 

Multigrain SD Levain

 

%

 

Whole Multi-grain Flour Mix

13

11.11%

 

Water

13

11.11%

 

Hydration

100.00%

 

 

 

 

 

 

Levain % of Total

3.86%

 

 

 

 

 

 

Dough Flour

 

%

 

White Whole Wheat

100

88.89%

 

Dough Flour

100

88.89%

 

 

 

 

 

Salt

1

0.89%

 

Water in SD Starter

13

11.11%

 

Dough Hydration

12.50%

 

 

 

 

 

 

Total Flour

113

100.00%

 

Water

13

11.11%

 

T. Dough Hydration

11.11%

 

 

Hydration w/ Adds

40.62%

 

 

 

 

 

 

Total Weight

649

 

 

 

 

 

 

Add - Ins

 

%

 

Butter

80

71.11%

 

Egg (1)

50

44.44%

 

Snockered Fruits

225

200.00%

 

Chopped Pecans & Walnuts

55

48.89%

 

Chocolate Chips

50

44.44%

 

Brown Sugar

50

44.44%

 

Total

510

453.33%

 

 

 

 

 

1/2 tsp of 7 spice - Gold Rush& Chocolate

 

 

1/4 tsp of 7 spice for English version

 

 

 

Chocolate has 1/4 tsp of baking powder Engkish has no SD or BP Chocolate has no SD Starter

 

 

 

Chocolate has 10 g of cocoa powder

 

 

 

70 g AP dough flour for Chocolate

 

 

 

70 g total - AP and WWW for English

 

 

 

160 g of  liquors were used as soaker with the oarnge juice nd zests

63 g of butter for English

 

 

 

180 g of snockered fruit for Chocolate & 380 g for English

 

70 g of chocolate chips total for Chocolate version  and 0 for English

65 g Brown sugar for Chocolate version