I have been making a lot of baguettes lately.    I had a particularly promising one the other day - took a bite, left the room, came back to find the dog eating it.   That's what happens when you make a lot of baguettes, I suppose.   
My husband asked me if I was driving myself crazy with making all these baguettes.   The answer?   No, I'm just trying to learn how to do it.   And you have to make a lot to learn.   So there it is.    And fortunately unlike some of my rye-ier efforts, he actually likes to eat the endless series of practice rounds.  
Today's entry?   A lower hydration overnight retarded sourdough version.   It rolled out a lot longer than I expected - 20 inches - as I did a long rest after the preshape.   It surprised me that the shaping was much easier with this long rest and it didn't seem to get overproofed.    As my baguette trays are 16 inches long instead of proofing on the tray, I placed it diagonally on a 16 inch sheet seam side down, covered with couche, and supported the sides.  
It sang like crazy coming out of the oven and looked ok if a bit mottled - I'm not sure why.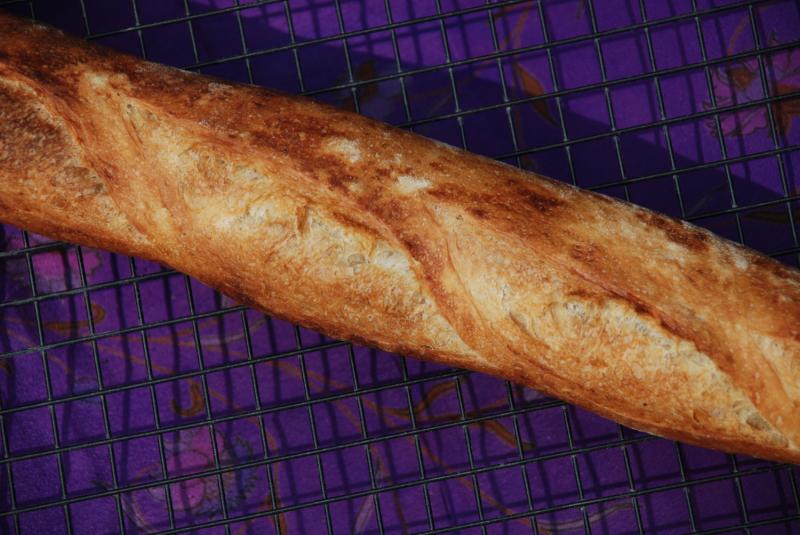 I was thrilled with the taste.   My best yet without question.   This had exactly the smooth creamy crumb texture that I have been striving for with an absolutely crisp and brittle crust.   The sourdough gives it a deep flavor, with not a hint of sour.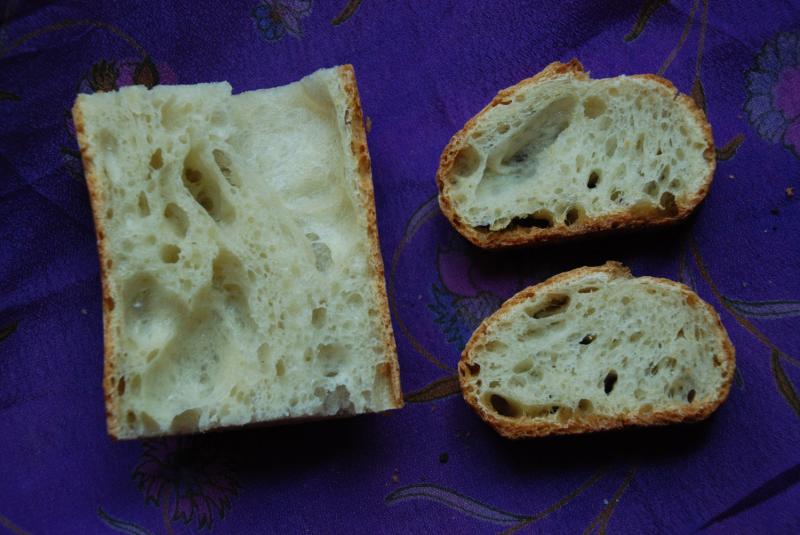 Since I rolled it out so thin it had a bit higher ratio of crust to crumb for every bite, than I might have hoped.   So at least a shade thicker and shorter next time.  
 
     Final
   Starter
   Total
 Baker's %
KAAP
150
42
192
 
Water
100
28
128
67%
Salt
3
 
3
1.6%
Starter
70
 
 
22%
 
 
 
323
 
 
 
 
 
 
Mix all by hand - a couple minutes
 
Bulk Ferment 1 hour
 
 
Stretch and Fold in bowl
 
 
Seal container and refrigerate for 13 hours
Remove and preshape
 
 
Place upside down in couche
 
 
Rest 1.5 hours
 
 
 
Shape and place diagonally on 16 inch sheet
Cover with couche and support on both sides
Proof for 1.5 hours
 
 
 
Slash and bake at 450 for 30 minutes
 
steam at beginning
 
 
 
Rotate at 25 minutes
 
 
If you ask am I likely to be posting any more on baguettes, I will have to quote Winston Churchill.  
"Now this is not the end. It is not even the beginning of the end. But it is, perhaps, the end of the beginning."
After all, I still haven't fully explored hydration or yeast vs starter or retardation time or starter plus biga or...
And just in case you are wondering if my dog story is a bit too shaggy...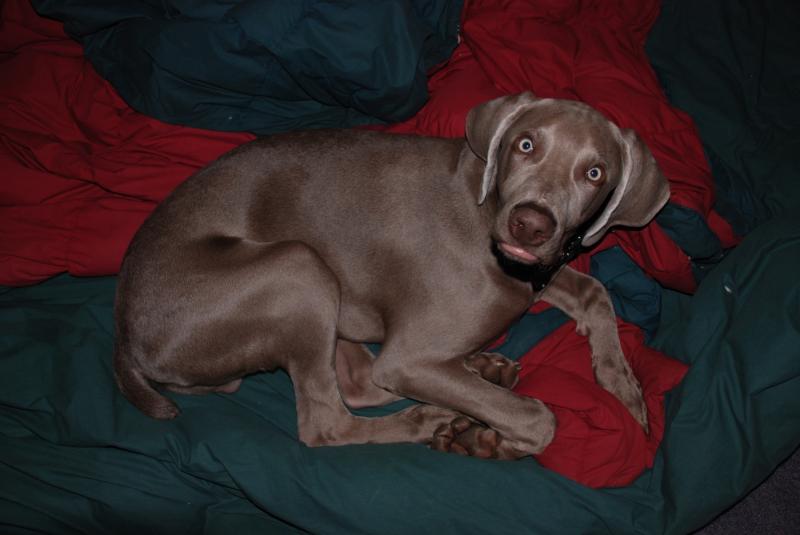 Does this look like a shaggy dog?