Most bookmarked
September 5, 2013 - 10:44am
Gin (but not tonic) brioche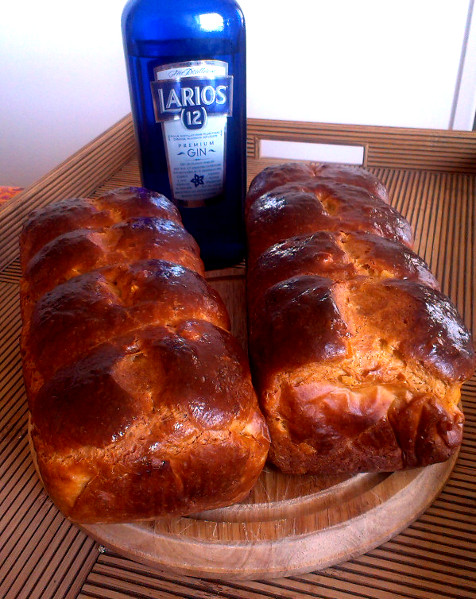 This is a brioche loaf enriched with lots of eggs and butter, and with the aromas that take part of a Gin&Tonic (lemon or orange peel, ground coriander, ginger, nutmeg, black pepper, cinnamon ...). It contains one tablespoon of Gin. Sourdough contains rye and barley flour. Some of this cereals are used in the destillation process.
I got the recipe in this website:
http://www.panarras.com/index.php/home/recetas/panes-enriquecidos/item/113-brioche-gt
For 1 kilo of brioche dough, ingredients are: 80 gr sourdough (40 gr wheat, rye and barley, 40 ml water), 360 gr high protein flour, 5 medium eggs (250-275 gr), 220 gr butter, 60 gr sugar, 10 salt and 6,6 instant yeast or 20 gr of fresh yeast. Orange flower water, Vanilla essence, lemon zest, 2 tbsp of spice mix (ground coriander, ginger, nutmeg, black pepper, cinnamon ...), 1 tbsp of your favorite gin, 50-100 gr of orange and/or ginger candied peel.
Have a nice day!
Abel Sierra.
September 3, 2013 - 5:28pm
This is my wife favorite recipe and pretty simple. The recipe is from german baking supply company Bäko Gruppe Nord.
Pane Olivia:
Bread flour ---------------------------------1000g
Water --------------------------------------- 720g
Fresh yeast/ instant yeast -------------- 15g / 6g instant yeast
Salt ----------------------------------------- 22g
Sliced olives ------------------------------ 100g
Sun-dried tomatos ---------------------- 150g
Knead all ingredients except Salt,Olives and Sun-dried tomatos on first/low speed for 4-5 min.
Switch to second/higher speed and Salt and knead for 5-6 min. Switch to low speed and add Olives and Sun-dried tomatos. DDT 75°F
Bulk fermentation 60 min. (strech and fold after 30 min.)
Put dough into container, cover with plastic bag and refrigerate up to 12-14 hour at 7°C/44°F.
Next day divide into rectangles pieces (2x2 inch) proof for 20-30min. and bake at 450°F for 15-20 min.
Good luck
Mirko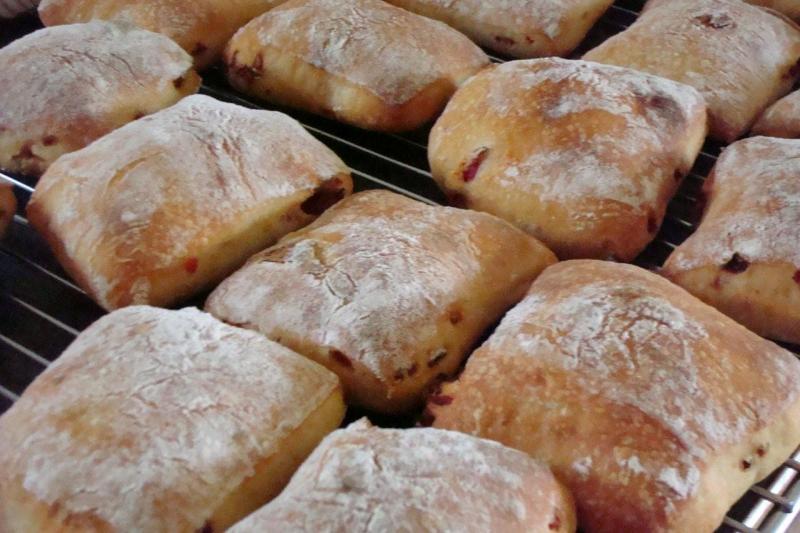 September 1, 2013 - 1:53pm
Alnwick Farmers' Market Friday 30th August 2013
Alnwick Farmers' Market
Friday 30th August 2013
I have really enjoyed reading other TFL regulars posting about their baking adventures in relation to their local farmers' markets.   I attended my own local market on Friday of last week and thought I'd do a short blog post with some photographs of the products I offer for sale.   I've posted formulae for most of these more than once before, but it may be instructive for me to give more description for each of them here, as they are currently made.
Here are some photographs taken at the market to give a flavour of the Bread and Roses' range:
All these breads are now made using only natural leavens.
The Moscow Rye is unchanged; 100% rye sourdough, 3-stage process.   It is an 18 hour first fermentation, followed by the addition of a scald to the sour to create a sponge.   4 hours more fermentation before making the final paste.  1-2 hour bulk and 1-2 hour final proof, then bake.   They go into the wood-fired oven at whatever temperature the oven is at; with lids on the pans.   A hot oven sees an 800g loaf bake in just over an hour.   But I have baked them for a LOT longer on the dead oven.
The Gilchesters' Miche is unchanged too, but I find a 2 hour autolyse combined with a stiff levain gives the best results for a dough with 73% hydration using very weak locally grown organic and high extraction flour.
Seeded Sourdough has a long history, as we baked a Special Seed Bread at the Red Herring many years ago using Pumpkin, Sesame and Sunflower Seeds.   The soaker of Golden Linseed is from Jeffrey Hamelman.   The stiff white levain is my own, as is the choice of 50:50 white flour to wholemeal.   Similarly with the Five Grain Levain which is very much based on the Hamelman formula, but using my stiff levain.
The Spelt bread is still a work in progress.   I like that it allows me to use more local flour from Gilchesters.   I like that there is interest in this ancient grain.   My formula uses stiff levain of strong organic white flour at 30% pre-fermented flour, 60% hydration, with wholemeal organic spelt making up the remaining 70% of the flour.   I don't like: it's bitter!!   I use a raisin purée to try to offset the bitterness [with mere occasional success].   The crumb is tight and the dough dries out too quickly; an increase to 71% overall hydration has helped a little…but results in even less dough tolerance, as the fermentation always races like a train.   I definitely do not like the cost either!   Ok, it's "a pig" to mill, and the yield is a mere two thirds of what you can expect from wheat; but how do I justify £23 for 15 kg as against £12 for 15kg of the lovely Farmhouse flour?   I should explain that the regular wheat used by Gilchesters is a single variety "rare breed" Sativa wheat, organically grown, sourced specially from Germany on account of no fancy biologist arsing about with its genetic make-up over the last umpteen years and more.   Try as I might I often fail to convince those who worship as the alter of Spelt that the Farmhouse flour offers equal provenance, is just as safe a dietary bet for those with issues, and, actually tastes a lot better.   So I'm stuck trying to make a better spelt loaf.   This one is not bad, but you can see I'm not raving about it; and that is not good enough.   I want to love all the bread I offer for sale.
Moving on; the white bread.   I've changed tack here; this is a more ordinary white bread.   I like it much better too.   Nigel makes a much better white loaf than I have ever achieved using the Gilchesters' Ciabatta flour and a liquid leaven.   A lot of this is to do with his oven, I believe.   Anyway I was really happy with the 800g offerings I came up with this time.   In summary, I now use only the Marriage's Organic Strong White flour.   I use stiff levain, 60% hydration, with 25% pre-fermented flour.   I autolyse the remaining 75% of the flour for 1-2 hours.   The overall formula gives 68% hydration.   Nigel uses an overnight fermentation for his white dough.   That doesn't work for me.   2 – 3 hours of bulk fermentation with a couple of folds, followed by 1.5 – 2 hours final ferment gives me the best results.   Of course, the real difference is in the leaven preparation, and I remain in favour of well-fed stiff dough rather than liquid levain.   Feedback from colleagues is favourable and positive.   This is good, as I find it very hard to get REALLY enthusiastic about any white bread.
The Toasted Brazil Nut and Prune Breads are now made with levain only.   Originally, I used an overnight Biga.   I make these as 400g loaves, in order to make them a commercial proposition.   And, they are really popular at the Alnwick Market; I sold a dozen of them, even at £2.80 each.   Why do nuts have to cost £10/kg here in the UK these days???
The laminated paste does use baker's yeast, as a "straight" dough.   I use an overnight cold fermentation.   Once the butter is incorporated, I give four half turns to laminate the dough.   Typically, this would involve 2 half turns, one hour rest, 2 more half turns, then a further one hour rest.   I used 1kg of flour in the formula, and 420g butter.   Yield gave me 15 Croissants, 10 Pain Amandes and 10 Pain au Chocolats.
Autumn at Bread and Roses looks busy; very busy indeed.
Happy Baking to you all
Andy
August 31, 2013 - 11:43pm
Converting yeasted sandwich loaf to sourdough loaf questions
Hello, for the first time I am attempting to convert a favorite yeasted sandwich loaf recipe to a sourdough recipe. If possible, any pointers are welcome. That being said, I do have a few specific questions.
How much starter would you use for 1000 g of flour? I found a recipe (on this site) that calls for 300g of starter for a loaf with 500g of addition flour in it. That seems like way too much! I previously have been making 1000g of dough + 200g of starter.
Does dairy (such as in an enriched bread) effect the starter at all?
Thanks!
Home steam injection ovens
I'm remodeling my house and beginning to think about ovens.  To my surprise I've found a number of steam injection ovens designed for home installation.  Could these possibly mean I can forget about "magic bowls" and DO cooking?  A real steam injection oven for home?  With the addition of a stone it could be pretty close to a commercial deck oven.
Has anyone seen the KitchenAid® 30-Inch Steam-Assist Double Oven, Architect® Series II in action, or any of its many competitors?
So with these produce pack we are 12 weeks into a 26 week season. I can't believe I am already that far and still coming up with new ideas for breads. My maple oat idea hasn't worked out yet but we are thinking closer to October will be a good time for that one. This weeks bread was Sundried Tomato and Basil. This bread was easily one of the best breads of the season. It has a slight red tint to the whole bread with a rustic floured crust. there were more orders for this one as well so I know it was popular. As far as this weeks farmers market I got pretty ambitious. I made 97 loaves of bread with 4 different varieties. I made a really nice dark seedy spelt, sourdough just like last weeks, fruit and nut, and this weeks bread sundried tomato and basil, And of course baguettes. I hope it all goes well at the market.
Next weeks bread: Honey Oatmeal Date.
Here is a picture of the seedy spelt and the sundied tomato basil.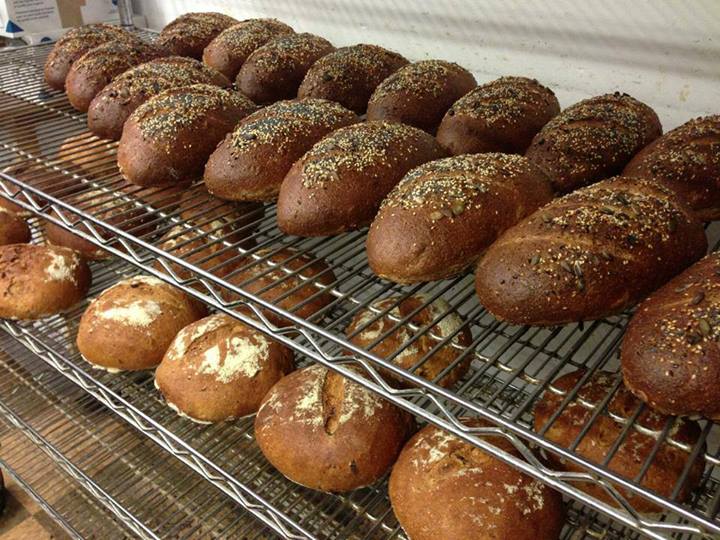 Almost a Borodinsky Bread with Chocolate Malt
Ever since I read about this bread baked by Varda (recipe here) I have wanted to try to bake one.  I managed to pick up what I thought was Chocolate Malted Rye which is one of the key ingredients at a local brewers supply store.  Unfortunately I later learned that what I bought was chocolate malted barley.  Never the less I still figured it was worth giving it a go anyway.
You are also supposed to use a Pullman pan with a lid for this bake but since I don't currently own one I used a standard baking tin and covered the bread for most of the bake with aluminum foil.  I think it worked out okay, but next time I will buy a Pullman pan and see if it makes much of  difference.
Following Varda's advise I tried to dock the dough and separated the sides with a spatula to avoid cracking on the top.  I still ended up with some cracking so I guess I need to try something else next time.
Overall I think the bread came out pretty good for my first attempt.  It has a nice moist crumb with a pretty hard crust.  I have never eaten this type of bread before so I'm not sure what it is supposed to taste like, but mine is very sour which I imagine may mellow after it sit for another 12 hours or so.  I ate a piece after about 18 hours which is the longest I could wait.
The chocolate malted barley smelled so good when mixed with the sour; almost good enough to eat like cake batter.
I am going to try and get some authentic malted rye for the next attempt.  I used only the malted chocolate barley for this bake even though Varda's formula called for some plain malted rye which I did not have.  Not sure what kind of difference that made in the final taste profile.
I will have to give a 100% rye version of this style bread in the near future after I return from my trip to China next month.
Happy baking everyone.
Multigrain Sourdough with Sesame and Flax Seeds Toadies and Malts
We needed to come up with a white bread that had around 30% of home milled, whole grains that did't disappoint when it came to flavor and sour.   We have been developing 80% and higher whole grains with robust flavor and sour but, some folks just don't like breads like that .....even though that should be against the bread laws :-)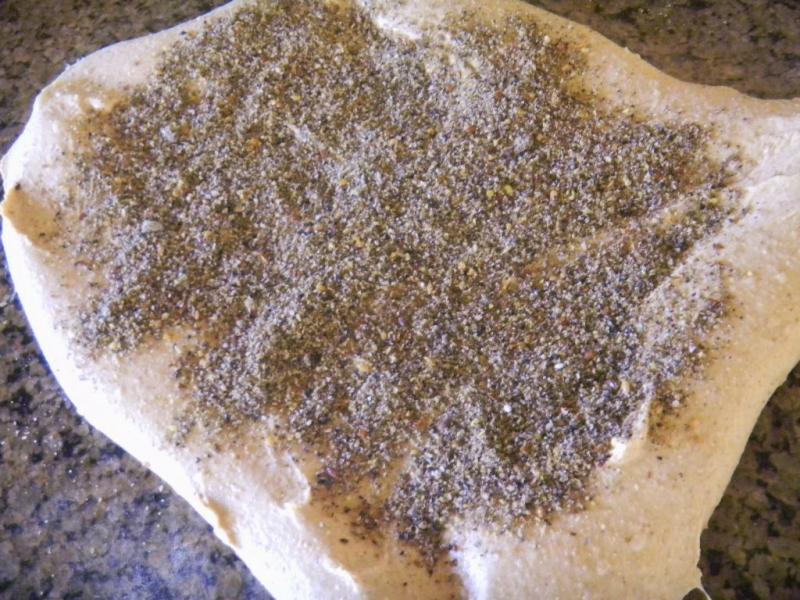 My poor apprentice still thinks that, if it isn't pumpernickel, it's not even close to real bread and she should know being the determined German she looks like and claims to be.  But, the other girls in the family still like their mamby,  pamby, cotton candy, Oroweat, supposed whole wheat bread even though, it sure doesn't look like any whole wheat I grind and bake – not even close.
Hopefully, Lucy will come up with a recipe that they actually prefer over their notion of what bread is supposed to be.   So, we took a flyer from toad.de.b and decided to do a bread that required double slap and folds.  Our 2nd set required double slaps to one fold as it was stiffer than normal!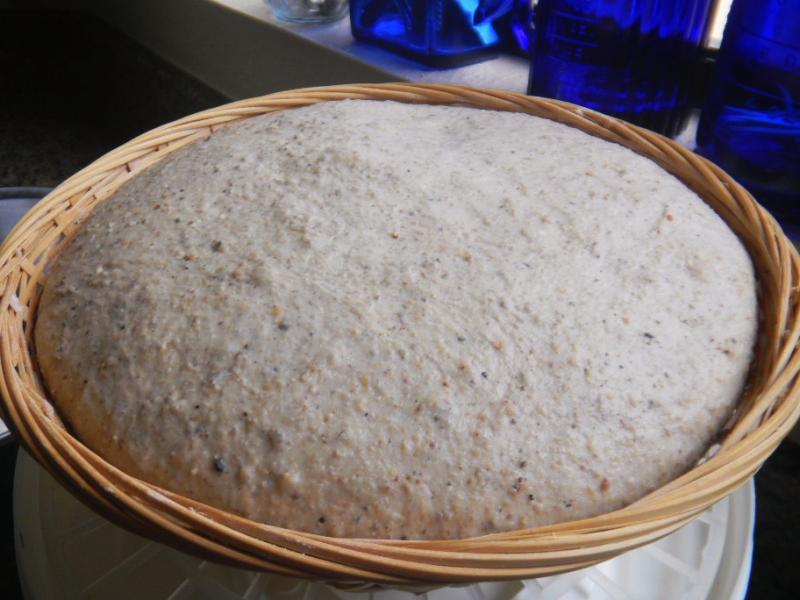 After Tom's great flavor enhancing invention that Lucy named 'Toadies' (short for Toady Tom's Toasted Tasty Tidbits), you just have to read his latest post on his summer bread experiments and incorporate what ever strikes your fancy into your methods -  like I made my apprentice over her scowls and growls.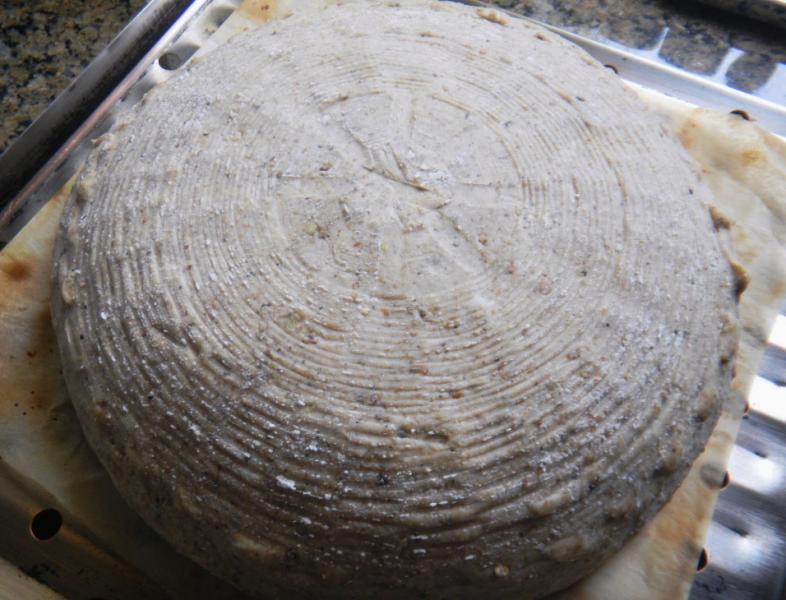 This time we dropped the whole wheat from the whole grain mix and added whole oats to the usual rye, Kamut and spelt.  For liquid, we went with water this time instead of some part being yogurt whey.  This white bread should be less tangy than our normal loaf as a result but it should still be tangy enough.
Weonce again put the whole grain bits into the levain to get them wet as long as possible.   We hoped they would be softer that wasy and not cut the gluten strands too much when we went to develop it.  We also did a 48 hour retard after the 3rd stage build had risen 25%  to promote sour and lab reproduction over yeast reproduction.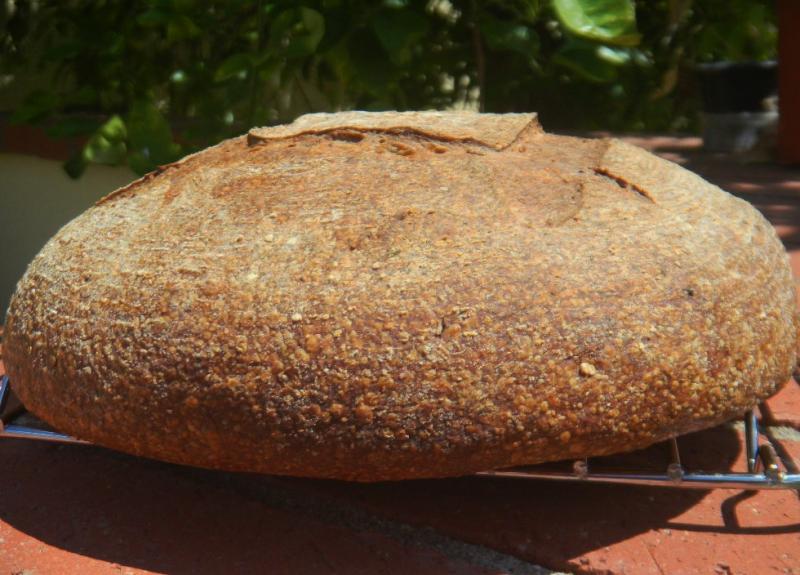 When the levain came out of the fridge to finish it's 48 hour belated doubling, we started the autolyse with everything else except the ground seeds.  We only sprinkled the salt on top of the autolyse so we wouldn't for get it later as we sometimes prone to do.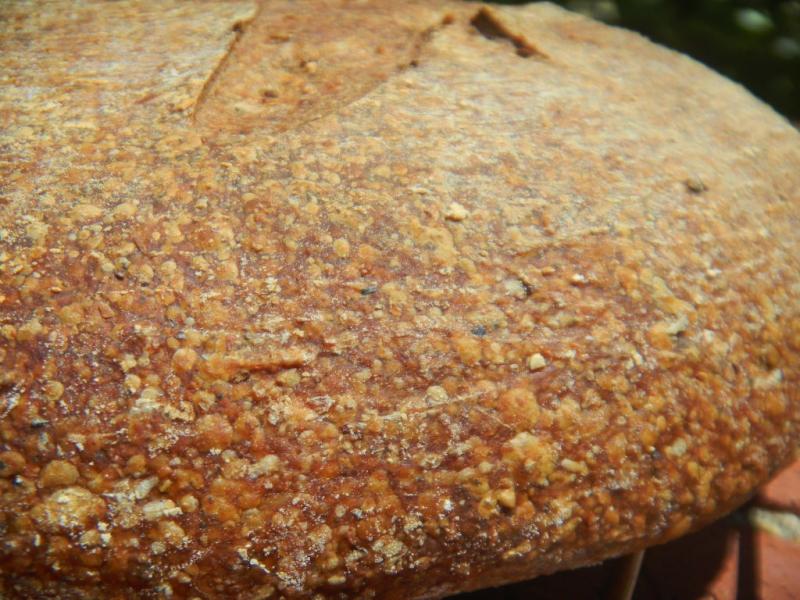 After 3 hours on the counter, the levain was ready by finishing its doubling.  We mixed it with the autolyse and then did 10 minutes of slap and folds.  After a 15 minute rest we did another 4 minutes of slap and folds before resting it again for 15 minutes.  The gluten was fully developed but we still did 2 sets of slap and folds on 15 minute intervals.  The ground sesame and flax seeds were incorporated on the first one and were evenly distributed by the 2nd set.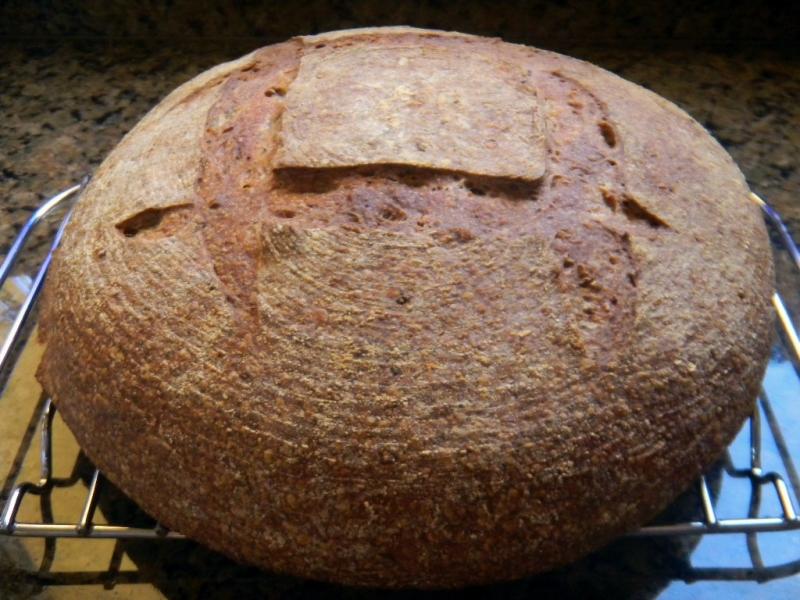 After another 15 minute rest we pre-shaped the dough into a boule and 10 minutes later shaped it for keeps and dropped it seam side up into a lightly rice floured basket.  A short 30 minute counter proof and into the fridge it went  We planned on a  retard per Toady Tom's latest near death wait of 20 hours.  We hoped the low levain inoculation of 12% would be small enough so the dough didn't explode.  Low inoculations and long low temperature retards promote flavor and sour better than any other way.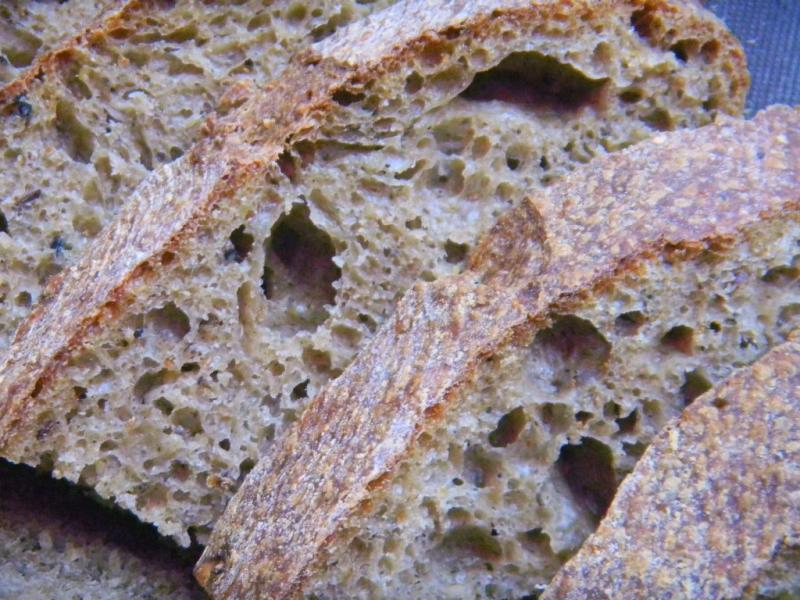 We let the boule warm up for half an hour before starting the mini oven's  preheat to 500 F.  For steam, we used the overturned stainless steel bowl over the broiler pan that had ½ C of water in the bottom.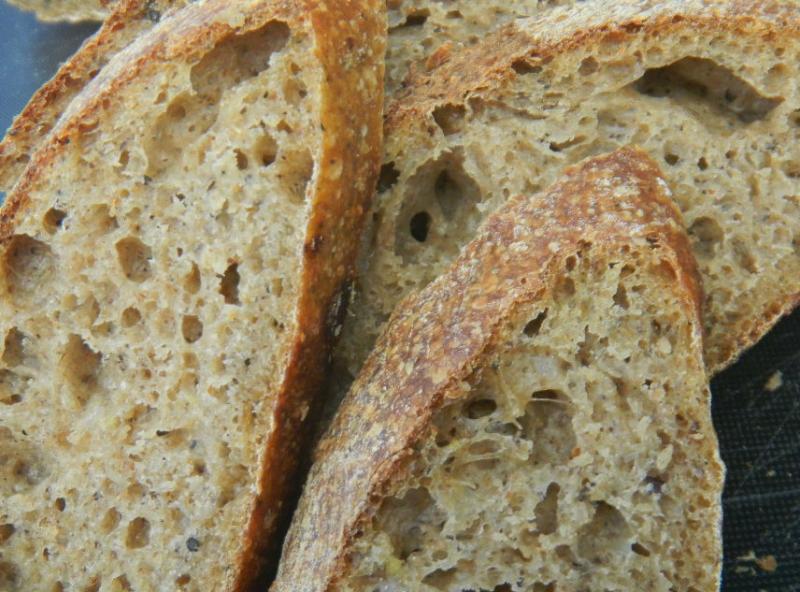 The boule was un-molded, quickly slashed in a square, covered with the stainless mixing bowl and placed into the mini oven for 14 minutes of steam.  At the 7 minute mark we turned the oven down to 475 F and at the 10 minute mark we turned it down to 450 F.  5 more minutes of steam would have been better but my apprentice forgets to add steaming time when covering with a cloche.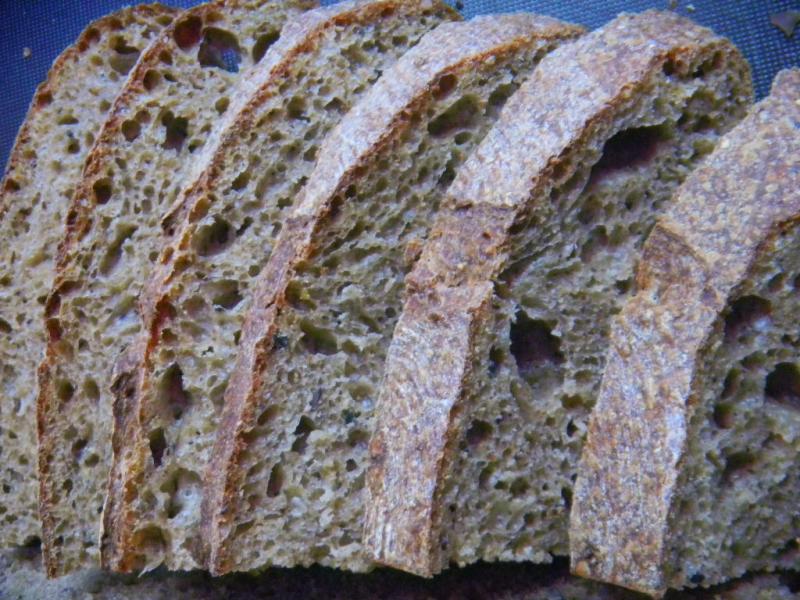 The steaming bottom of the broiler pan came out at 14 minutes and the temperature was turned down to 425 F, convection this time.  The bread didn't spring much, spread a little and bloomed some under the steam.  A sure sign the bread was proofed over 85% and or not steamed long nough.  These long ferments can be tricky to time properly when you are sound asleep :-)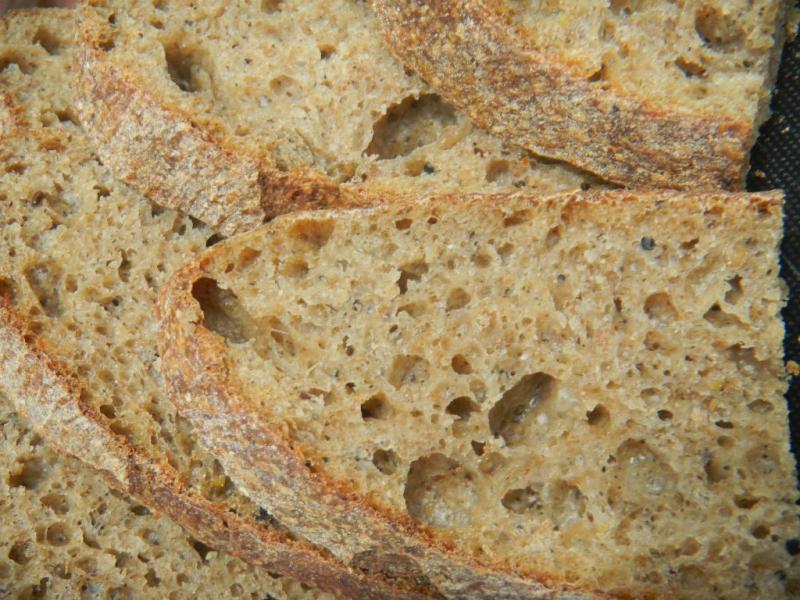 We rotated the bread every 5 minutes to make sure it browned properly.  Oddly, as soon as the steam came out, the bread sprang nicely and puffed itself up pretty well.  After 15 minutes of dry heat, the bread registered 205 on the Fahrenheit scale.   It was then moved to the cooling rack all browned up and blistered with the mini oven's typical crust.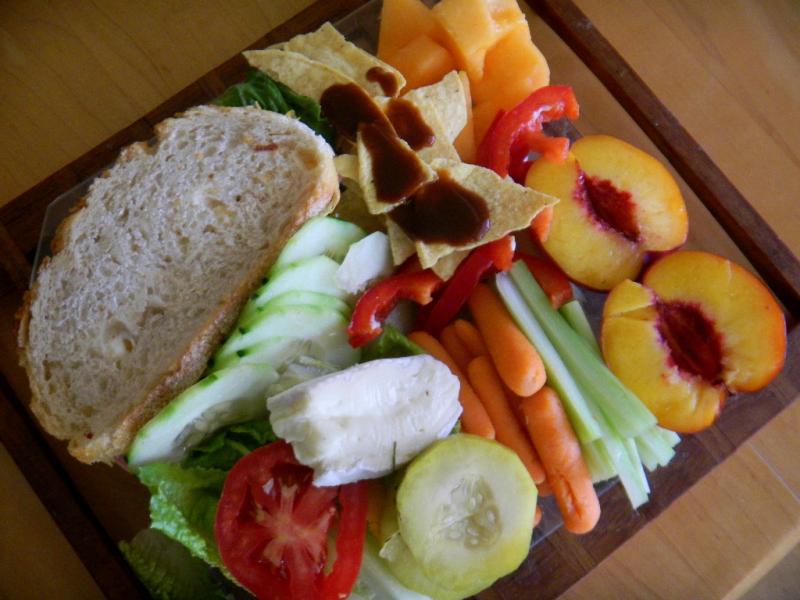 Yesterday's white bread lunch  and this moring's white bread breakfast.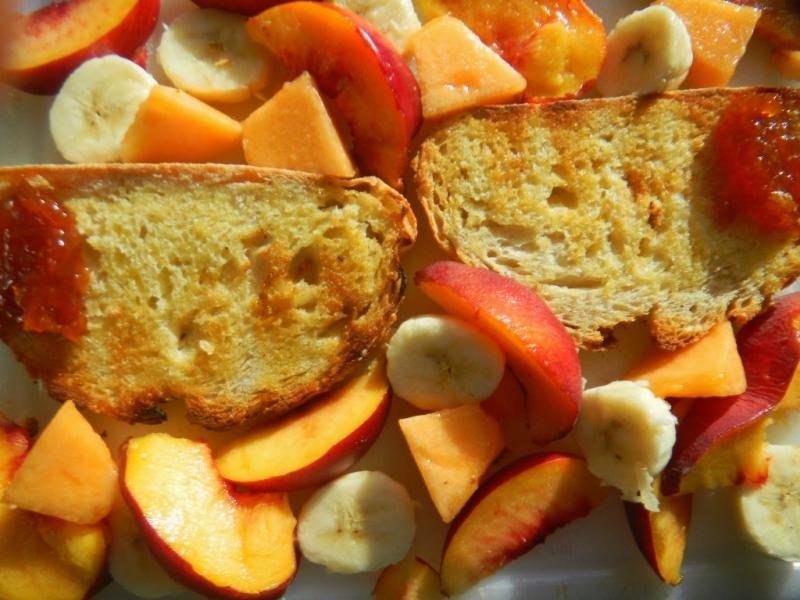 Will have to wait on the crumb shots but will have this bread for a late lunch as see how we like it.  But first a nice sunset.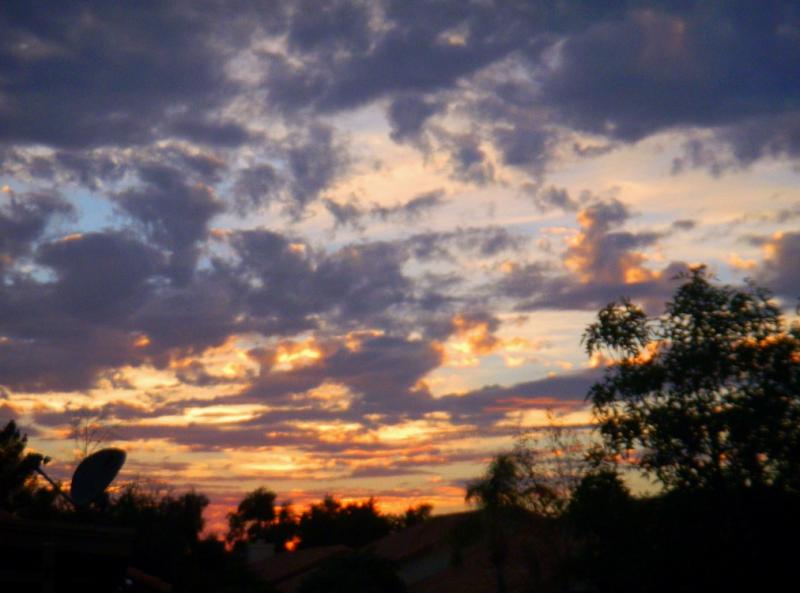 Followed by today's lunch.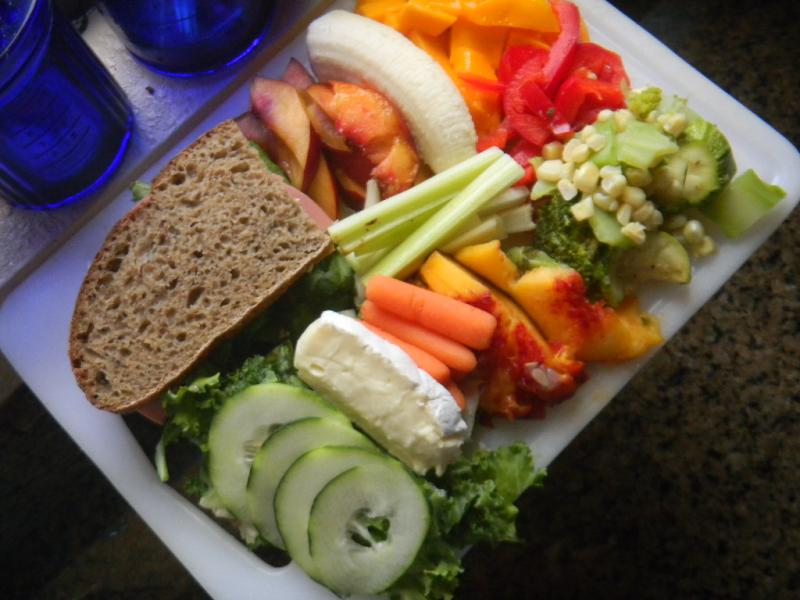 The crumb was open moist and soft.  The crust went softer as it cooled and became more chewy rather than crunchy.  If I have to eat white bread..... this is the one I want.  The seeds really come through and help make this bread flavorful and plenty tasty enough.  I was struck by the sour flavor and some of it must be because of the lowered levain amount to less than 12% and retarding of it for 48 hours.  Toady Tom's 20 hour retard of the dough didn't hurt either.  I could eat this bread all day without ever knowing it is a white bread.  We likie this bread a lot and now have to see what the girlsi think. 
Formula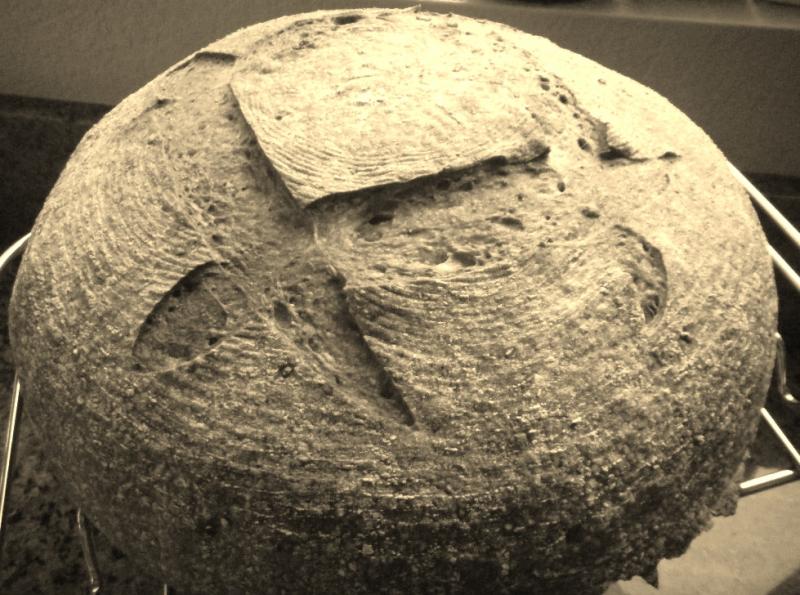 Build 1

Build 2

 Build 3

Total

%

Multigrain SD Starter

12

0

0

12

2.82%

25% Extracted Bran

6

7

9

22

5.16%

Water

12

14

18

44

10.33%

Total

30

21

27

78

23.47%

 

 

 

 

 

 

Multigrain SD Levain

 

%

 

 

 

Flour

50

11.74%

 

 

 

Water

50

11.74%

 

 

 

Hydration

100.00%

 

 

 

 

 

 

 

 

 

 

Levain % of Total

11.83%

 

 

 

 

 

 

 

 

 

 

Dough Flour

 

%

 

 

 

75% Extraction Multigrain

56

13.15%

 

 

 

AP

200

46.95%

 

 

 

Bread Flour

110

25.82%

 

 

 

Dough Flour

376

88.26%

 

 

 

 

 

 

 

 

 

Salt

8

1.88%

 

 

 

Water

306

71.83%

 

 

 

Dough Hydration

81.38%

 

 

 

 

 

 

 

 

 

 

Total Flour

426

100.00%

 

 

 

Water

356

83.57%

 

 

 

T. Dough Hydration

83.57%

 

 

 

 

% Whole Grain Flour

28.70%

 

 

 

 

 

 

 

 

 

 

Hydration w/ Adds

78.07%

 

 

 

 

Total Weight

845

 

 

 

 

 

 

 

 

 

 

Add - Ins

 

%

 

 

 

Red Malt

5

1.17%

 

 

 

White Malt

5

1.17%

 

 

 

Toadies

10

2.35%

 

 

 

Ground Flax & Sesame Seeds

25

5.87%

 

 

 

VW Gluten

10

2.35%

 

 

 

Total

55

12.91%

 

 

 

 

 

 

 

 

 

75% extraction multi-grain is: 25% Kamut,

 

 

 

 25% Oat, 25% spelt & 25% rye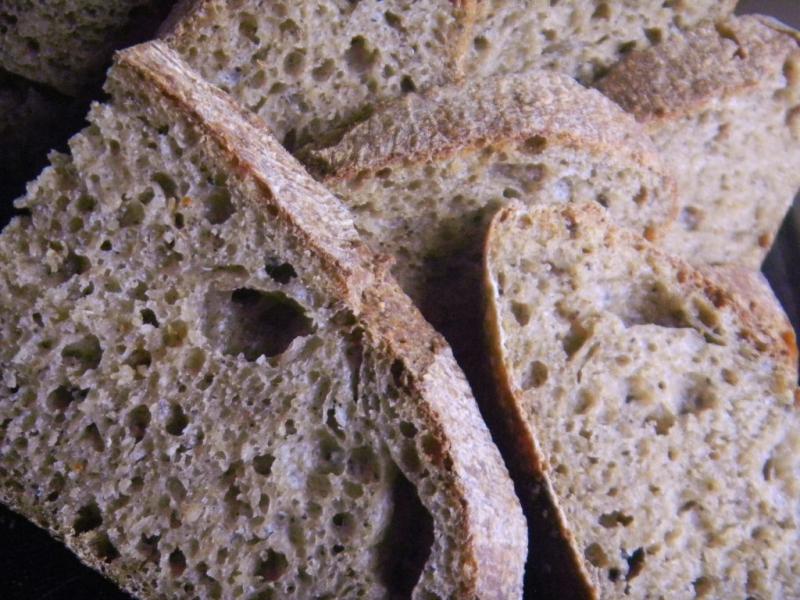 Pages