February 23, 2015 - 7:50am
Tartine Country Rye with yeast.
This weekend I decided to make the Tartine Country rye bread again.  The formula in the book:
Leaven  200g
Water    800 g
Whole Rye 170 g
Bread Flour 810 g
Salt 20g.
++
My "modifications" to the formula:
Leaven                      200 g.
All Purpose Flour     500 g
Whole White Wheat 330 g
Whole Rye                170 g
Water                          800g
Salt                                20g
Yeast:                            1g
My leaven was not looking sufficiently potent, perhaps because the starter needed to be refreshed one more time before use.  So, rather than cross my fingers, I added 1/4 tsp of yeast.
Also, rather than disperse the leaven in water before mixing the dough, I mixed the flours and water, and after 30 minutes, pinched in the leaven, yeast and salt alla Forkish.
The loaves came out great. The crumb shot is from the smaller loaf, and the bread was absolutely divine.  I also through some sesame seeds in the basket to help with the release and to add to the flavor of the crust.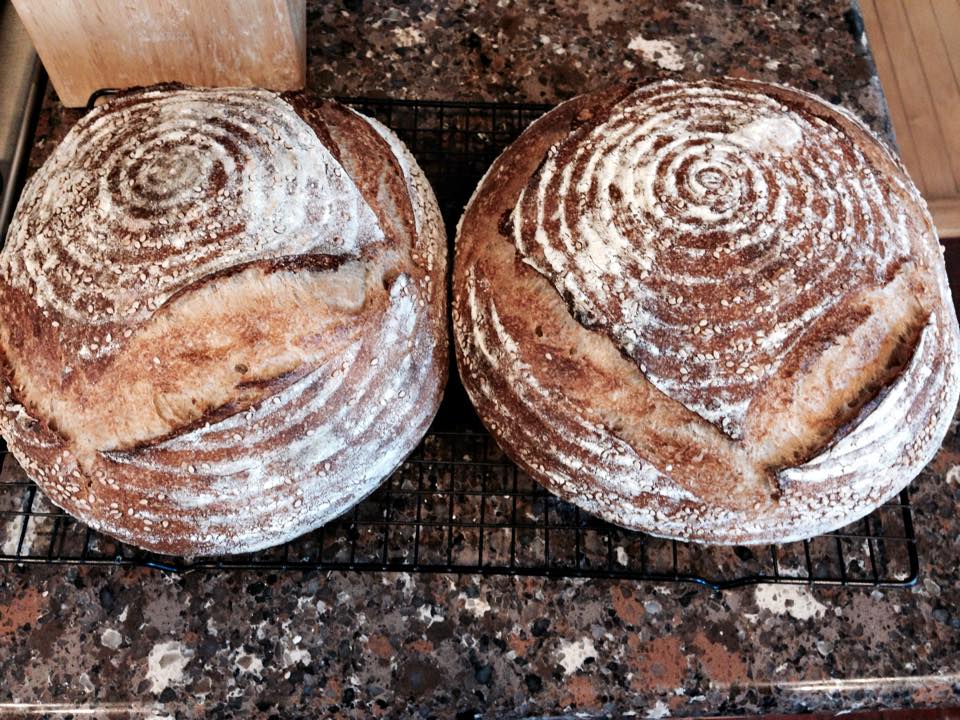 The bread is delicious. The crumb is very soft. It was almost too soft to cut easily, but I suffered through it.