There is a traditional type of test question in medicine called "visual diagnosis." The student is shown a photo - it might be of a whole person, a face or just a piece of skin with a rash - and asked to make a diagnosis. The last time I took a test like that was for board certification in Pediatrics. That was in 1977, and I can still remember most of the photos I was shown - a young girl with an inguinal hernia, a teenage boy's feet (They were flat.), a rash (Scabies), a child with a rare genetic condition (Progeria). I think there were a couple more. I can't remember them right now, but I do remember I knew the correct diagnosis for every one of the photos. (Yay, me!)
Anyway, "visual diagnosis" is a valuable skill for bread bakers too, it seems to me. I think others agree. That is why we prefer to see photographs of a loaf's crust and crumb structure before committing to a "diagnosis" of a problem's cause. That's by way of introduction to today's visual diagnosis quiz.
Here are some photographs of two bakes of two loaves each. All loaves weighed the same (512g) before baking. Both bakes were at 460ºF for 12 minutes then 440ºF convection bake for another 18 minutes. The obvious difference is that one bake is of bâtards, the other of boules, but there is another obvious difference in their appearance.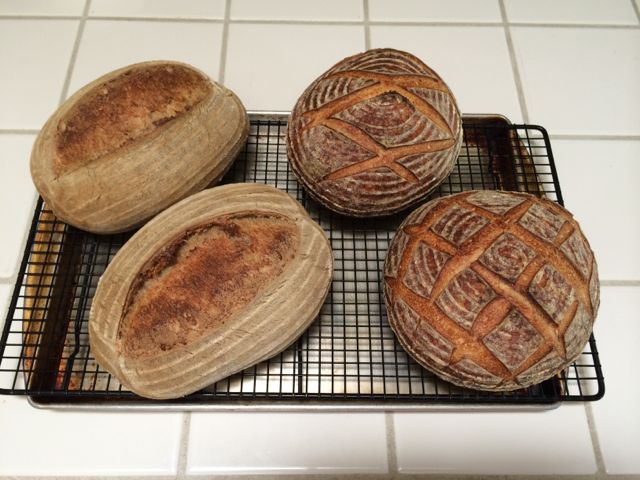 Bâtards and Boules, side-by-side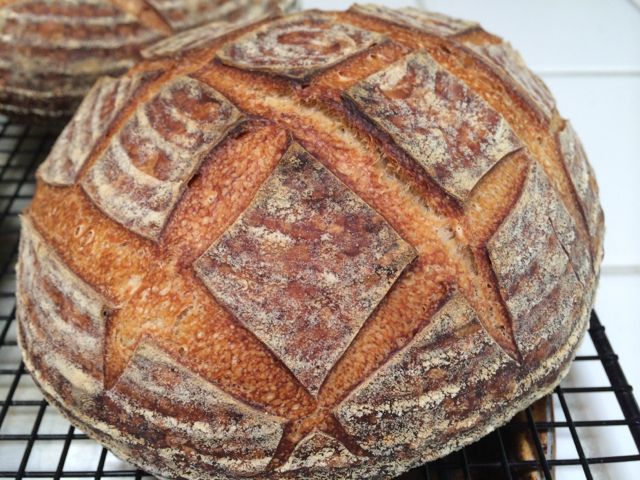 Boule Close Up
 Bâtard Close Up
If you choose to take the test, here are your questions:
Describe (briefly) the significant difference you see.
What are the possible causes of the difference?
What is the specific cause you think responsible for the difference? And why do you think that?
Further instructions: Have fun, and Happy Baking!
David