Sourdough pain de campagne - first post here of something I've baked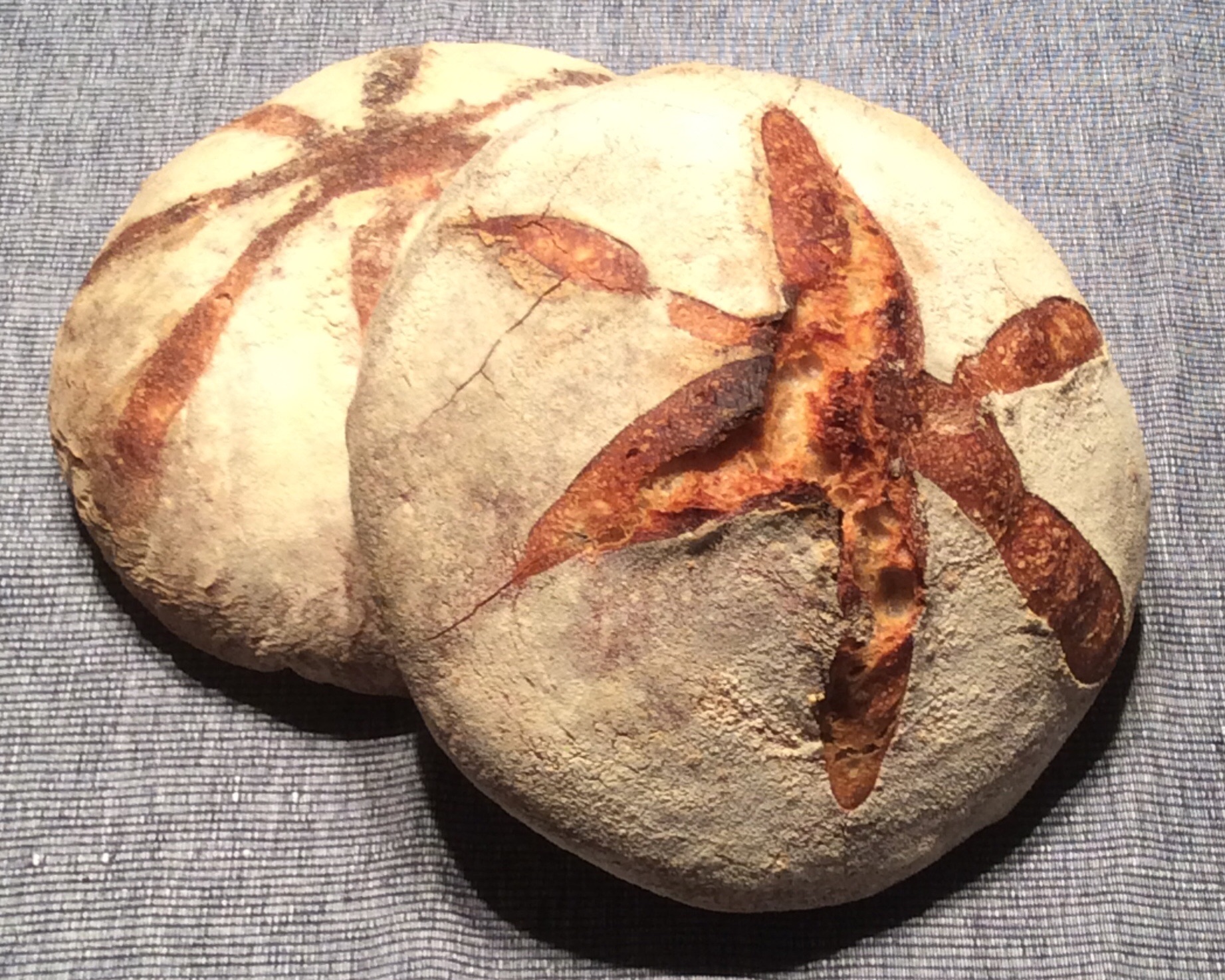 I've been making yeasted breads for years, but recently started exploring sourdough.  Handling high (c.75%) hydration doughs has been a bit frustrating and at times it has felt like learning from scratch.  
My 100% hydration levain is working fine.  It's 50% wholemeal and 50% white bread flour, is stored in the fridge, and when using in a pre-ferment doubles nicely.  I love the fact that I developed my levain from scratch… and it works.
Trying a loaf at 65% hydration (including the preferment) has been helpful in restoring some dented confidence, not to mention a bit less frustration with breaking skins and gluey messes during shaping - or getting to the point where shaping was just impossible.  On occasions my loaves have been more like splats than boules(!)
Anyway, I've braved-up enough to post photos of my weekend bakes: two loaves of pain de campagne following the quantities and method from http://weekendloafer.com/2011/10/20/pain-de-campagne.
There's been a little variation from the recipe: I used Alinson strong bead flour (one of the main UK brands); the bannetons were dusted with wholemeal rice flour and cornmeal was scattered on the base of the loaves just before turning out.  Then...
1. The loaf on the (viewer's) left was cooked at the end of proving on a preheated baking stone, without steam.  I got a bit better oven spring than I've had on my last few attempts, even with steam and it was fantastic to be able to watch the dough rise in the first 10 minutes.  Clearly the dough was still expanding, because there was a bit of a split in the finished loaf at the end of baking.
2. The loaf on the right was from the same dough batch, but retarding in a banneton at 4°C for 12 hours and baked in a preheated 'La Cloche'.  This loaf was less rounded and slightly pointed on top.  The crust crackled nicely, as it can out of the oven and was slightly crazed by the time it was cool.
My conclusions based on recent sourdough baking:
I've been over-proving my loaves a bit too much until this bake;
Trying 75% hydration loafs is a bit too much to start with;
Watching YouTube videos on shaping doughs explains concepts that are nearly impossible to learn from a book.
Thoughts after this particular bake:
Retarding shaped loaves is something I will do more often;
My technique with a baker's grignette needs a lot more practice;
I still need to work out how to produce more oven spring;
I'm pleased with the open texture of the crumb.
Crumb-shot to follow.
Having had a bit of a dent in my confidence recently, I'd appreciate any thoughts from other readers, now that I seem to be heading in the right direction.  How can I build on this?
Best wishes & thanks, Colin