December 27, 2015 - 1:31pm
Cooked Potato Starter White Bread
With Lucy's success, after 3 tries, at the Methodist Ladies, 1906 Witch Yeast, Lucy thought she could move on to a more difficult starter - especially now that she has finally passed the last of the aluminum foil wrapped Hershey's Kisses she ate a couple of days before Christmas – nearly a whole bag of them.  So much for chocolates being poisonous for dogs too.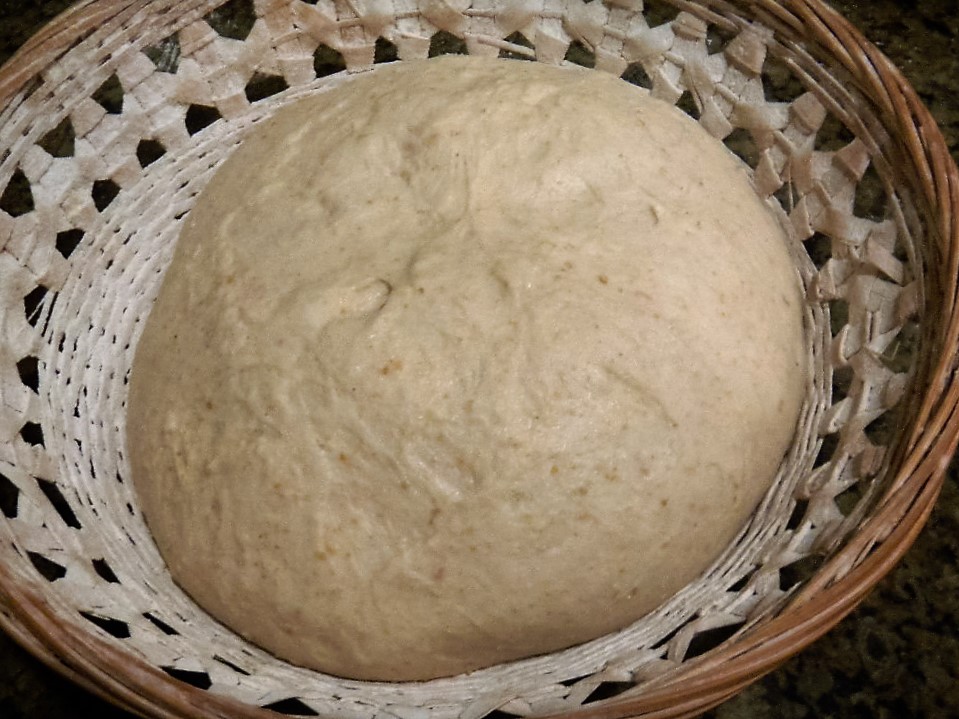 When it comes to Bernard Clayton's Complete Book of Breads, you never know where he came up with some of his starters, or what he was thinking, since most of them have commercial yeast in them.  This one is fairly odd though in that the first 3 days it doesn't have any potatoes in it of any kind.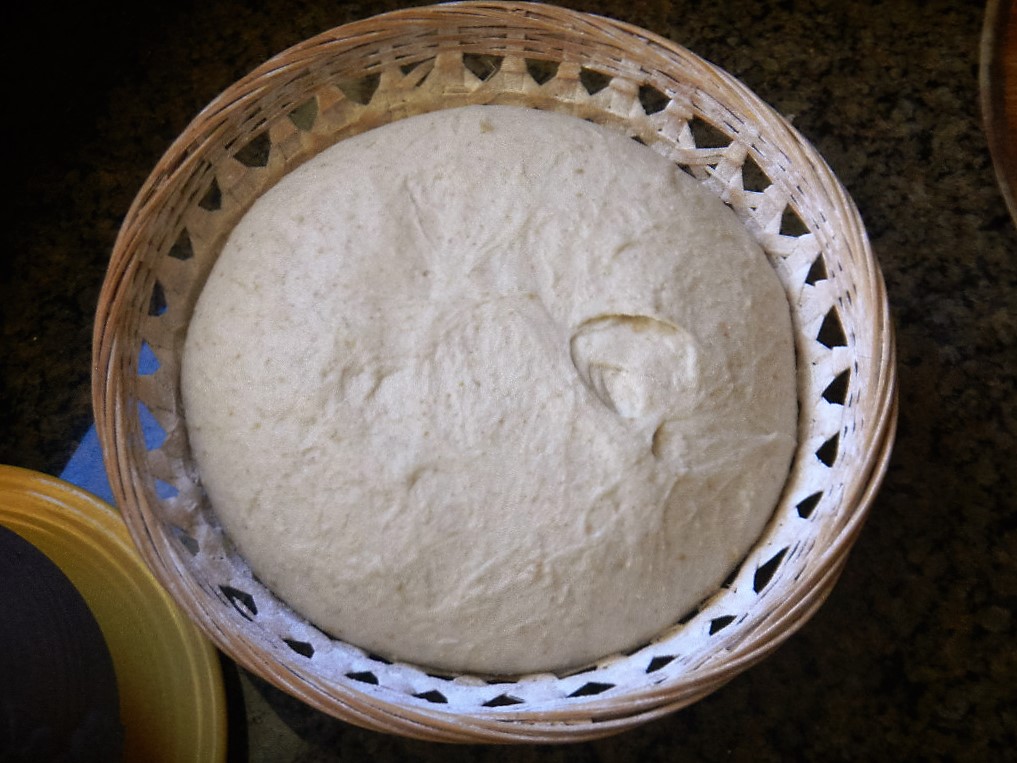 It could just as easily have been called Scalded Corn Meal and Milk Starter with some sugar and salt in it since that is how it begins.  You can find the recipe on page 284.  You just let this sit at 80 - 85F for 2 to 3 days, stirring it once a day until it ferments and becomes frothy.  How it does this I have no idea since the mix is scalded which should kill of f and denature most all the stuff in it that would make a starter.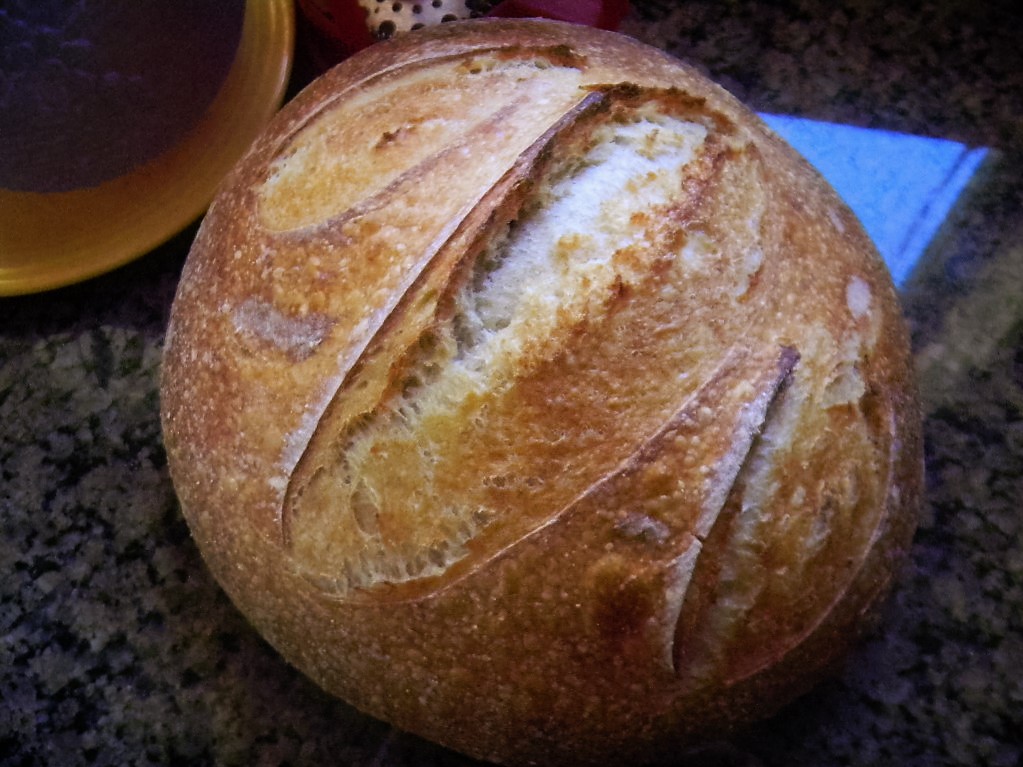 Lucy says it is 'wee beastie magic'.  Then you add boiled mashed potatoes, a huge amount of the potato boiling water, both cooled, along with some more sugar and salt.  You let it sit at the same temperature for another day, stirring every few hours, before refrigerating the soupy mass for 3 days to 'age' it.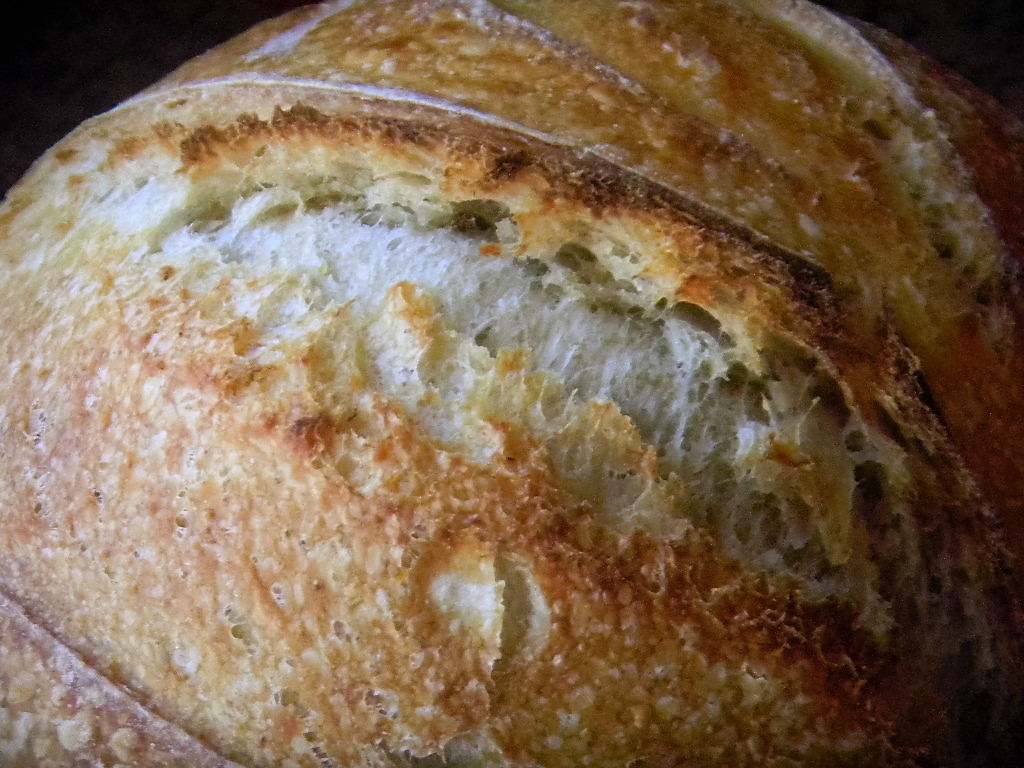 So this another one of those no wheat flour potato starters but this one worked the first time because, unlike the Witch Yeast, the direction on how to make it were fairly clear and easy to follow.  When done it did smell a bit like a young fruity SD starter.  Clayton didn't give a recipe to use it in, like he did the Witch Yeast, so we had no idea how to use it.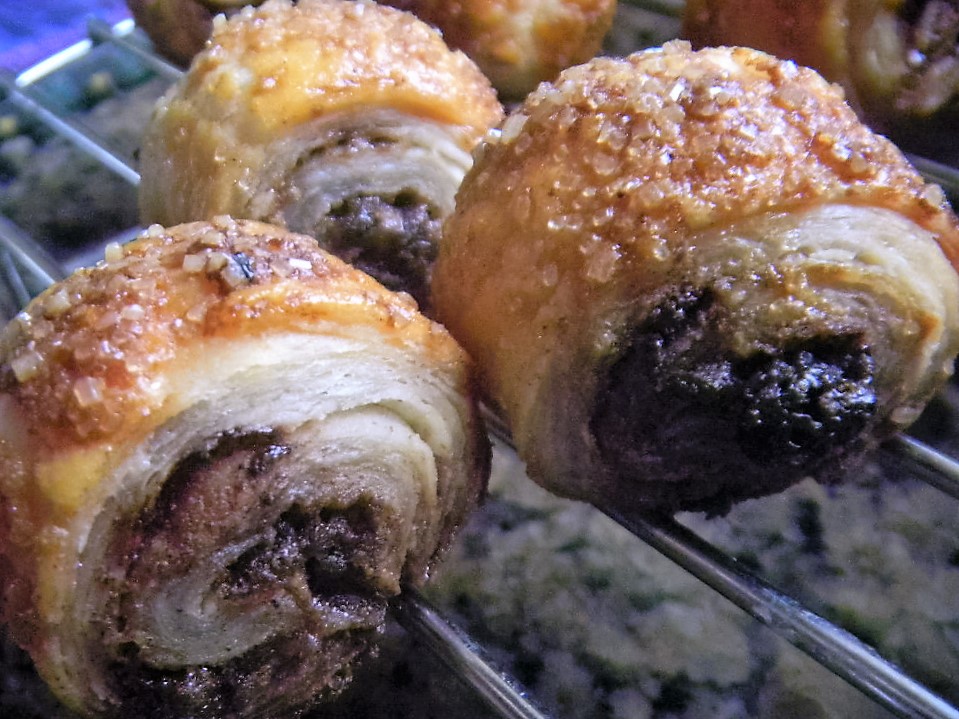 Holiday cookies aren't complete until the puff paste rugalach are done.
We cut the formula In half since the original would have ended up with 2 quarts of the stuff which seemed excessive – especially when the only things we keep in that mega size around here are beer, bourbon and wine.  Lucy thought we should just treat it like a finished levain but it was too soupy for my reckoning.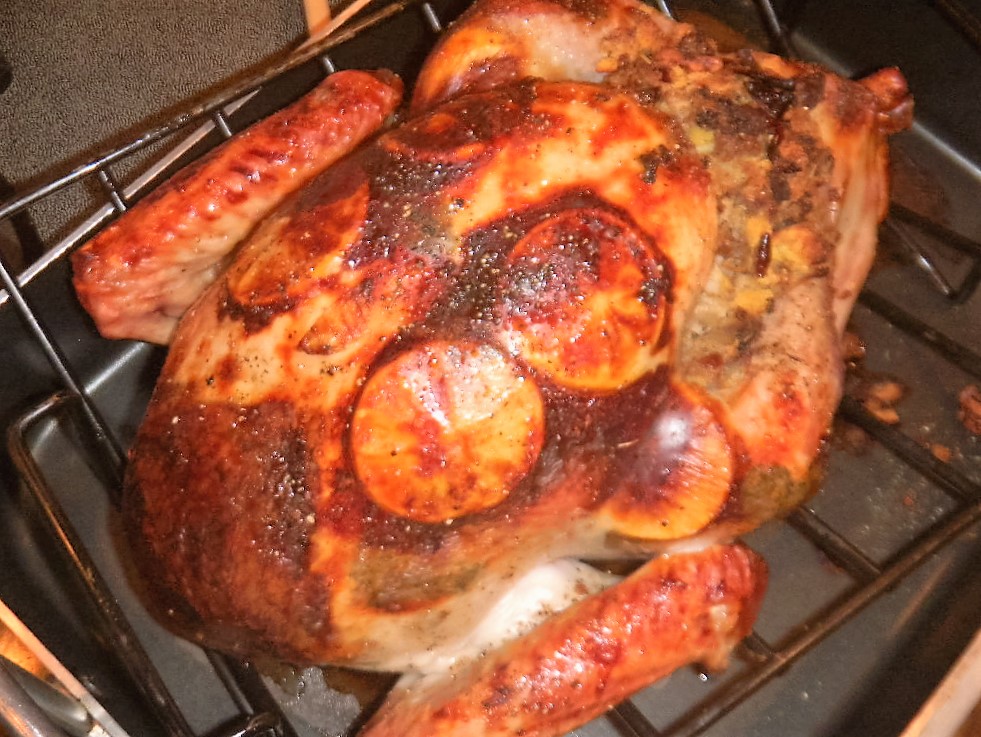 A nice small 8 pound Christmas Turkey.  Sweet limes (a new citrus for us) , butter, fresh sage and rosemary under the skin - after 24 hours in an apple cider brine.
So I, being the master in charge, overruled my apprentice and decided to feed 180 g of this stuff with 60 g of whole grains - 10 g each of rye, wheat, oat, barley, spelt and Kamut just to see if it could live once off a corn and potato diet and thicken it up to a more normal levain consistency.  4 hours later it seemed to be happily bubbling away so we fed it to the LaFama AP dough flour and some more potato water, this time half sweet potato water, until it felt like a 75% hydration dough.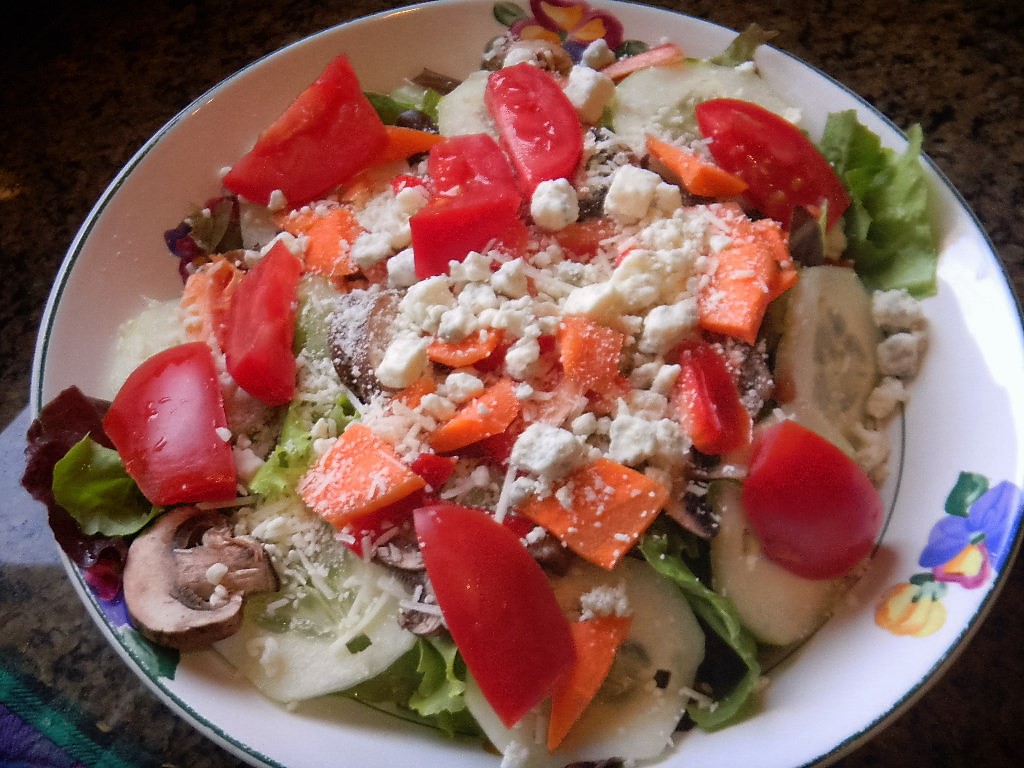 Since the starter had so much salt in it, we had to guess at how much more was need and decided 1% the flour weight would work.  We sprinkled it on top of the dough ball and let it sit for 30 minutes so the white flour could hydrate.  We then did 3 sets of 30 slap and folds on 30 minute intervals and 3 sets of stretch and folds, from the compass points only, on 45 minute intervals.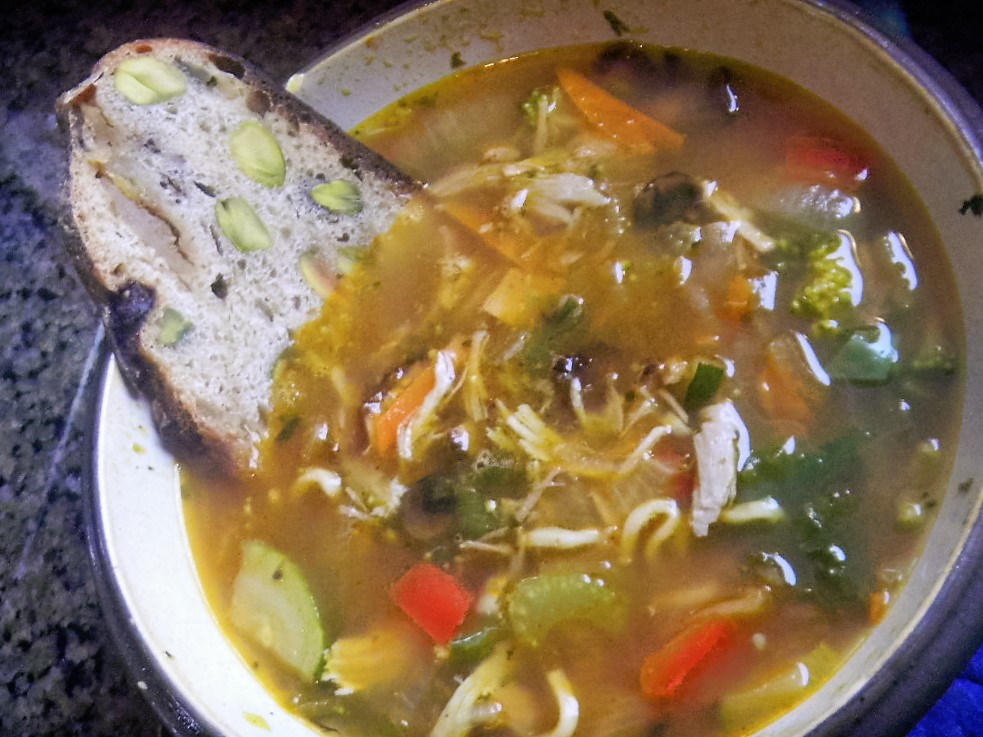 Last week's Witch Yeast, Fig and Pistachio bread with a nice smoked pork. chili spiced, noodle soup.
 Once shaped we put it in a rice floured basket and then bagged it for a 20 hour cold proof.  We took it out of the fridge the next day and let it warm up on the counter for 2 hours hoping it would finish proofing since it didn't do much in the fridge.  These young starters tend to be weak so you have to be patient or just love potatoes more than you do the average, aluminum pooping, bread baking apprentice!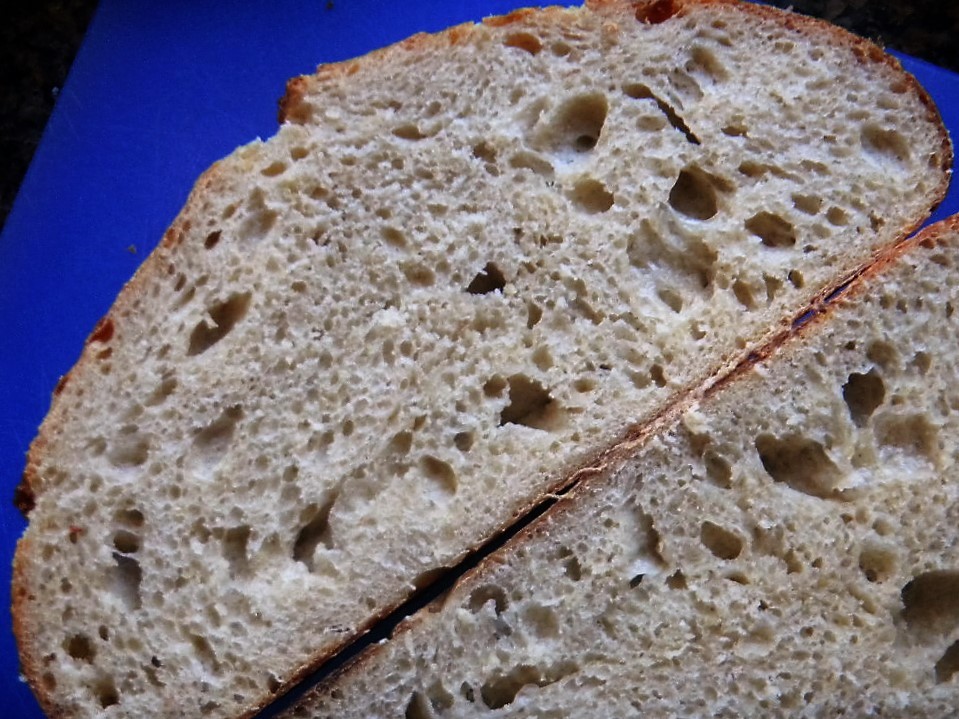 We decided on using a hot aluminum pot for a cloache so that Lucy would know what aluminum should really be used for……. instead of makeshift, intestine rippers.  We preheated to 450 F and baked at 425 F for 15 minutes with the lid on since SFSD is baked at lower temperatures and this was a smaller loaf to begin with at 850 g.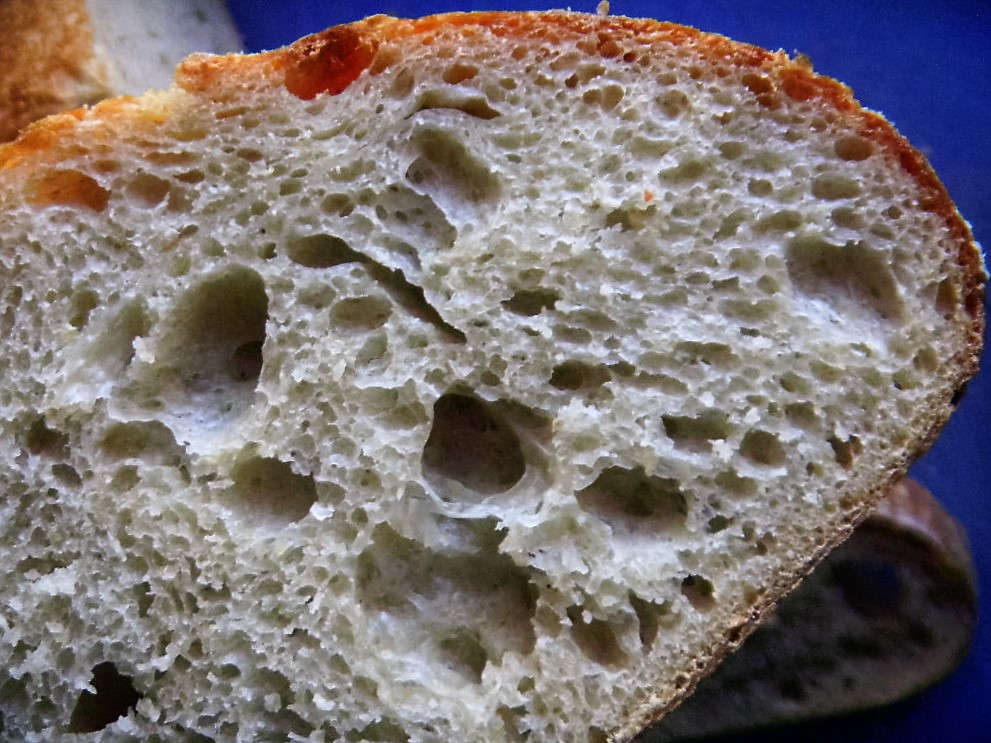 Once the steaming was done, we continued to bake at 425 F, convection this time, for another 15 minutes until the bread thumped done. It bloomed, blistered and sprang well enough under cover and browned up nicely with the dry heat.  We will have to wait to see how the crumb came out when we slice it for dinner.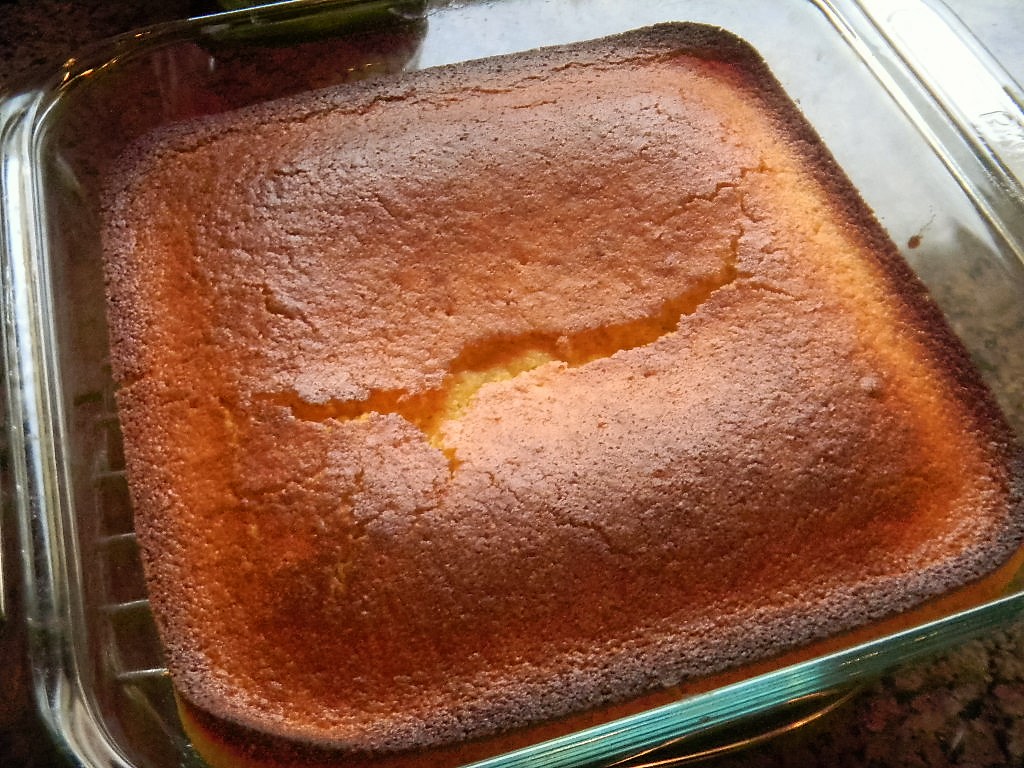 Got to have corn bread for Christmas Dinner!
For a brand new corn and potato starter only 5 days old, this bread really stunned Lucy.  It has only the mildest of sour but it is fairly open, glossy, soft and moist on the inside.  It isn't super open for a 15% whole grain bread but the rest of the sought after crumb characteristics are there in spades.   The girls are going to like the left over cranberry, stuffing and turkey sandwiches we will make with this bread.   This is just the kind of bread they love.  You have to love Clayton!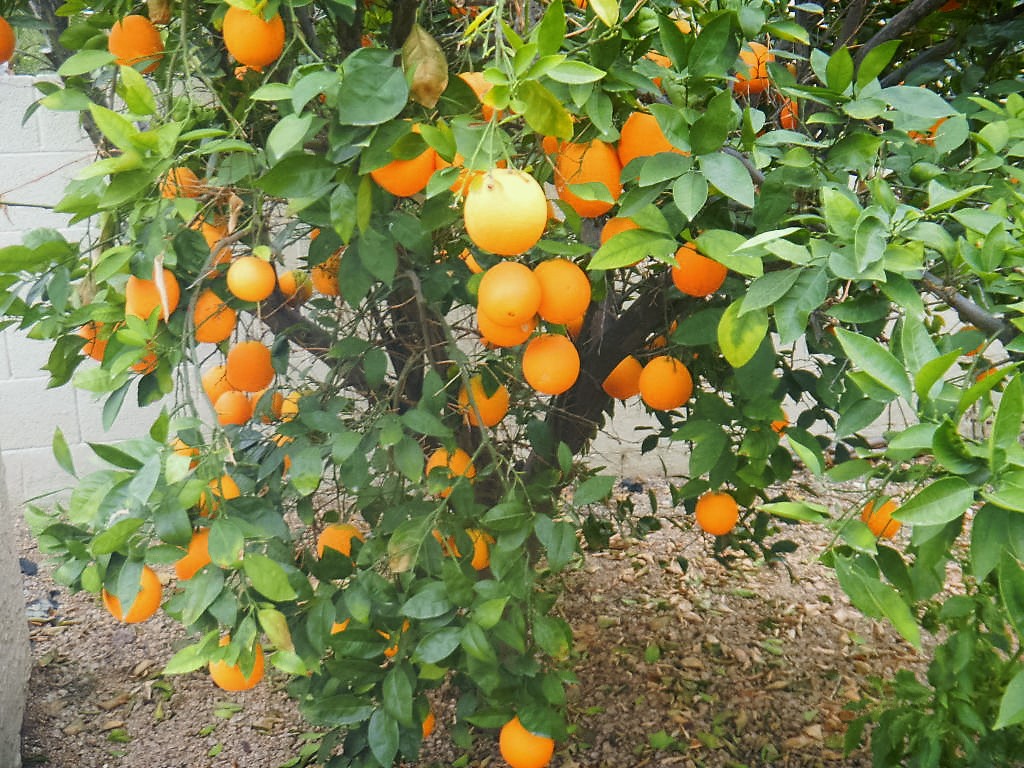 Yea!  The oranges are finally ripe