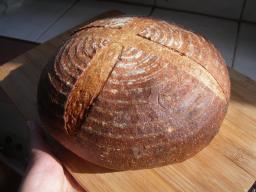 Hi everybody.I had a try on ciabatta the day before yesterday. I use the recipe from Jason's recipe and follow some procedures of txfarmer's blog. I made some adjustments to the  process. 
Here are the adjustments:
1.After mixing with my KitchenAid mixer, I made 3 stretch and fold at 20 minutes, 40 minutes, 60 minutes.
2.After stretch and fold, I kept the dough into the refridgerator overnight. 
Here is the recipe:
500g bread flour 
475g (~2 cups) water
2 tsp. yeast 
15g salt