olive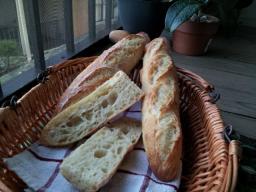 I am fairly new to this website, about a month now, and I really excited so share a creation of mine. Right now I'm calling it Olive Swirl Roll w/ Balsamic Syrup, but the title could use a little work. Without further adieu I give you....

Hi, all.
So, I have been baking a couple of batches of Rosemary-Olive sourdough. Overall, I'm pretty happy with the results, but I have one slight problem:
the Rosemary flavor is barely noticeable in the bread. I think I used a pretty good amount of fresh Rosemary already, but I could of course increase the amount. The problem I will have is, that when I get to "production stage" and make a dozen loaves or so at a time, I'd need a bush of Rosemary every week - that doesn't sound very sustainable.
Pages