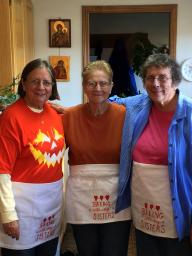 Let me start this post with the disclaimer....
I am sure this is NOT what Honey Balls should look like... 
You will be able to tell that we 3 gmas... are not experienced in this Jewish Rosh Hashanah tradition... and have never even seen a Honey Ball in real life!  So, trying to make these was an adventure... I am certain those great bakers of this yearly candy will find our attempt... laughable... with no disrespect to the tradition and the memories held dear... I will for the sake of honesty post my pictures.