Hamburger buns

I had just come back from a month-long vacation in Asia where I gorged on fresh seafood and vegetables every day, so I was craving for some good old-fashioned hamburger.  Fortunately, Saveur had the hamburger for its Sept. issue focus story.  The sesame seed bun recipe for 12 buns took only 4 hours from start to plate.  The texture was soft without being airy like the commercial kind, and the taste with just a hint of sweetness- perfect with salty blue cheese burgers.
1 package active dry yeast (1/4 oz)
1 1/3 cups milk heated to 115F
1.5 tsp. + 2 tbsp. sugar
I made dinner rolls yesterday for supper using my hamburger pan roll.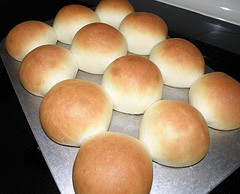 Tonight I will use the leftover rolls for hamburgers.
Pages