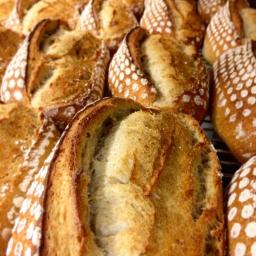 As some of you may be aware, Mellow Bakers is a group of people who have taken on the baking of all recipes in the Jeffrey Hamelman book, "Bread".
We've already done a trial run recipe in March with several participants, many of them fellow TFLers, and tackled the Hot Cross Buns. And with this successful rum have now pretty much settled the process we'll be following.
With that, we're now Officially Launching into our first group bake with the following three recipes:
Rustic Bread, Light Rye and Bagels.