Electrolux Assistent
Looking for a mixer to buy.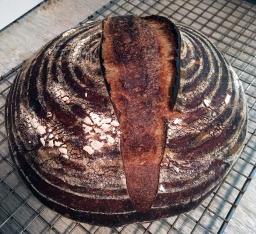 I finally got tired of making my Kitchen Aid mixer smoke, and ordered a Magic Mill DLX 2000 (Electrolux Assistent). I made a variation on the New York Deli Rye from _Breadmaker's Apprentice_ (I didn't use the onion or caraway), using 100% of a mixed rye/white flour barm instead of the sponge. Based on what I'd read online, I started with the liquid ingredients in the mixer, then added dry slowly. It did a beautiful job of kneading, I think I'm in love.
Hello there,
My name is Jennifer and I am one very grateful newbie.
My bread odyssey began a few months back while shopping at the grocery store: I'd finally had it up to -here- with the cost of bread vs. the quality.  We live in a hideously remote location, the selection is bad and we're feeding three growing boys.  My priority, of course, is my kids; I can't do a thing in the world about my location; I can definitely do something about the quality of our food.