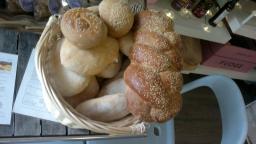 Hello Everyone!
Scotch Baps.
Hand mix.   
Dough Temperature.             24˚ Centigrade.
Yield,  9  @ 70g.  660g.         Includes  5% excess for process loss.
Bulk Fermentation Time.      120 mins
Knock Back.                           90  mins
Here is a formula and method for a small batch.  When upping the yield, go by the %s and not the given recipe. 
%
100                  Strong Flour   390g.
59                    Water              230g.