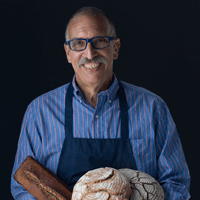 As many of you know, one of the high points of my week is baking with my Down syndrome daughter, Becky.  She's absolutely taken to baking like a fish to water and is my indispensable right hand gal. 
So here's what we made.
Yesterday (8/20/11), we baked her sandwich loaves -- 30% buckwheat in an enriched sandwich bread matrix. We love the flavor of buckwheat and try to use it whenever we can in breads, pancakes, waffles, etc.