6 Grain Fennel and Fig Sourdough
This weeks bake was brought about by chance.  Lucy found some Turkish figs hiding out in the fridge where they were tossed several months ago.  Thank goodness they were already dried before being lost to the cold.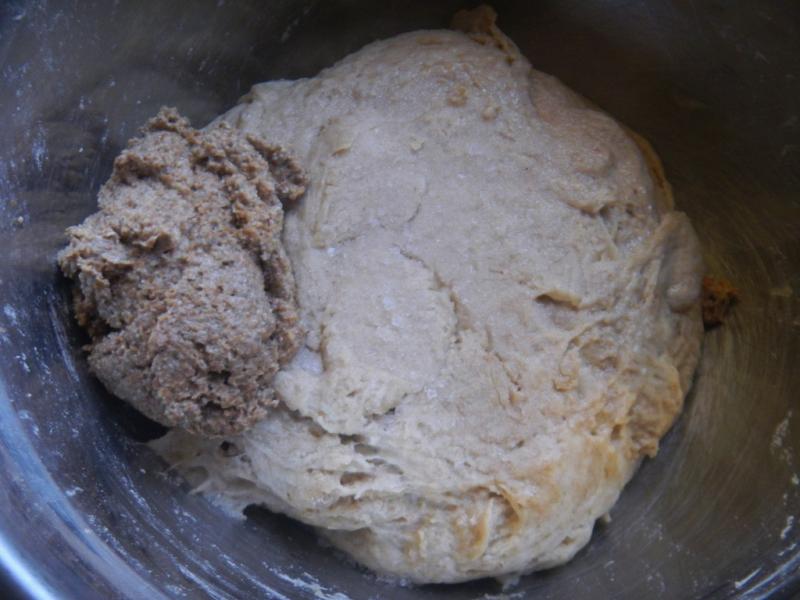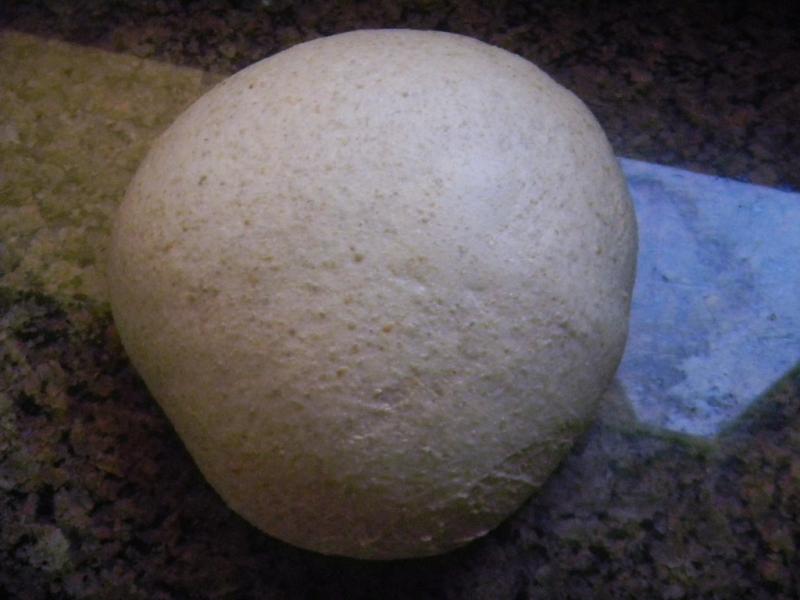 We wanted a bread that was healthy so we picked 6 whole grains to grind up and mix with AP flour to get a 50% whole grain bread.  We picked Kamut, spelt, rye, wheat, farro and barley because of its very low GI index.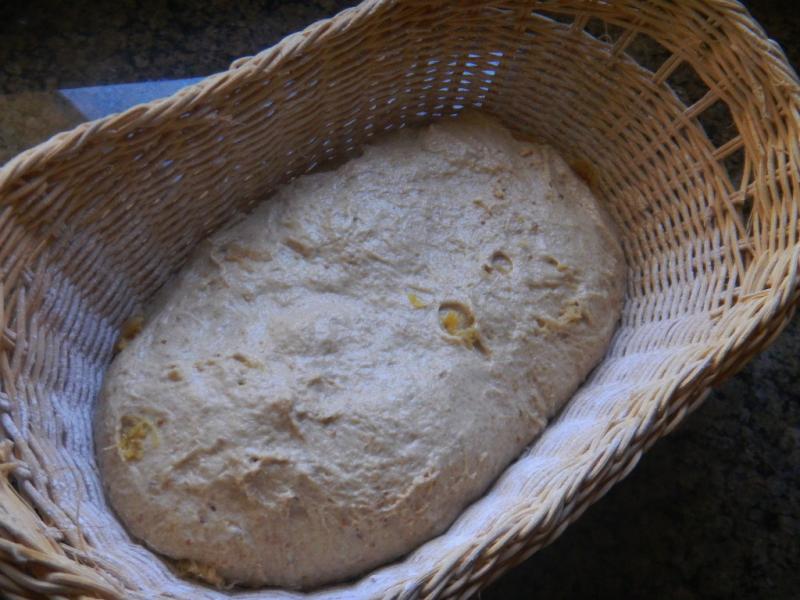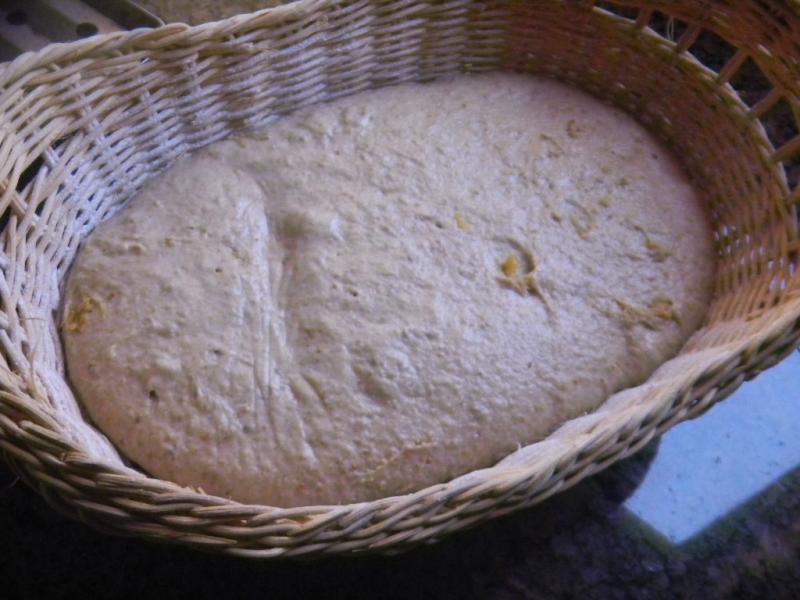 Can you see where the pint of blueberries landed when my wife had a snack before bedtime and put the berries on top of the bread by mistake?
As usual we fed the sifted out, in this case 13.75% extraction, hard bits to the 6 week retarded rye sour starter, in 3 builds of 2, 4 and 1 hour to make the small levain of a little over 7%,  before it was refrigerated for 24 hours.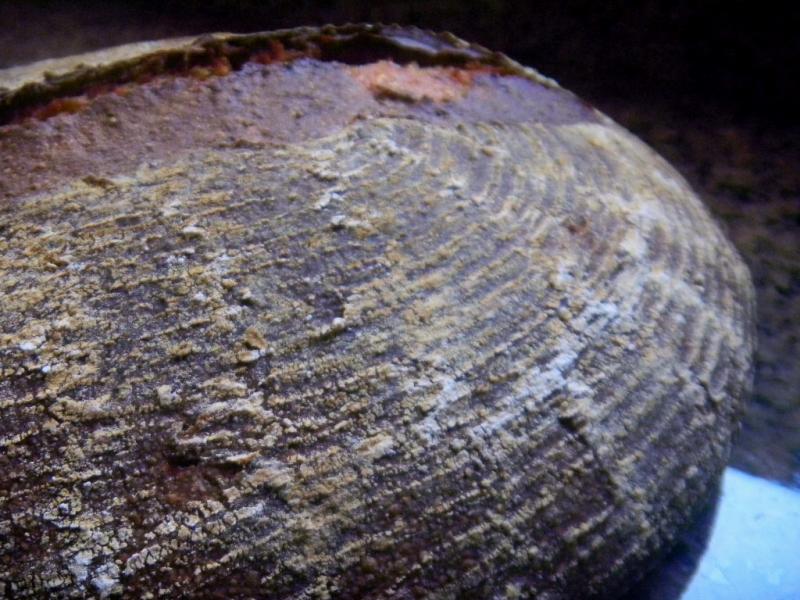 When the levain came out of the fridge to warm up and finish its 3rd stage doubling in volume, we autolysed the dough flour with the left over fig re-hydration soaker water and some water for 2 hours with the salt sprinkled on top so we wouldn't forget it.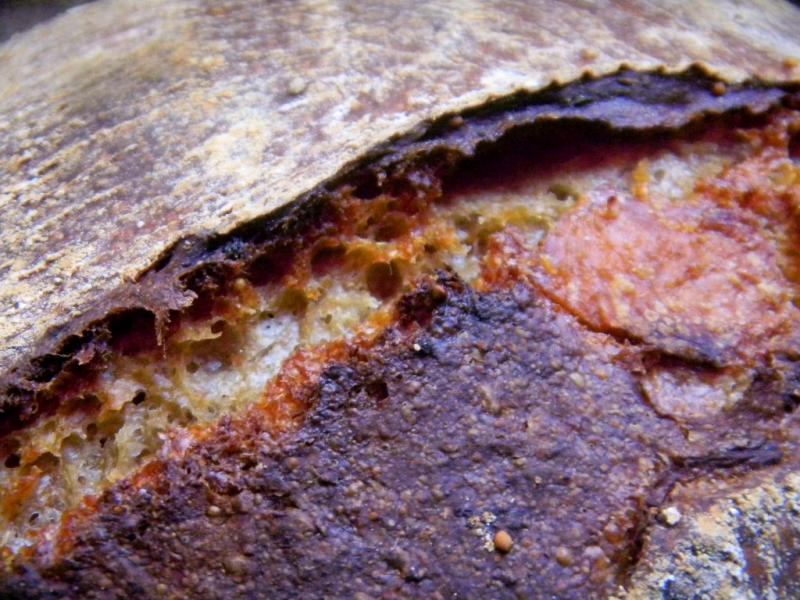 Once the levain hit the mix, it made for a very manageable 78% hydration dough.  After 3 sets of slap and folds of 7, 1 and 1 minute the dough was ready for the 3 set of stretch and folds from the compass points.  The wet figs, fennel and anise were mixed in on the first set and evenly distributed by the 3rd.  The extra moistness in the figs made for a dough that felt like it was over 80% hydration.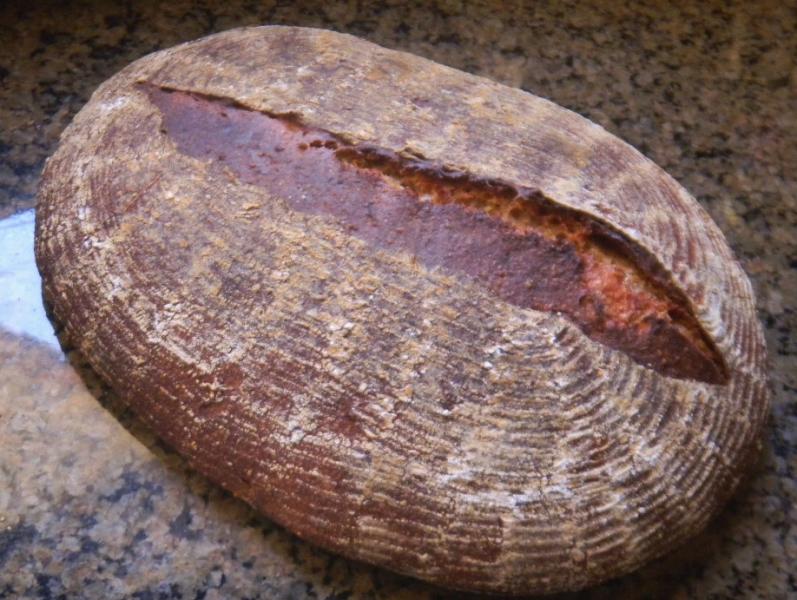 All the slapping, folding and stretching were done on 20 minute intervals.  We then pres-shaped and shaped the dough into a squat oval and placed it in a rice floured basket for the plastic trash can liner so no bulk ferment was done – it was only 116 F yesterday and the kitchen was 90 F.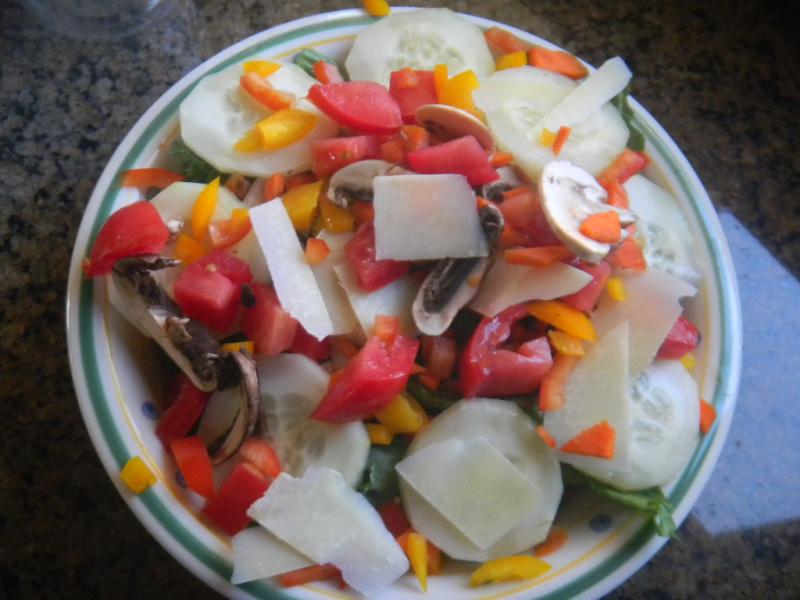 Don't forget the salad to go with any dinner.... like this grilled chicken one.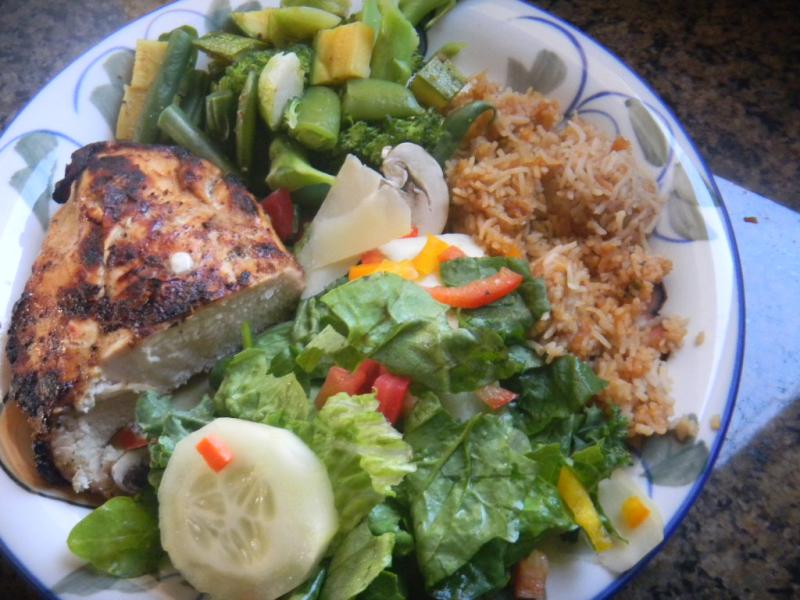 With this small levain inoculation, we were hoping that we could get a 20 hour retard and still be able to let the dough finish proofing on the counter for 1 ½ hours as it warmed up without over proofing and ….we did.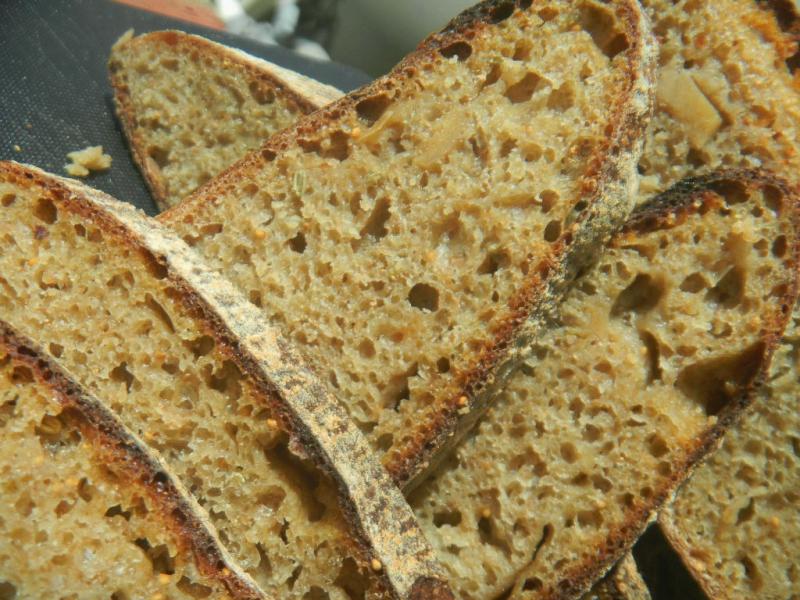 We could only find one of our steaming Pyrex cups that we use for the mini oven Mega Steam.   Since half the steam was missing on this bake than our usual we tossed some water into the bottom of the mini oven as we closed the door.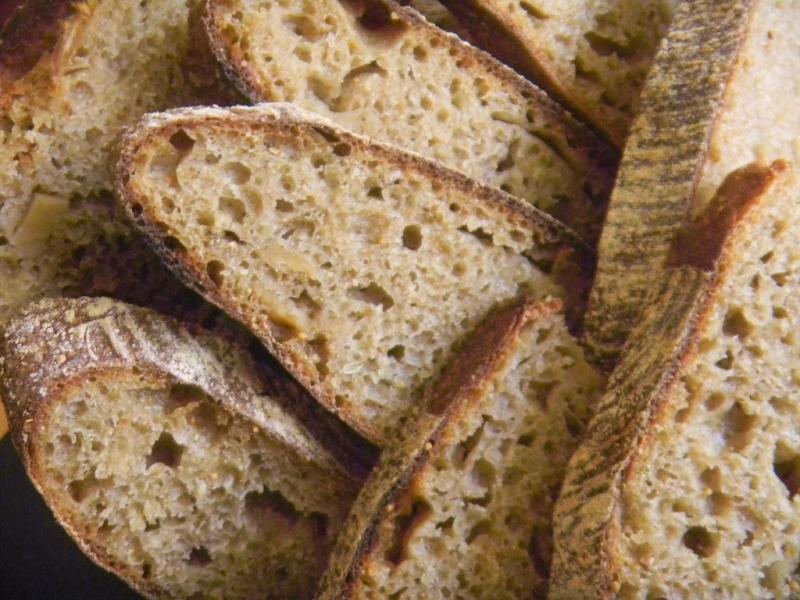 The bread was upended onto parchment, on the top vented cover of the mini oven's broiler pan and slashed down the middle. Once the steaming cup that was brought to boiling in the microwave and was added in the back corner, we loaded the whole shebang into the mini oven for steaming at 500 F.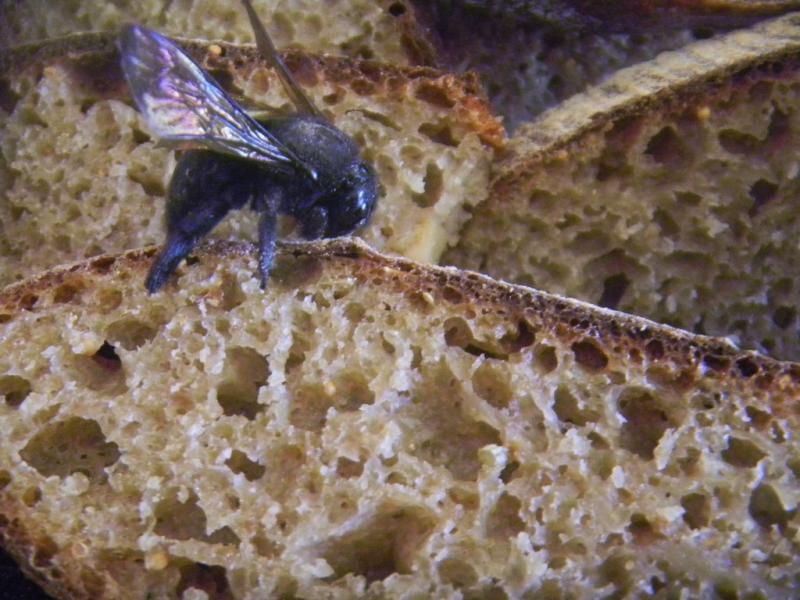 Even a black carpenter bee loves this bread.
After 2 minutes we turned the oven down to 475 F and continued to steam for 13 more minutes. Once the steam came out, we turned the oven down to 425 F convection and baked for another 14 minutes when the bread hit 210 F on the inside and was removed to the cooling rack.  Total baking time was 29 minutes.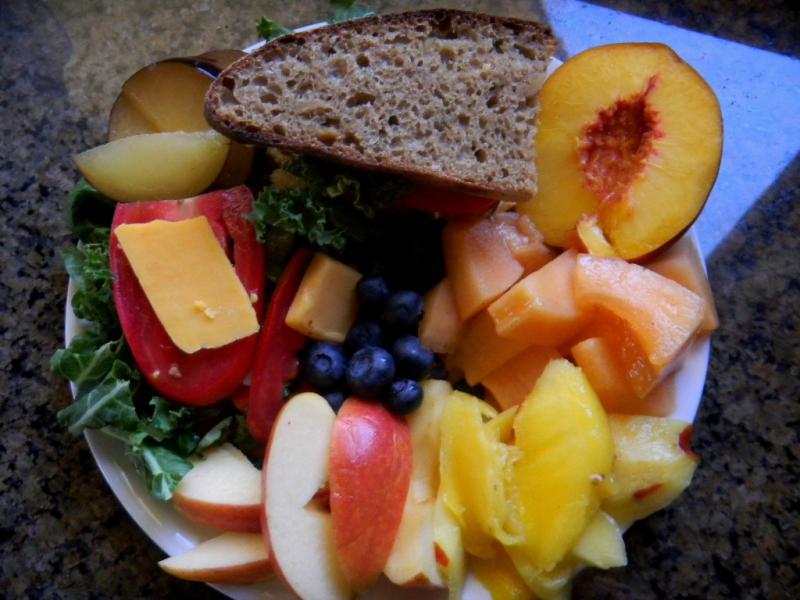 This loaf immediately spread after it came out of the basket which I attribute to being a wet dough.  It did spring after that and bloomed too but it came out way flatter than it would have been if 5% less liquid was used to account for the wet figs.  It did come out of the oven crunchy and nicely browned.  The kitchen smelled wonderful from bread spice perfume - just lovely.  I'm guessing this bread will be OK in the middle but taste great.  We will have to wait for it to cool though.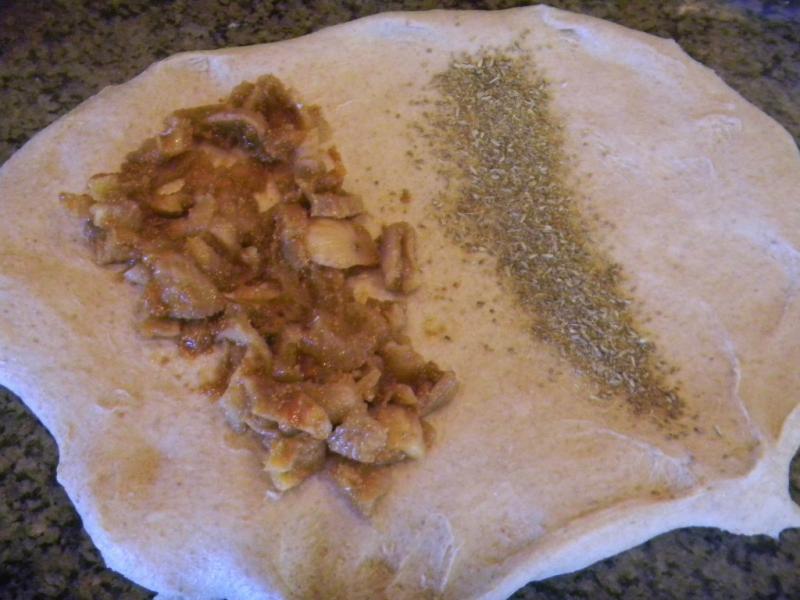 The lunch was great and we are stil kind of stunned as to how good this bread is all by itself, no toasting, no butter.  It is slightly sweet from the figs, aromatic from the bread spices. soft and moist with and good chew from the crust.  It is one of our favorite breads.   This one is a Lucy Keeper.
Formula
YW SD Starter Build

Build 1

Build 2

 Build 3

Total

%

6 Week Retarded Rye Starter

4

0

0

4

0.89%

13.75% 6 Grain Extraction

4

10

19

33

7.38%

Water

4

10

19

33

7.38%

Total

12

20

38

70

15.66%

 

 

 

 

 

 

Levain Totals

 

%

 

 

 

Flour

35

7.83%

 

 

 

Water

35

7.83%

 

 

 

Starter Hydration

100.00%

 

 

 

 

Levain % of Total

7.57%

 

 

 

 

 

 

 

 

 

 

Dough Flour

 

%

 

 

 

86.25% 6 Grain Extraction

207

46.31%

 

 

 

LaFama 11.2% Protein AP

240

53.69%

 

 

 

Total Dough Flour

447

100.00%

 

 

 

 

 

 

 

 

 

Salt

9

1.88%

 

 

 

Fig Soaker Water 272

343

76.73%

 

 

 

Dough Hydration

76.73%

 

 

 

 

 

 

 

 

 

 

Total Flour w/ Starter

482

 

 

 

 

Total Liquid w/ Starter

378

 

 

 

 

Figs

50

11.19%

 Dry Weight

 

 

Fennel & Anise Seed

6

1.34%

 

 

 

 

 

 

 

 

 

Total. Hydration with Starter

78.42%

 

 

 

 

Total Weight

925

 

 

 

 

% Whole Grain

50.00%

 

 

 

 

 

 

 

 

 

 

The 86.25% Extraction grains are barley, wheat, Kamut, farro, rye  and spelt.