September 24, 2013 - 8:57am
Spelt Squares
----------------------------------
total flour: 924 (86% spelt, 14% white) with an extra build this can be 100% spelt if desired
total h20: 715 (77% hydration)
Levain: 6-8 hours
60 White Starter (100%)
100 Bread Flour
38 Spelt
138 H20
------------------------------
336 (168 prefermented flour
Dough:
756 g Spelt
547 g h20 (hold back 100 g)
20 g Salt
------------------------------
1323
------------------------------
135 g       toasted cashews
-------------------------------
Total dough = 1794
Divide a @ 445 (this was what I did but too small I think I'd divide to 3 parts @ just shy of 600 next time.) 

1) Mix all but salt and nuts squeezing through fingers to get a nice even dough.
Rest 15 minutes
Add 100 g water and squeeze through until its a smooth soft dough. Add nuts and lightly knead/fold in.
Rest 15 minutes
Slap and fold until resilient rest 5 minutes repeat 2 times (time elapsed 35 minutes)
Rest 30 minutes
Stretch and fold (once from each direction
Rest 30 minutes
Stretch and fold
Rest 30 minutes
Preshape to a rough square by stretching into a rectangle and then give a letter fold.
relax 15 minutes
Now carefully stretch to a rectangle and give a 3 fold and lightly shape to a square. Pinch together seams. Place smooth side down on spelt floured couche and proof 45-60 minutes
turn out to floured peel and dock/score/or leave plain
Bake 500 with steam for 7 minutes and vented for 15-20 more


*  These have a seriously crunchy crust.  I think the loaf would be greatly improved with a bit more size.  
Also I think the presheape should be a tight ball.  Then relax. then stretch and give fold.  This should give some more tension and a better spring in the oven.  All in all its salty and crunchy.  Delish with butter and i bet cheese or even jam.  
I toasted the cashews but maybe not quite enough.  Next time I'll be sure to roast a bit deeper and I think they will permeate the dough with there lovely flavor a bit more.  
I made the levain not exactly sure of my plan besides some spelt.  Had I known I'd add all spelt I think I'd have made the levain with all spelt and maybe done two builds to make this 100% spelt.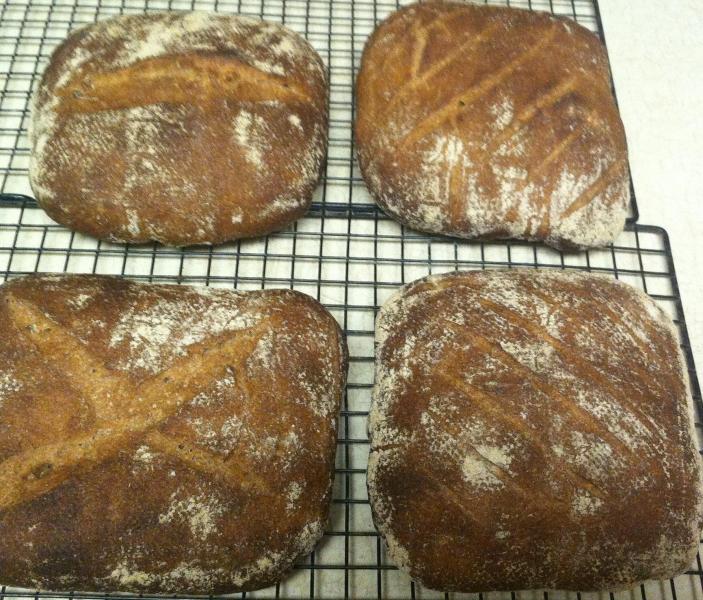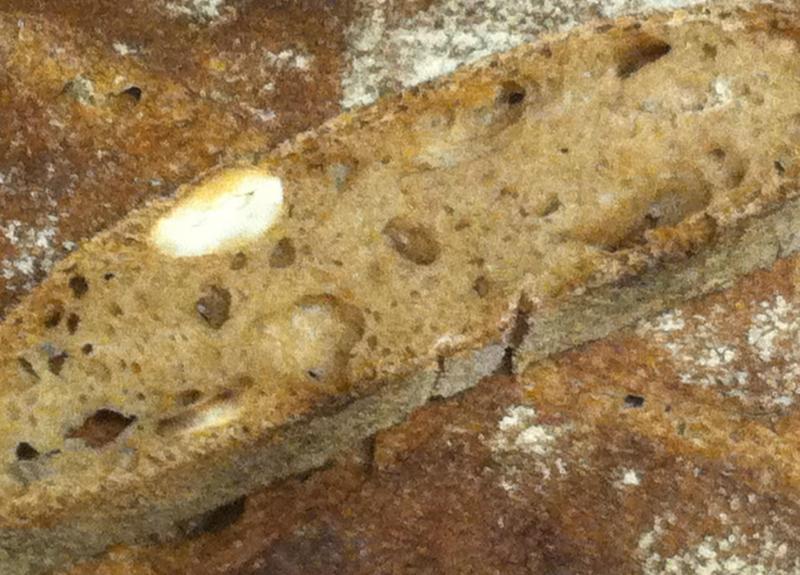 sorry bad photos