September 19, 2013 - 10:09pm
My Ongoing Hobby and Personal Projects: Sourdough Library (and Nonprofit Bakery)
For several months I was not happy. Work bogged me down and I was heavily burdened with personal issues. And for these reasons, I was forced to cease all baking activities.
During my baking hiatus, I literally daydreamt and night dreamt about sourdough bread. And how couldn't I? Sourdough baking was and still is my source of pride, anger, happiness, and a slew of strong emotions.

I needed to wean myself from my cravings. So accordingly, I created the following:
The Sourdough Library

Essentially, the Sourdough Library is an online index of resources related to sourdough baking, specifically for amateur homebakers. Personally speaking, the video section of the Sourdough Library is the most helpful, which contains a list of the best instructive how-to videos I've found on the Internet to date. For the highly technical and knowledge thirsty bakers, the Sourdough Library also has a list of academic journals and reports albeit not a comprehensive one. As I've discovered, there's hundreds of sourdough-related articles... which I'll strive to index when leisure permits.

Ideally I'd like to keep the website free from ads and any solicitations. However, I do have a donation page where funds will either go towards website maintenance or funding to open a not-for-profit sourdough bakery in Cambodia, Southeast Asia (where I live now) to support the less fortunate (orphans, disabled, abused women, etc.). As of now, I am working with a German friend and business partner who has over 2 decades of experience in the food and beverage industry. Without him, I may not succeed.

Having said that, I'm not requesting anybody to donate towards any of my projects. It's absolutely not required or expected. Regardless, I will shed sweat, blood, and tears to pursue my dreams of opening such a bakery. (Wish me luck!)

Slightly off tangent:

Last Sunday, after 3 months of no baking, I finally turned on my oven and churned out this: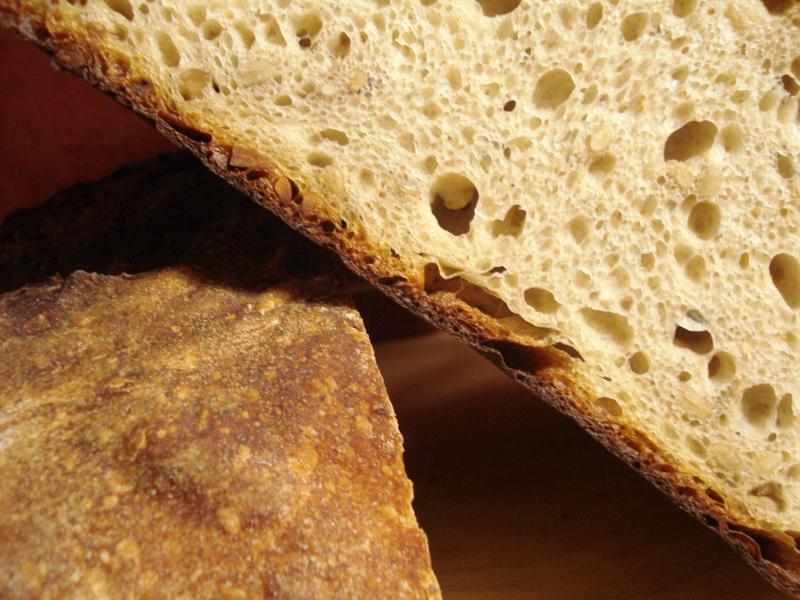 The recipe is a slight adaptation of Marcus' Polenta Pepita Sourdough. I didn't have access to pumpkin seeds and substituted them with sesame seeds, and replaced the whole wheat flour with type 1150 rye flour (medium rye flour). Embarrassingly, my shaping and scoring was terribly sloppy so I'm opting to not show the "bird's-eye view" of my loaf...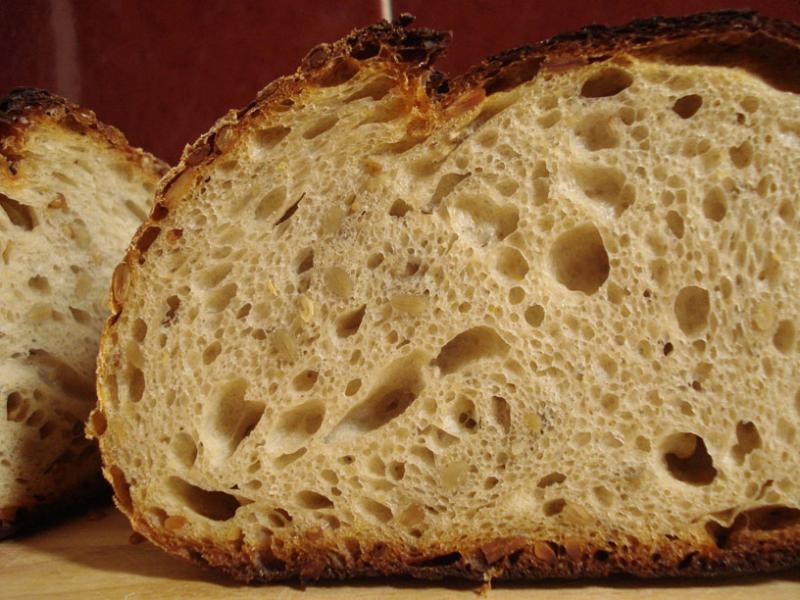 The purposely charred crust wafted a deep, roasted, nutty, and slightly caramel-like aroma, which permeated my kitchen, living room, and even bedroom. (I'm not complaining!) 

The crumb was porous (more so than expected) and was modestly tender, sparsely decorated with toasted sunflower seeds. Overall, a pleasant, creamy mouthfeel. In regards to taste, the crust was mildly bitter, whereas the flesh was characterized by a mild sour (akin to plain yogurt), with a faint but detectable tangy aftertaste.

Final note: I had my German business partner taste-test this loaf. Formerly a chef and a F&B Manager at several hotels, he's not easy to impress when it comes to food. His words after munching on a slice of my bread: "Very, very good."

Marcus, thank you for your lovely recipe. Because of you, I was radiating happiness for days.

Zita
(P.S. If you have any suggestions on how to improve the Sourdough Library, please post below or contact me. Thank you!)