Wholemeal sourdough problems of a newbie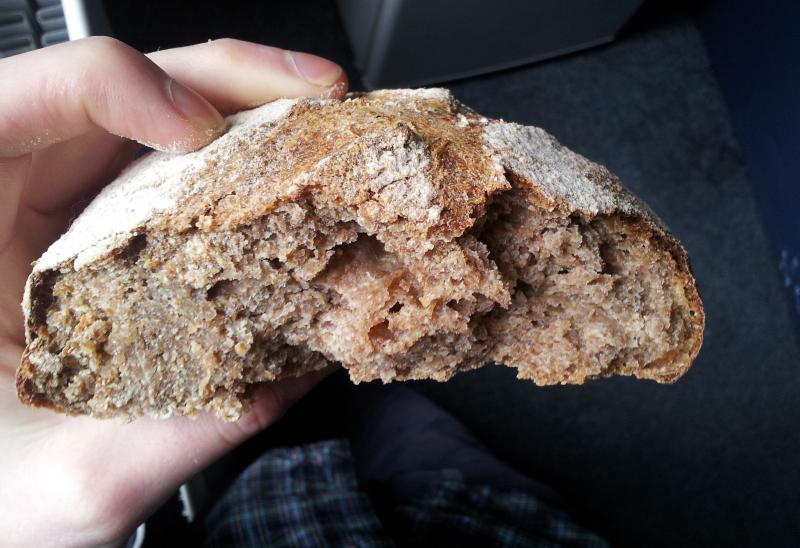 Hi there,
Totally new to this site, but thought I'd join as I enjoy dabbling in the odd bit of baking. I've bit off more than I can chew though (quite literally) as I decided to make a 100% wholemeal sourdough with wholemeal starter that I had lovingly prepared all week and it turned out a gooey gummy (but tasty) mess as you can see in the picture. 
I'll try to outline everything I did...bear in mind I've never made sourdough before and made bread only once. I started off my starter with regular strong white flour and water to make a thick batter, it started bubbling nicely and smelt fruity after about 2 days. I then decided to add wholemeal flour, it didn't bubble or foam as much after I did but I kept at it feeding it every day for a week (after about the 3rd/4th day I discarded half first before feeding) still maintaining a thick batter consistency. 
It smelt quite nice at the end of the week but was only producing a few measly bubbles. I also read somewhere that it's best to let it "starve" before using it which I did. So I went ahead and made my sourdough but as I was weighing the flour my crappy scales disintegrated on me and I ended up just approximating how much flour and starter I needed. I think it was about 2:1 or 3:1 flour to starter. I mixed in a good amount of salt and sugar (maybe too much) and then cold water. It was incredibly sticky and literally fell apart as I tried to knead it so added a bit more flour, still very sticky and hard to work with but I had heard this lends for better bread so I got to work kneading it... must have spent best part of 20-25 mins trying to reach the smooth stretchy texture I had seen in pictures. Eventually I managed to reach the "window pane" stage... left it for about 3 hours with a damp tea towel on top to rise. It had barely risen at all but I was too impatient to wait any longer so punched the air out. I was a bit heavy handed with it and also kneaded it slightly. Wrapped it in a heavily floured tea-towel to let prove for another 3-3.5 hours. Got the oven hot, placed some ice cubes in the bottom to get it steamy. Scored the dough and whacked it in for 40 mins ish. Took it out, it looked nice and I was fairly chuffed with myself until I went to slice a piece off. I think the crust would have blunted a chainsaw. It was rock solid... i know a thick crust is desirable but this was ridiculous. After I managed to prise it open I noticed the dough looked underbaked and moist  (despite the oven being very hot). Shoved it back in for another 15 mins and the picture is the result of all my efforts. 
I'm very keen to learn how to make good sourdough and bread in general and I'd be grateful if someone more experienced could tell me where I've obviously gone wrong.
Cheers,
Jack