December 30, 2012 - 3:14pm
Bread troubleshooting, crumb & shape-related (ABin5 recipe)
Hi all,
New here and a newbie baker. I've been browsing the site for a while and it's been very informative. I'm hoping I could also get a few tips on how to improve my bread. I'm using the basic recipe from Artisan Bread in 5 Minutes a Day. My initial ingredients were:
870g white flour (bleached, that's what I had at hand)
628g water (I went for 72% based on an interview I saw here with the authors)
1tbsp salt
1 1/2 packets active dry yeast
The rise was 5 hrs long, followed by about 2 days in the fridge. My first loaf out of this dough came out with a very tight crumb. So for my second loaf (~450 g of dough), I tried increasing proof time to 120 mins (~70F in the kitchen) and making longer slashes. I baked this in a preheated oven, on a cookie sheet, middle rack, for 30 mins at 450F. I have an oven thermometer, so I'm pretty confident the temperature was constantly between 450 and 475F. I then let the loaf cool for about 4 hours before I sliced into it. You can see the result below. I think I'm happy with the crust and the crumb is a little better than last time, but it looks like there's a lot of room for improvement. I'm also confused about the shape of the bread. I don't know why one slash ended up so much bigger than the other (does this have to do with how deep I made the slashes?) and why the bread looks kind of... uneven?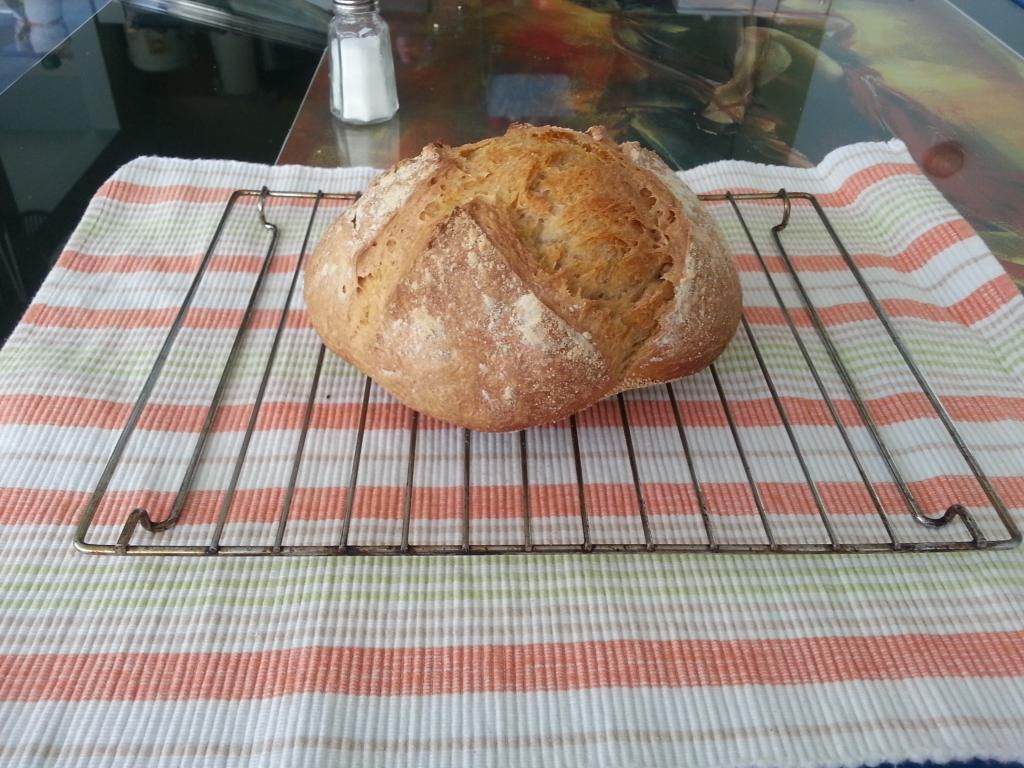 Any tips? I'm not sure what I should try tweaking next.