October 28, 2012 - 3:35pm
Double chocolate and sweet biscotti: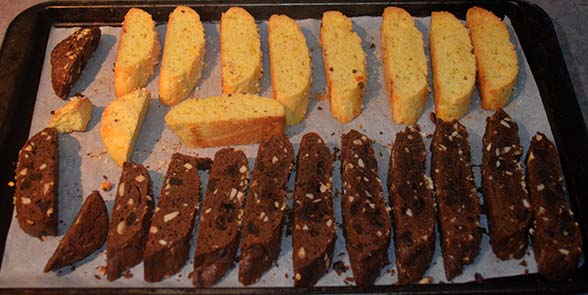 It ws time to bake another batch of DaveG's fabulous double chocolate, hazelnut, chipotle biscotti  and also try the seeet biscotti recipe he provided.  To the half batch of 2x choco, I added 1 tsp of expresso coffee powder, was out of hazelnuts, (aka filberts) and used alsonds instead.  The hazelnuts provide a better flavour balance to the cocolate and chipotle, but hey, almonds work too!
I have been working through Carol Field's, "The Italian Baker," and checked her biscotti recipe also, which looked much like Dave's.  In the end I used the TIB recipe because, horror of horrors, I had no lemon zest -- my only lemon had been previously zested!  Now the TIB recipe is forgiving in that you can use either lemon extract or zest and/or orange exract or zest. I used lemon extract and orange zest for half the batch and baked according to Daves's loaf style 2x bake instructions, rather than shape the TIB cookie rounds.   I have not been able to stay away from these biscotti, oh my do I love the subtle flavoring!
Today I added lemon zest and some chopped almonds to the last half of the sweet biscotti dough and baked it up.  The lemon zest kicks the flavour up a good notch or two.  I think next batch, I will do half with lemon zest and half with orange zest.  At the pace I am eating these things, I may have to do another batch in the morning, (oink, oink).  The TIB biscotti recipe is listed at the end of this post.
A little ciabatta and salami by the campfire: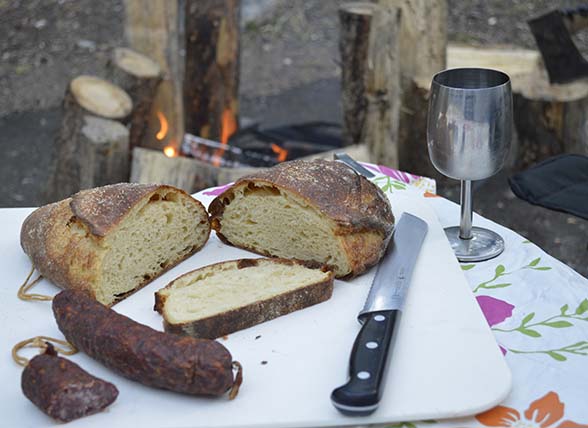 The last camping days of the season are now but a distant memory that ski season.  The photo was taken at a campsite along The Icefields Parkway, in Banff, Alberta Canada.
Bake ON TFLoafers!  Brian
Biscotti, from The Italian Baker, by Carol Field
160 g unsalted butter
200 g sugar
1 Tbs honey
2 eggs room temperature
Cream sugar and butter and add eggs one at a time and cream.
1/3 C + 3 Tbs milk
1 tsp vanilla extract
1/2 tsp orange extract or zest of 1/2 orange
1/2 tsp lemon extract or zest of 1 lemon
500 g flour
2 tsp baking powder
1/4 tsp salt
11/2 Tbs or so coarsly ground almonds to top
1 egg for glazing
I bake @ 300F 20 munites turning halfway, chill 15 munites or so then slice on the diagonal 3/4" thick, turn on sides and bake for 20 munites @ 300F turning halfway, then turn the slices over and bake for another 20.  Yumm